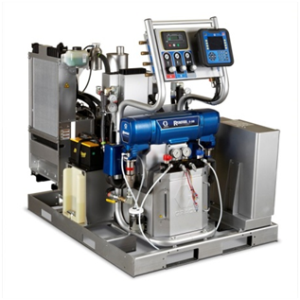 Graco is excited to announce the launch of a new integrated line of proportioning systems, the Reactor E-30i and E-XP2i. The brand new line polyurea and polyurethane foam sprayers.
The Reactor E-30i and E-XP2i are designed with Graco's latest heating, spray, and controls technology. These new integrated systems combine a generator and proportioner into one complete system, making it a true Graco engineered solution. Complete turnkey models are also available with a fully integrated air compressor and three-stage air dryer.
These new systems utilize Graco most advanced controls and our patent pending heat management system. When combined, these technologies allow us to effectively use the waste heat from the engine coolant to heat the A and B chemicals, thereby reducing and/or eliminating the need for any electric heaters. Utilizing this waste heat allows for a smaller genset to be used, making the system more efficient, resulting in significant diesel fuel savings for the end user.
In addition to fuel savings, this innovative design offers many additional benefits to the contractor:
Eliminates incoming power issues associated with shore power and low cost generators
Simplifies the installation process
25% increase in Delta-T means less time spent recirculating
On-screen troubleshooting
USB downloadable job data collection
Visual indicators of drum fluid levels
Detailed on-screen information of daily chemical output and of system events
User settable pressure imbalance and low chemical shut down
Ability to store chemical recipes
Minimal pressure drop between static and dynamic pressure
Low-pulse design reduces pump change over fluctuations
Fluids are essential in life, 70% of the earth consists of fluids and most of the human body consists of water, so these must be...