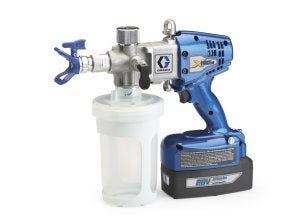 Graco is proud to introduce the new XForce™ HD: another revolutionary technology, that will rapidly change the way touch-up is done in the protective coatings business!
Spray small surfaces. Touch-up scratches, nuts, bolts, flanges, pipes, valves, electrical boxes, doors, frames, ladders, rails, holidays, structural steel components. Repair surfaces parts, punch-list items and much more!
With the capability to quickly deliver a highly desired, one-coat airless finish, the XForce HD eliminates the need for multiple coats often required with messy brushes and rollers.
It also eliminates the need to wet larger airless equipment just to spray small areas.
XForce HD Professional airless sprayer advantages:
A perfect finish, matches original spray finish, saving material and solvent
Ultimate portability, totally changes the way you do your jobs. Small projects that used to take hours, now take minutes
Ready to spray paint in seconds; sprays most common protective coatings in one coat coverage
XForce HD features:
ProConnect pump removal and installation system, which allows you to remove and replace the pump in seconds
The Spray-N-Throw cup system virtually eliminates clean-up and allows you to spray at any angle – even upside down
A fully adjustable FullFlo pressure control to achieve the finish you need
Whether you're doing touch-ups, performing spot repair or simply have a small area or part to paint, the job just gets easier! The new Xforce HD is designed to spray the toughest protective coatings and corrosion control materials, including solvent and waterbased coatings, high solids polyurethane top coatings, fire-retardant coatings, plural-component coatings, elastomerics and much more!
Fluids are essential in life, 70% of the earth consists of fluids and most of the human body consists of water, so these must be...