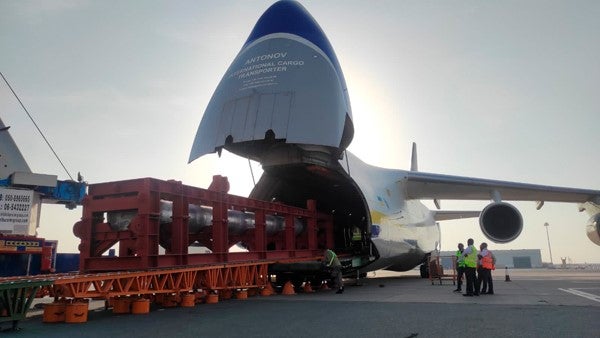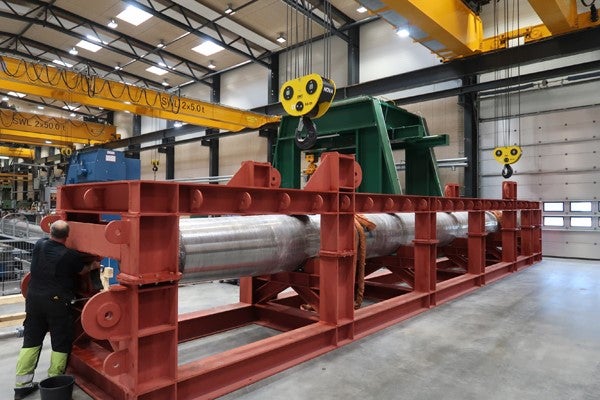 The cold straightening of bent shafts is something we have mastered for many years, and we use our unique cold straightening method to straighten approximately 100 to 200 shafts per year.
Some have severe bends and others have only minor deflections that are not even visible without a runout test.
We target a maximum deflection of  0.05mm after a cold straightening.
This cold straightening repair case of a tail shaft is quite spectacular, not due to the extent of deflection, but due to its size!
The problem was a bent tail shaft with a dimension of Ø1,275/860 x 140,00mm. The vessel was a 294-meter-long container vessel located at Drydocks World, Dubai. It weighed 63 tons, plus an additional 17-ton transport cradle. Cold straightening by MarineShaft in Denmark was needed to fix the issue. The tail shaft was shipped by aircraft from Dubai to Denmark and was fixed within one working week.
It requires expertise from all involved parties to handle and ship a 63-ton heavy tail shaft by aircraft to the other side of the world.
The tail shaft had a deflection of approximately 1mm. It was sent by aircraft to our workshop in Denmark and was transported in a custom-made cradle. The cradle added another 17 tons to the air transport weight, resulting in a total gross weight of 80 tons.
MarineShaft carried out cold straightening of the bent areas with full permanent class approval by DNV. The repair also included the machining of the tail shaft aft journal and skimming of the flange to ensure perpendicularity with the shaft centerline, performed in our 27-meter-long CNC lathe.
MarineShaft is proud to have repaired this tail shaft with a minimum repair time and we thank all involved parties.
This week, MarineShaft has moved our administration from Pier II to our location at Jens Munksvej 1 in Hirtshals. We look forward to welcoming our guests to the new office location.
Our workshop facilities at Silvervej 6 and Pier II are still fully in use.
We thank all of you who visited our stand at SMM Hamburg 2022. It was great to be back at this important fair after four years.