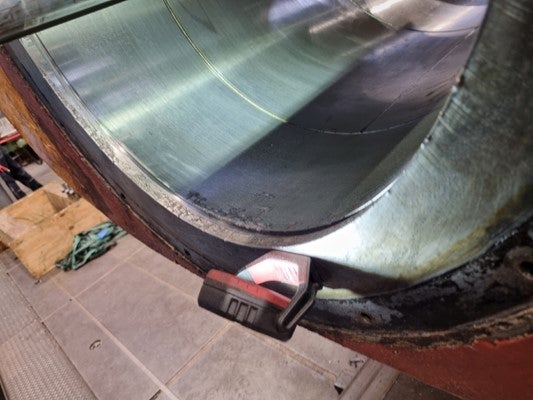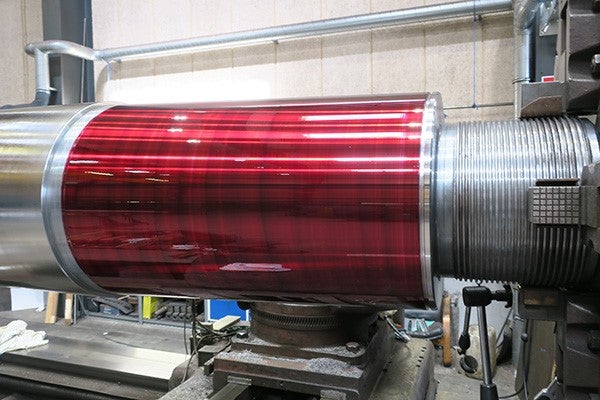 At a yard stay at Orskov Yard in Denmark this summer, damage to the rudder equipment was confirmed. The cause of the damage found on the rudder equipment remains unknown, but MarineShaft got the order for the repair of the rudder equipment, which was sent to MarineShaft's workshop facilities in Hirtshals, Denmark.
Case
The rudder stock had turned inside the steering gear, leaving scratches and marks on the upper part of the rudder stock. Furthermore, the rudder blade and rudder stock connection had suffered damage.
The dimension of the rudder stock was Ø639 x 5720 mm.
Rudder stock
After our inspection/measurements of the rudder stock, the steering gear rotor inner sleeve was removed. The rudder stock's lower cone had been damaged.
MarineShaft has approval to carry out class approved laser cladding and micro welding, and both 'cold' welding techniques were used for this repair. Both techniques do not require PWHT after welding and are well-proven repair methods for parts that do not tolerate regular welding, which was the case for the rudder stock from 'Sir David Attenborough'.
The damaged areas were machined and prepared for welding, and liquid penetrant inspection was carried out before laser cladding.
The spots/marks were repaired by micro welding, a welding technique that is ideal for smaller imparks/spots.
After machining the damaged areas on the rudder stock's lower cone and the rudder stock´s upper journal, we welded up the areas using laser cladding. Rebuilding the damaged areas by laser cladding is a very fast and accurate welding method.
After the laser cladding process, the rudder stock was machined and NDT tests were carried out, ensuring that everything went according to class regulations, which in this case was LR.
Rudder blade
The damages inside the rudder cone were machined and fitted to the new dimension of the rudder stock cone.
Before returning the equipment, the rudder stock was treated with rust protection. On-site, we assisted the yard with mobile machining of the rudder trunk.
MarineShaft is proud to have carried out our repair service to the research vessel and wishes her a safe and adventurous voyage.
In less than a month, the maritime exhibition SMM 2022 will take place in Hamburg, and MarineShaft will be represented. Come and meet our team between the 6-9 September 2022 in Hamburg, Germany.
You will find us at the Danish pavilion in hall B:  EG.405
We always look forward to meeting in person and guarantee that we have a cold Tuborg and nice Danish marzipan cookies ready for you.