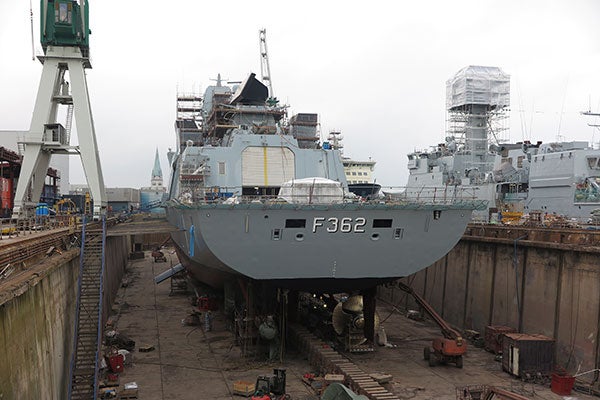 Two stainless-steel propeller shafts each measuring more than 20m have recently left our workshops after repair. The shafts belong to the defence vessel Peter Willemoes which is drydocking at Orskov Yard.
After run-out measurement, one shaft showed deflection and was cold-straightened in our hydraulic press. Both propeller shafts had suffered from wear on the aft bearing journals. These damages we repaired fast and efficiently using our laser cladding equipment.
UK Navy vessel HMS Protector
The propeller shaft and propeller blades arrived at our workshop, and the following run-out test of the propeller shaft showed no deflection. Therefore, we did not have to straighten the shaft. The propeller blades needed machining of the sealing surfaces.
The propeller shaft coupling end had damages that needed repair to secure density. Using our micro-welding equipment, we welded on metal plating to rebuild the scratches. This unique repair technique requires no machining afterwards, only manual polishing is necessary. This reduces the time of delivery and no workshop facility is necessary.
Our micro-welding equipment is portable and easily taken along to any location worldwide. If you want to learn more about this repair technique, fill out the enquiry form on this page.