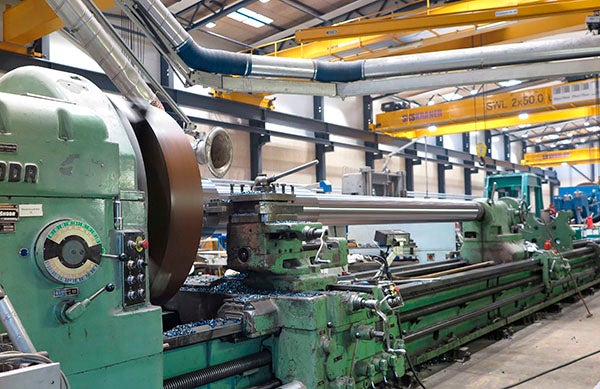 We recently manufactured a new propeller shaft for the general cargo vessel M/V Oslo Bulk 8 during her docking in Turkey with an urgent request.
MarineShaft sent a service engineer on-site to measure the old shaft, which was not repairable. Based on these measurements, we could make a new drawing to manufacture a new propeller shaft.
The drawing was reviewed and approved by the involved classification society, who also participated in identifying the material. The shaft dimension was Ø860mm/300mm x 5,005mm.
We had the raw material in stock and could put the shaft in our lathe for machining the moment all preparations were approved by the classification society.
The existing coupling was polished and blue fitted to the new shaft cone.
The new propeller shaft was securely packed for air freight and returned to the vessel, and we took care of all the logistics for our client.
This job took place during the Easter holidays. Our skilled service engineers are always willing to step in and work around the clock when necessary to ensure a fast delivery time.
New raw material for rudder castings in stock
Our large stock of raw material enables us to offer new manufacturing of propeller shafts, intermediate shafts or rudder stocks with a short delivery time.
We also want to offer our customers a short delivery time for new rudder castings.
Therefore, we have increased our stock again. This month we received rudder blocks to provide our customers a short manufacturing time for new rudder castings.
Supply of raw material for a stainless-steel liner
If our customers want to buy the material to be machined locally, we also sell raw material directly from our stock.
Recently we supplied the raw material for one new liner Ø634/520x210mm in material CF3M/1.4404 with LR certificate to a shipyard in Germany.