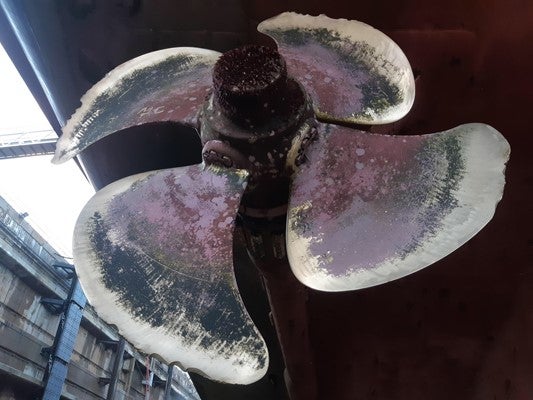 Ropax ferry M/F Straitsman hit an object in the harbour during service between Wellington and Picton in New Zealand.
An underwater inspection was necessary, and it showed severe damage to the four alu-bronze CPP propeller blades. The vessel went to the Thales shipyard in Sydney for repair.
One of the blades was badly damaged on the edges, with more material missing than what could be rebuild with regular MIG welding.
MarineShaft was contacted for a repair quotation.
Why call upon Danish welders more than 16,000km away?
Let's start with the vessels' history starting  1 May 2005. Her name was then M/F Dueodde, and she was put in service in Denmark, en route from Køge to Rønne (Bornholm). Her sister vessel M/F Hammerode also paddled the waters of Kattegat, until M/F Dueodde was taken out of route in 2010 and sold to Strait Shipping in New Zealand.
MarineShaft had, on multiple occasions, carried out blade repairs for M/F Hammerodde, and this service record was noted by Strait Shipping.
We offered onsite repair of propeller blades/fixed propellers, and they received the repair order. Welding material and equipment were packed and sent to the shipyard, followed by two certified welding technicians.
Onsite, our welding technicians could make a model and cut the plate material for a new blade tip. One of the blades also needed straightening, which we can carry out onsite.
All blades were welded up, balanced and grinded, and all required crack tests were carried out. We have class approval to perform Liquid Penetrant Inspection (LPI) without witness by an independent third party. The non destructive test (NDT) was witnessed by a local Bureau Veritas surveyor.
We completed the repair to the technical manager Ollie Muller's full satisfaction. His comments were: "MarineShaft mobilised quickly and had their technicians travel halfway around the world to get to our vessel. They know their trade very well. The proof is in the propeller blade repairs that were successfully and expertly carried out within the time constraints of our docking. We were very impressed at the high level of craftmanship that Johnny and Leif put into the repair".
Our certified technicians travel the world for onsite repair work.
Recently, we have carried out onsite blade repairs in Norway, Germany, Bulgaria, and Greece, and many more if supervision and mobile machining services are included.