Wheelabrator Group is the world leader in the design and manufacture of surface treatment equipment. We provide automated and manual air blast, wheel blast, wet blast and vibratory finishing equipment, to prepare, clean, peen and polish components. Additionally, we also provide an expert sub-contract service for processing your components.
Wheelabrator Plus is the after-market service, support and supply division of Wheelabrator Group and offers a whole range of services for all users of surface preparation equipment. We offer a unique and specialised service for marine customers.
The group produces the following surface preparation and treatment equipment:
Wheel blasting units and separate or integrated painting systems
Air blasting machines and mobile, dust-free closed circuit blasting units
Mobile wheel blasting units for the preparation of deck and hull structures
Mobile and stationary painting units
In the shipbuilding and repair industries the requirements for the preparation and preservation of steel surfaces increase almost daily. Improved corrosion protection reduces costs of new shipbuilding and maintenance costs during the life of the vessel.
The roller shot blast machine will supply the production with perfectly prepared plates and profiles, without scale, rust and other deposits.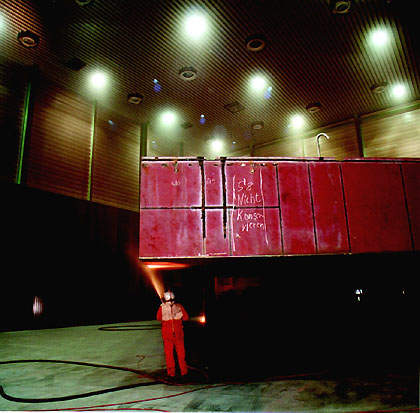 In dehumidified blasting halls, the ships' sections will be blasted prior to the painting application.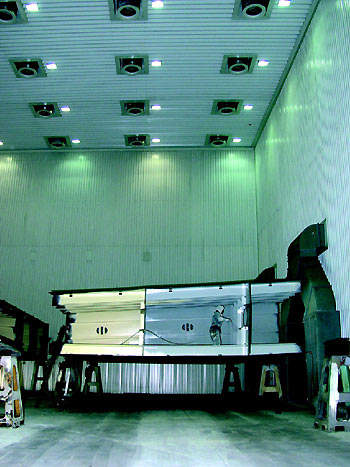 In painting halls the three to five layers are applied under perfect conditions. Disturbances like rain are avoided. The forecasted production time can be realised.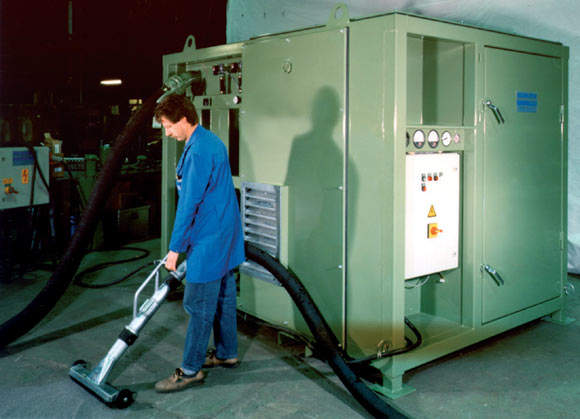 Mobile systems like the shown vacuum recovery units are available.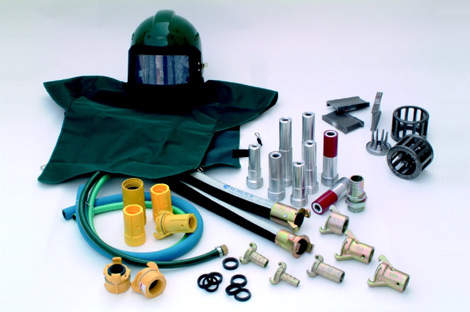 Spare and wear parts blasting and painting equipment, on-site inspections, general services and personnel training keeps your existing systems running.
NEW SHIPBUILDING: PRE-DRYING, BLASTING, PAINTING AND DRYING
In shipyard preservation lines, sheets and profiles are thoroughly blast cleaned and provided with a temporary corrosion protection coating. Along with the external transport unit, a preservation line consists of a pre-heating oven, a pass-through blasting machine, a painting unit and a drying tunnel with its associated slat conveyor.
Typical plate widths can vary from 800mm to 4m with process line speeds between 0.5m/min to 3.0m/min. The abrasive streams remove scale, rust and other deposits from the surface. After blasting, the sheets are cleaned to remove dust.
In the painting unit the components are automatically coated with Shop Primer. Then the sheets and profiles are moved on the slat conveyor through the drying oven. Conveyors then automatically carry the protected plates and profiles to subsequent processes such as flame or laser cutting, welding, etc.
MARKING AND EDGE BLASTING
After the material is painted and dried it is identified with an internal production number in the marking station so that it can be traced in later treatment processes.
Before welding the cut sections are passed through an edge-cleaning unit. Both techniques – wheel blasting and air blasting – are suitable for this edge blasting process.
OPEN BLASTING OF SHIP SECTIONS
Pre-fabricated ship sections are selectively blasted in large blast rooms or halls. Typically four to eight blast operators are working in these facilities. Carefully specified dust collectors ventilate the dust from the hall. The ventilation is additionally provided with air de-humidifiers which keep the relative humidity below 60% in order to avoid any premature corrosion of the bare steel.
The spent abrasive is returned to the system by mechanical or pneumatic recovery systems. Using air washing and screening processes, debris, dust and fines are removed. A wide range of pressure vessels for single or multiple operator use is available.
PAINTING AND DRYING OF MARINE SECTIONS
After blasting the sections must be painted. Depending on the required coating thickness, the ship sections are painted with three to five coats. In order to avoid disturbance by the weather, the sections are processed in large painting halls where typically four to eight painters work simultaneously.
Similar to blasting, 50% to 70% of the painting work is carried out inside the sections. Local ventilation within the sections is performed by grounded hoses for removing dust and solvent vapours. 1-C pumps as well as 2-C mixing and dosing units can be used. A unique special fresh and exhaust air system has been developed to minimise operational costs. After the painting process the facility can be switched over to the drying process.
MOBILE SYSTEMS FOR MARINE BLASTING AND PAINTING PROCESSES
Mobile systems are also part of our equipment offering, as are vacuum recovery units, dust collectors for blasting and painting processes, application technology, blast vessels and all the other equipment necessary for your marine blasting and painting processes.
SERVICE
Customer support is critical to the successful installation and operation of these processes. Worldwide service, on site inspections, readily available spares and personnel training all form part of our in-depth care for customers.
Specialist support for your new project is just a call away
See also: Wheelabrator Group on Aerospace Technology – Peening and Surface Engineering Solutions