Spectro Scientific's CoolCheck® 2 Coolant Analyzer Offers Fast and Reliable Fluid Analysis for Vehicle Owners and Service Providers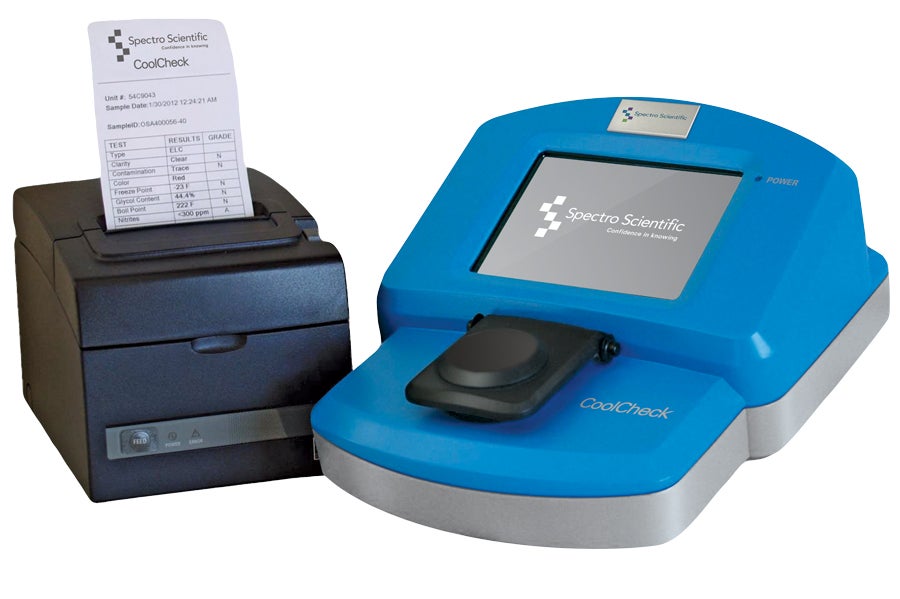 Spectro Scientific CoolCheck® 2 Coolant Analyzer provides analytical results on nine key parameters in easy-to-understand reports for use by the mechanic. Cooling systems play a vital role in preserving the overall engine heat balance and in protecting engine components against corrosion and other problems. Machinery and Lubrication magazine has estimated that 60% of engine downtime in the commercial sector is cooling system related. Understanding the condition of the coolant is critical in maintaining the cooling system operation.
The compact touch-screen analyser uses broadband spectrometry to automatically test coolant parameters in less than a minute. The programmed expert system compares the data to known coolant system conditions to grade results as normal, abnormal or severe with easy-to-read color coded alarms. CoolCheck 2 generates a printed report which identifies the type of coolant used, clarity, color, contamination level, nitrite level, boil and freeze points and percent glycol.
The analyser also measures the urea level in diesel exhaust fluid (DEF), which is a key component in the exhaust system required to meet emissions regulations. The CoolCheck 2 analysis allows the service technician to make an informed decision on the health of the coolant and DEF along with necessary maintenance recommendations while the vehicle is in the shop. The test data can be printed or wirelessly transmitted to the company's LubeTrak® data management and storage software.
CoolCheck was originally developed and introduced by On-Site Analysis, a company acquired by Spectro Scientific in November 2014. "The CoolCheck 2 has been upgraded with the latest computer technology and has added features like cooling fans and changeable air filters to better control the impact of the environmental conditions on the instrument," said Janet Keefe, global product manager for Spectro Scientific.
"The instrument is designed for use in the garage, not the laboratory so we wanted to make it robust enough to meet the needs of those customers." Its plug-and-play design requires no installation, training or maintenance making it suitable for fluid analysis by fleet owner-operators and service providers for automotive as well as light- and heavy-duty truck fleets.