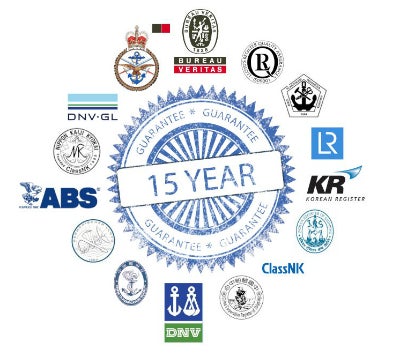 Tenmat has the pleasure to offer a 15-year manufacturer's defect warranty on FEROFORM and RAILKO marine bearings (T&Cs apply). This ensures the ship owner of complete peace of mind when specifying Tenmat's advanced marine bearings.
This warranty is subject to standard operating parameters, as underwritten by all major marine classification societies, and is applicable:
Without any specific water quality package
Any shaft liner
In the unlikely event of a proven bearing failure, Tenmat will provide a replacement bearing free of charge.
Tenmat marine bearing solutions have been at the forefront of marine transportation for decades and continue to be trusted for diverse, challenging, safety-critical applications. This is proven by the fact that FEROFORM and RAILKO marine bearings have approvals from all leading marine classification bodies worldwide, in addition to the significant number of naval approvals.
Building on great successes in 2016, TENMAT is preparing a strong finish to the calendar...