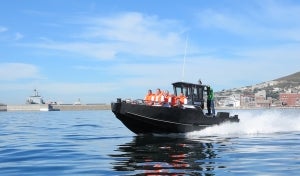 Senior operational, logistic and maintenance officers from the South African Navy (SAN) got a taste of a new family of fast support boats which could enter service in the next few years.
Rhino Marine and Cybicom Atlas Defence have taken another step forward in their joint concept for small boat operations aimed at the South African Navy.
The latest 9m HDPE demonstrator boat is currently undergoing sea trials, and will soon be made available to the South African Navy for evaluation.
The boat is a high-speed mono-hull designed by Rhino Marine in co-operation with Icarus Marine, and is foam-filled and virtually indestructible. The boat is powered by two 315hp Yanmar Marine turbo diesels driving two Ultra jet propulsion units. Besides increased manoeuvrability over traditional propellers, the jets permit the boat to cruise at low speed with high thrust, enabling the boat to increase speed very quickly without any lag. The propulsion arrangement utilises a closed cooling system and a senior naval officer noted that this was a tremendous benefit as experience of propeller driven patrol boats in the warm waters and humidity of the African Great Lakes region resulted in damage to many of the engines.
The initial high-speed trials have yielded a top speed in excess of 38 knots and the hull is extremely manoeuvrable and well suited to choppy seas
The small boat concept can be used for various applications, including but not limited to harbour patrol, general sea boat work, boarding operations, Special Forces deployment, riverine patrol and diving support – or any mission where a rugged high-speed and seaworthy vessel is required. The boat has been inspected by SAMSA, which is satisfied and impressed with the hull and its performance.
The boat can carry six combat personnel, plus three crewmembers, i.e. two gunners and one coxswain.
The boats can be armour-plated up to level 4 with negligible weight increase. The nature of HDPE results in our boat hulls requiring minimal maintenance. Incidental damage is unlikely, but can be simply and quickly repaired – literally on-board.
CAD has also presented their Compact Tactical Aid (CTA) system, intended to facilitate control and situational awareness integration of SAN boats deployed from ashore (base) and / or mother ships in patrol, boarding, hydrographical, commando and MCM roles. It will allow boat movement, boat track and event reporting back to the mother ship or HQ concerned – and basic own force information updates to be provided to the boat commander. To this end, it is available either with a Proprietary Data Link, or LINK ZA.
The CTA is multifunctional and is a navigation and boat / engine management aid (including collision avoidance). It displays all information normally available on the plethora of dials, indicators and equipment front-ends equipping boat steering positions. It thus interfaces with COTS radar, navigation units, video sensors, engines and other systems.
Over and above the abovementioned basic functionality, it can be configured with additional specific applications for the boat roles/tasks and equipment fits involved, for example, image and video transfer to mother-ship or base, sensor designation and weapon management. A full, integrated recording capability for all gathered data and image/video is provided.
The CTA is ruggedised and is semi-waterproof.