The Minac range from EFD Induction comprises compact and mobile induction heating systems with output powers of 10kW-220kW.
The small footprint, ease-of-use and manoeuvrability of a Minac induction heating system make it ideal for shipyard environments. A Minac is flexible, too: it is capable of performing heating tasks as diverse as brazing, pre and post-heating, shrink fitting and removing, tube bending, paint stripping and removing, and hardening coatings. A single Minac converter can typically support a virtually unlimited range of custom-built coils.
Many Minac models come in twin versions offering two independent power outputs (in effect doubling the productivity of a single system). The twin versions feature split-control panel displays from which each output can be set up and controlled. Minacs can also be used together with separate heating stations. This lets the Minac support large, flexible coils that can be shaped on-site to fit curved or irregular-shaped work pieces.
Deck and bulkhead-straightening induction
EFD Induction pioneered the use of induction for deck and bulkhead straightening, selling its first Terac straightening system in 1981. Since then, Terac has evolved to remain the world's premier induction straightening solution, with the latest model, the Terac 25, featuring a state-of-the-art generator with an output power of 25kW/40kW.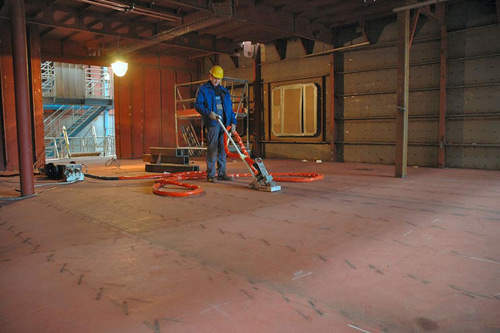 Clean, fast, safe and easy to use — an operator using a Terac to straighten a deck.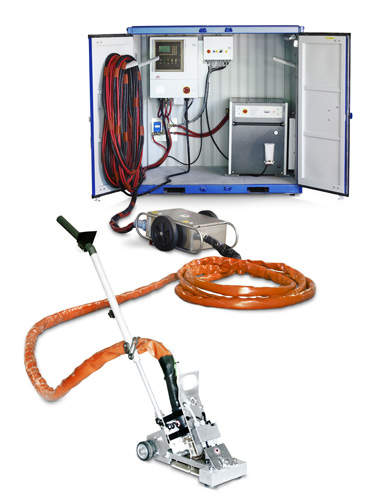 A complete Terac deck and bulkhead-straightening induction system and its small, secure container.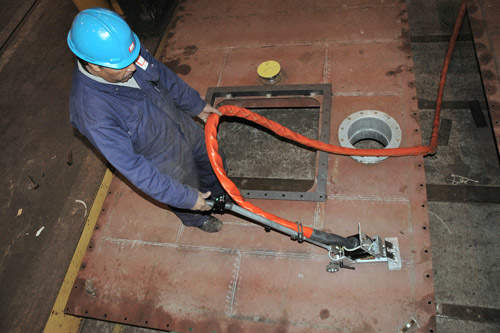 It takes only a few hours for an operator to master the EFD Induction Terac deck and bulkhead-straightening induction system.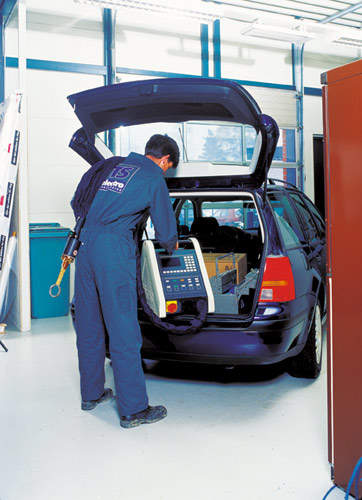 Many Minac compact and mobile induction heating systems are compact enough to be transported by car.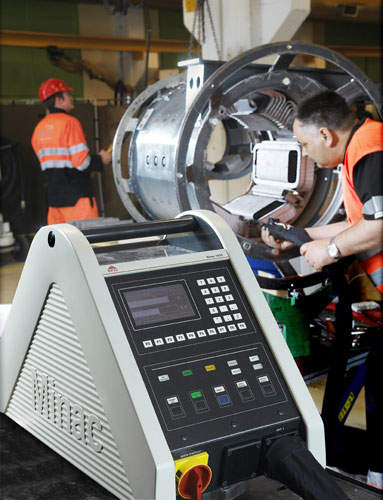 Minac compact and mobile induction heating systems' handheld transformers (HHTs) make it easy for operators to reach work pieces.
EFD Induction Teracs can be found at shipyards around the world. Customers usually cite a dramatic reduction in straightening costs as the biggest benefit of switching to Terac. This is because the Terac ensures:
Rapid, repeatable, controllable and localised heat: Terac has been documented to cut straightening times by as much as 80% compared to flame heating and other traditional methods
Straightening of convex and concave bulges: an operator can straighten both positive and negative bulges using the same simple-to-follow procedures
Failsafe operation; it is impossible to overheat magnetic steel
Small equipment footprint: a complete ready-to-work Terac system fits in one small storage container
Maximum flexibility: a Terac works just as well on bulkheads as it does on decks
Wide working range; an operator has a working radius of up to 60m (197ft) from the heat generator
Maximum operator efficiency; a new operator can master the efficient use of a Terac system in only a few hours
Turnkey induction bulkhead-straightening systems
The EFD Induction Terac is a complete, turnkey induction bulkhead-straightening system. The product, which fits in a small container for easy movement to and around shipyards, consists of:
Heat generator
Cooler
Heating unit (also known as inductor unit)
Operator panel
Cables
Optional system for handheld vertical operation
Handheld bulkhead straightening
The deck-heating unit — which weighs only 10kg (22lbs) — is a mobile wheel-mounted coil and transformer. Magnets on the underside of the unit ensure accurate positioning during the heating operation. For bulkhead straightening, an optional handheld unit can be used either freehand or suspended by a suitable balancer.
Ergonomic design and light weight aren't the only ways Terac protects operators' health and safety. With Terac, no toxic gases are developed from the heating source, there is no acoustic noise, and there is less smoke than flame heating when working on painted or primed metal. Also, since operators need only heat one side of the plates, there is a lower risk of injuries caused by reaching and working under decks and in confined spaces.