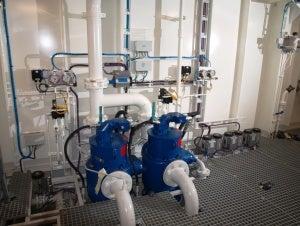 Tidewater upgrades MV Danco Tide for Brazilean ORO-services
MV Danco Tide , an UT 755 PSV, was built at Promar SY / Brazil as their H/N 004, and has a comprehensive PG cargo system onboard. This installation will now be extended with large capacity pumps for recovered oil services to Petrobras, which also includes HPU and LCC from PG Hydraulics and PG Automation.
PG has supplied cargo solutions to as many as 27 of Promar's (part of Aker Yards, STX OSV, now Vard) newbuilds.
SinoPec China and Mawei SY select PG for Havyard 843 AHTS project
PG secured a contract to deliver comprehensive, hydraulically-driven liquid cargo solutions to SinoPec's latest newbuild project, this time a Havyard 843 anchor handling tug supply vessel to be constructed at Mawei Shipyard in China.
Kleven orders PG-package for another REM MT 6022L OSCV
Kleven H/N 364 , a Marin Teknik designed offshore subsea construction vessel, nominated MT 6022L OSCV under construction for Rem Offshore, will be comprehensively equipped by PG for all cargo handling, tank cleaning, anti-heeling and ballast water treatment functions.
PG orders from Mawei for Pacific Radiance newbuild PSVs
Another two contracts were won from Mawei SY, covering hydraulically driven, liquid cargo handling systems for a pair of Focal design 86m PSVs under construction for Singaporean owner Pacific Radiance.
VARD Aukra book equipment packages from PG for Solstad OSCV 03
VARD Aukra H/N 825 is a VARD OSCV 03, under construction for Solstad Offshore. PG has been awarded contracts to deliver equipment such as pumps, fresh water generators and ballast water treatment solutions. Scope of delivery begins in Q3/2013.
VARD Søviknes and DOF select PG-Hyde GUARDIAN for OSCV 12
PG was contracted to deliver two Hyde GUARDIAN HG 450 ballast water treatment systems to VARD's H/N 800, an in-house-designed VARD OSCV 12 161m-long offshore subsea construction vessel of magnitude. Delivery is scheduled for Q4/2013.
Ole Brekkenes hired as Site Manager for PG Fabrication Sande
In operation from2 April 2013, Mr. Ole Brekkenes has taken position as site manager at our PG Fabrication Sande site, after a long and highly relevant career. Having sailed as chief engineer in his early days, he has managed the Kværner Eureka pump and subsea test facilities at Trandby, the recently-built subsea test facilities for GE Oil & Gas in Drammen – and is now more than ready for new challenges.