Sotra Anchor & Chain, one of Europe's largest anchor and chain suppliers, keeps approximately 9,000t of brand new and second-hand marine anchors, chains, mooring equipment and accessories, in all types and sizes.
From its Norwegian, Scottish and Dutch yards, the company supplies high quality anchors and chains to Europe, Asia, North and South America, Africa and Australia.
Marine anchors and chains
Our range of anchors and chains includes:
Studlink anchor-chains
Studless anchor-chains
Mooring chains
Alloy chains
Anchors
Offshore chains
Shackles
Anchors for decoration
Surplus equipment
Offshore anchors
Shackles and swivels
Tri-plates
Studless anchor-chains and accessories
Amongst our in-stock products are 4,000m of second-hand grade R3 studless anchor chains, of 130mm diameter; brand new Bruce FFTS and Stevpris Mk5 type offshore anchors; and accessories like kenter-shackles, swivels, tri-plates, mooring-rings, anchor-shackles and pear-shackles,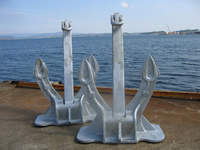 The Spek anchor, designed to fit in anchor pockets, has become one of our most commonly used stockless anchors.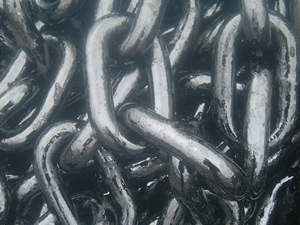 Studless anchor-chains are used in permanent moorings when the chain will not go over a gypsy.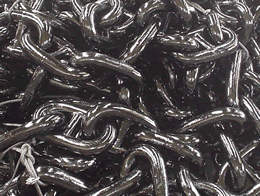 The Studlink anchor-chain is ideal for both permanent and emergency anchoring.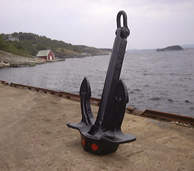 The Union anchor is a conventional type stockless anchor.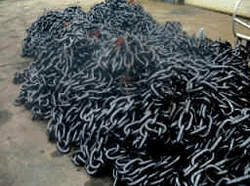 A studless anchor-chain (mooring-chain) for use in aquaculture and moorings.
Studless anchor-chains are used in permanent moorings when the chain will not go over a gypsy. The advantages include less weight, ability to fit larger shackles without endlinks, and the avoidance of loose stud problems.
Studlink anchor-chains
We also have brand new studlink anchor-chains of 76mm and 84mm diameters, and both grade ORQ and R4 chains.
Studlink anchor-chains are used for permanent and emergency anchoring of ships and other floating installations. The studs ensure that every link comes into the gypsy in the correct position.
Chains for mobile offshore installations and drilling rigs are made of steel grades ORQ, R3, RQ3, RQ3S, R3S, R4, R4S or R4ST (grade R4 being the most common).
Accessories for anchor chains
Anchor chain accessories supplied by Sotra Marine Produkter include:
Kenter joining shackles
Type D anchor shackles
Type D joining shackles
Swivel-forerunners
Type ASW swivel shackles
Baldt joining shackles
Ramfor connectors
Type Baldt pear shackles
Safety bow shackles
Mooring shackles
Thimbles
Shipyard chains and anchors
Sotra Anchor & Chain supplies chains and anchors to more than half of all new-build ships in Norwegian shipyards. We also supply to shipyards in the UK, Canada, Brazil, Spain, Turkey, Poland, Australia, Taiwan, India and many more worldwide.
We can supply most sizes and types of chains up to 137mm and anchors up to 25t from our stock, with certifications as needed. We can also offer direct delivery from our own factory in the Far East or cooperation with a worldwide network of associates. These delivery options allow us the flexibility to accommodate a customer's unexpected changes in specifications or delivery requirements.
Certified chains and anchors
Sotra Anchor & Chain's products are fully certified by DNV, ABS, BV, LRS and GL.
The company's Norwegian yards possess deep-water quay facilities that can load / unload directly into vessels 24 hours a days, seven days a week. Excellent flexibility allows us to make deliveries within a few hours.