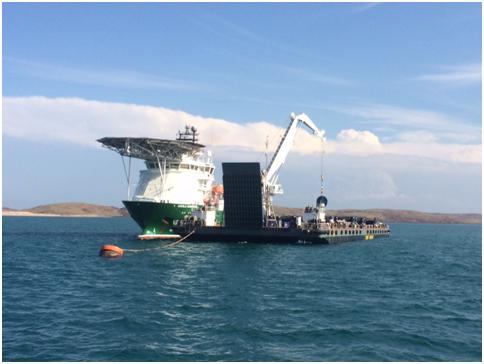 Varenco is pleased to announce the commencement of service at Dampier by a barge designed, built and deployed for their clients Qube Ports and Bulk in a turnkey project development for Qube Marine.
Our clients developed a barge berth and a supply ship support base at Dampier. They then looked to provide a solution for shipping customers who were looking for suitable berthing and cargo handling facilities .
Varenco project managed the design, contracting, construction and deployment of the Qube Transporter, an approximately 12,000t deadweight, container-fitted, heavy lift-capable, ballastable Ro- Ro barge.
The 100m x 32m barge is capable of operations in high tidal ranges due to a sophisticated ballast system and a 13m x 9m ramp capable of supporting 300t. The barge can also be used as a crane barge, for pre-assembled modules over its stern with 25m-wide pontoon stern ramps and is fitted for container loading.
The barge is currently deployed supporting the offshore industry off the NW Shelf.
Antony Perkins, director of business development at Qube, commented: "Varenco has successfully managed this project for Qube Marine, from design through to deployment. We are very pleased with the service."