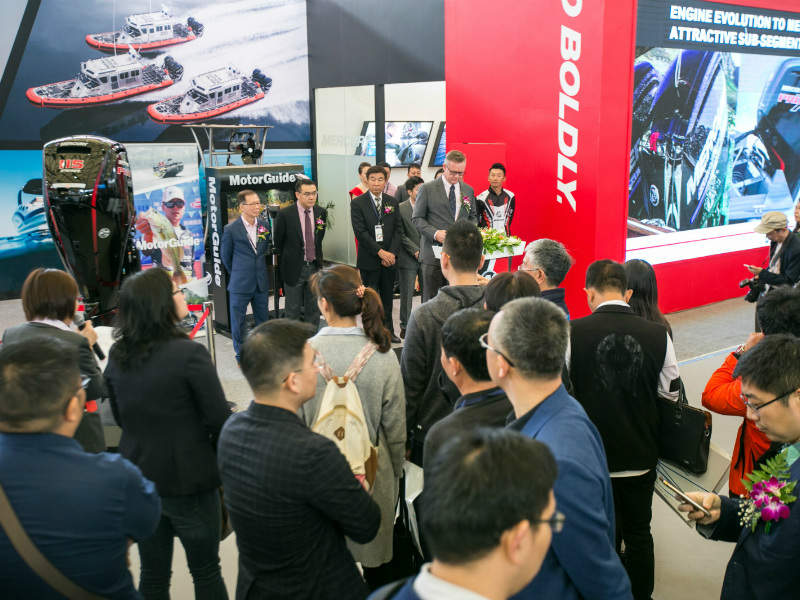 The 23rd China (Shanghai) International Boat Show (CIBS) 2018 is helping to reinvent and innovate the waterfront leisure lifestyle.
With an exhibition area of 55,000m², featuring exhibitors from 15 countries, including New Zealand, Italy, Australia, South Korea, Japan, Taiwan and Hong Kong, the '360-Degree Water Carnival' theme is a diversified leisure ecology to appeal to China's growing affluent middle class: a weekend of fun activities, educational programs, rewarding partnerships, yacht visits, product launches and celebrity appearances.
The appeal of a waterfront leisure lifestyle
Waterfront recreation tourism is a rapidly growing industry. According to authoritative statistics, 55% of the tourists in China currently choose to 'play with water', and the total value of waterfront tourism will reach more than RMB 5tn. And now, with the government's gradual liberalisation and financial support, plus the appreciation of the sharing economy, the price of boat / yacht rentals has become approachable, no longer an out-of-reach luxury item.
During the past Chine Spring Festival at the 2018 Sanya Boating Tourism Market, the three boat / yacht terminals received a total of 25,900 visits in 7 days, and the average selling price of the retail outlets was RMB 10,000/3 hrs. As estimated, the relative consumption income was more than RMB 200m.
CIBS2018 is the dock of the town
Well-known exhibitors this year include Beneteau, showing their latest models Swift Trawler 30, Barracuda 8 and Oceanis 41.1, Jeanneau (Prestige 520), Omnia (Sessa Fly 42), O'Neill, Jetsett and Falcon, while Guangzhou Baowei Yacht will bring their latest and best models. Expect other mystery big boats to be unveiled as well.
Equipment accessories are wholly represented: Mercury Maritime will launch their their maritime propulsion systems, expect to see Yamaha, Suzuki, Honda, Baisheng, Baibang, Alpas, Anqidi, Pinel and Hidea with exciting products as well.
Celebrities, key influencers and watersports idols bring star wattage
This year, the organisers have invited many key opinion leaders from the watersports circle to the exhibition. In addition, more than 100 water, boat, and yacht clubs will exhibit their functional products around the clock.
The Aquatic Carnival will have a 500m² pool indoor and outdoor to stage the fun diving bounty contest. Expect also kayaking, OP sailing, and paddle boarding. The 23rd China (Shanghai) International Boat Show runs officially from 26 to 29 April 2018.