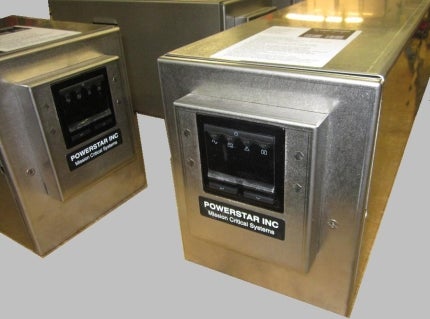 Powerstar UPS builds uninterruptible power supplies (UPS) for use on-board oil spars, cruise ships, tugs and freighters, as well as for military and homeland security clients.
Powerstar primarily uses advanced motherboards from two renowned producers of commercial-off-the-shelf UPS systems, APC™ and Liebert™.
Powerstar UPS has been in business since 1993, with all its manufacturing carried out in the US.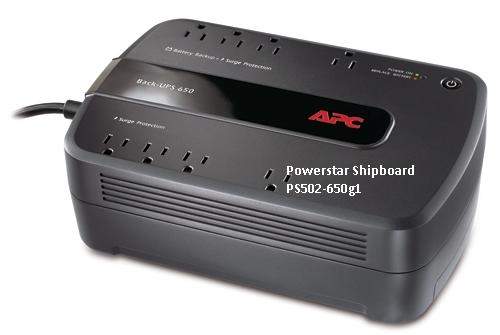 The shipboard low cost PS502 power strip / surge suppressor / UPS is ideal for protecting low-power electronics from surges and drop outs. The PS502 is offered in three ranges: 550VA, 650VA, and 750VA. All can have our ten year life battery option. See Catalogue link below for details of all Powerstar products.

The PS6002rm2u/SMT has an efficiency rating of up to 98%, even when under full load. The PS6000 series all contain a 2 line text metering display to easily configure, analyze, and understand any alarms the UPS may have.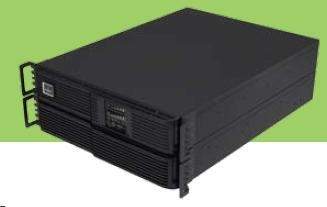 PS3000rm2u 1500VA true online UPS is supplied with a rack mounting kit, or the front panel can be rotated and used as a tower. The PS3000 series can have up to four add-on battery trays added for increased runtimes.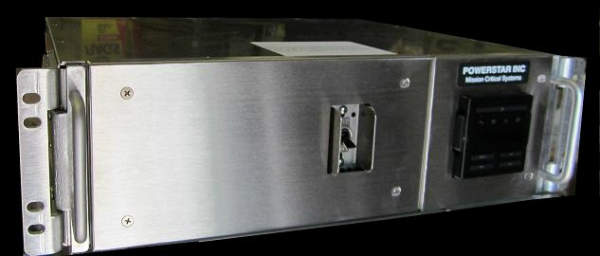 The PS6000r2iso 1.5KVA transformer-isolated UPS adds a safety factor for the sailors and helps eliminate electrical noise problems as well. This unit uses a stainless steel chassis and battery pack is removable through the front panel. Now contains two line text metering panel.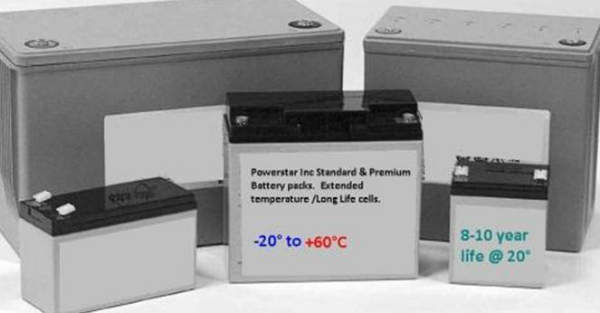 Battery options: Standard packs have a five year lifecycle & temperature range of 0°C to 40°C. Premium offer an extended temperature range, -20°C to 50°C, and has an 8-10 year life. 'X', The eXtreme series is available for hull mounts. -40° to 60°C and 2 year shelf life.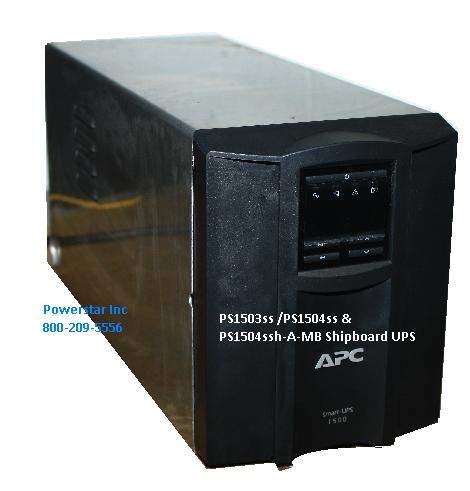 The Powerstar PS1504SMT hull mount UPS has a removable mounting platform available to bolt this UPS to the hull. Larger versions are also available with similar platforms.
The Powerstar 2+2 offers 3KVA in a small package. 18 inches deep. 2u battery cabinet can be separated from electronics up to 9M away. This system was designed for submarines, but can solve any space-based issue.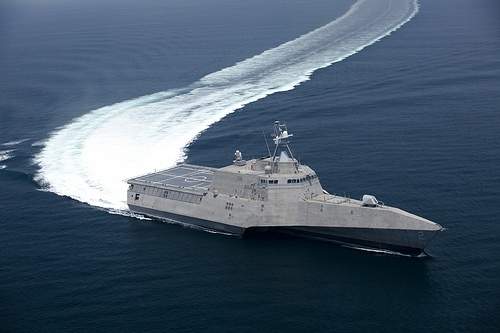 Powerstar UPS supplies the naval ships of the world, now let them help you build the most reliable, cost effective and rugged uninterruptible power systems to keep your ships moving and operational. Contact a Powerstar sales engineer today.
Low-cost shipboard uninterruptible power supplies
Powerstar manufacturers compact and cost-effective 330W-425W brick-shaped UPS (PS502 line) units. These low-cost systems can be used to power and protect computers and printers, or other low-power devices. The maintenance / repair period can be doubled with a ten-year battery pack.
The PS502 series uses a USB connection to notify the computer of any UPS alerts, and when to begin shutdown upon loss of power. The PS502-750 (525W output capacity) also has a special feature, the 'green mode master port'. The port detects when no current is being supplied, and then turns off any other controlled ports. For example, when the PC is shut-down, the printer and monitor also turn-off, conserving power. See the catalogue link below for more details.
Shipboard versions of 120V COTS rack-mounts from 0.7 to 3KVA
The PS6000 series: For its PS6000rm (APC™) product range, Powerstar uses the APC™ SMT series UPS. Offering an efficiency of 98% at full load, these units generate less heat in the rack, and can incorporate ethernet monitoring and communication. The units range in power from 700W-2,700W, have a 3.5in height dimension, and are supplied with a rail kit for four-post rack mounting. Upgrades are also available for a premium battery option, with an operating range of -20°C to 50°C, and expected life-cycle of ten years.
The PS3000 series: This is a true-online range of shipboard UPS from 0.7KVA to 3KVA. The 2u x 24in deep PS3300rm2u is a very efficient (2,700W) true online and is only 24in deep. The 1.5KVA PS3150rm2u is less than 20in deep and can deliver 1,350W. A 2KVA PS3200rm2u 19.7"deep Marine UPS can deliver 1,800W.
All Powerstar rack-mount units come with a rail kit for installation into a four-post 19in equipment rack. These rails are adjustable for depth. Ten year long-life batteries are optional. See the catalogue link below for details. Connectors may be altered per your request. Conformal coatings may be added if required.
Electrically isolated UPS
Powerstar UPS builds transformer-isolated uninterruptible power supplies for marine use, ruggedizing them for adverse operations.
These three rack unit tall units contain the isolation transformer internally. The cabinet is specially made to house the transformer for excellent electrical isolation, good for both sailor safety and electrical noise immunity. These are popular for naval customers and are available for the commercial users as well.
The PS6000iso (1.5KVA) and PS3300rm3u (3KVA) are popular versions. Powerstar UPS can customize units to fit client needs.
Powerstar offers three series of battery packs:
Standard packs offer a five year lifecycle at temperatures of 0°C to 40°C
Premium, ' -h' series, offer an extended temperature range, of -20°C to 50°C, and has an eight to ten-year life.
'X' -The eXtreme Series is also available for some models. The eXtreme is built with severe shock and vibration in mind. They can handle 4atm of pressure. They can operate in temperatures of -40°C to 60°C, with a 12-year life. They also have a two-year shelf-life without refresh charge. The cases on the X series offer superior shock and vibration resistance.
Extended runtime UPS
The PS3000 series: Powerstar uses Liebert from Emerson Products for its online double conversion models, offering the ability to add additional battery trays for extended runtimes. The models all have emergency power-off connections (EPO), so power-flow can be cut instantly when connected to fire alarms, panic buttons, or smoke detectors.
The PS6000 XL series: The PS6000 XL range uses the APC™ SMX series. They have the same 3.5in height dimension as the PS6000rm (APC™) SMT series, but with a bigger charger to handle additional battery cabinets. A higher density battery packaging design is used so longer runtimes than the standard SMT series can be offered. The XL series now includes a front mounted two line alpha-numeric metering readout to quickly diagnose the operational status. This XL Series offers optimum efficiency levels,
Either of these extended runtime models may add on 'BP' battery trays that are 2u in height and are supplied with mounting rails for four post racks. Upgrades are also available for a premium battery option, with an operating range of -20°C to 50°C, and expected life-cycle of ten years.
Steel hull-mounted Uninterruptible Power Supplies
Powerstar offers a well-established line of hull-mounted, rugged mini-tower shaped models.
PS1504 (1.5KVA),
PS2201 (2.2KVA)
PS6003T (3KVA)
These short tower-style UPS are listed with the Catalogue link below. The hull-mount series is offered with bolt-down / weld-down steel mounting platforms for secure fastening, while maintaining easy removal. Also available are five-year, ten-year, and 12-year eXtreme rugged battery packs.
The mounting platforms have a steel base, which can be bolted or welded to the deck, with bolt-down steel straps surrounding the supply. To lower costs, these units are also offered with original equipment manufacturer cabinets, if meeting high-shock tests is not required.
Uninterruptible power supplies for shallow mounting depth rack space
Powerstar offers a few units with unusual shape layouts to fit tight spaces such as yacht equipment bays or even submarines.
The 3KVA PS6003 2+2 features a two-piece design, and is only 18in 457mm deep. The battery tray is a separate cabinet from the electronics tray and may be located up to three meters away.
Also offered is the 19in deep PS6003rm4uXL. This is another 2,700W UPS albeit with a one piece design that is four rack units tall with a depth of 19.5in. There are 2KVA versions of both of these units.
The PS6000r2-1 is a 1.5KVA 984W UPS only 15in deep and is three rack units tall. (5.2in)
The transformer isolated PS6000r2iso is only 20in deep and 3ru tall. 1.5KVA.
About Powerstar
Powerstar UPS systems are used on-board naval ships operated by Australia, Canada, Columbia, Denmark, Great Britain, India, Taiwan, and the US. Commercially, Powerstar products are found on oil spars, cruise ships, yachts, and tugs around the world.
Powerstar's range of rugged UPS products are used in the US for homeland security, shipboard satellite links, White House communications, C4I command and control, FAA air traffic controls, Navy Arleigh Burke class destroyers, and the new LCS (both versions), CVN, MCM, MHC, Virginia, SSGN, and SSBN class submarines.
Powerstar engineers have developed products with teams from L-3, NG, GD, Electric Boat, Newport News Shipbuilding, Lockheed and Boeing, USGS Earthquake Centers, and National Severe Weather Warning vehicles (tornado hunters).