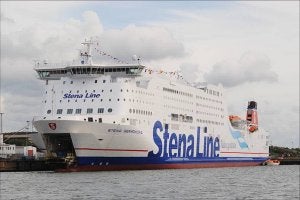 Schneider Electric, The global specialist in energy management™, last year won an order from Marine Global to install high-voltage shore connection (HVSC) systems onboard five Stena Line ferries operating from Sweden, with the aim of improving the air quality in ports used by several of their ferries, and to reduce the consumption of costly and polluting marine gas oil.
Marine Global, who is an independent supplier of mechanical and electrical installations to both marine and land-based industry all over the world, was commissioned to install the high-voltage shore connection as a turnkey project.
The extensive project included an interface-to-shore grid, high-voltage transformer, flex-cable management systems, hull openings for flex cables, transformer room, high-voltage switchgear, connection to the ferries' power network, and synchronisation and alarm equipment. The capacity of the ferries' shore connection systems ranges from 2.2MVA – 3.15MVA.
"Our strength is our capability to deliver complete turnkey packages to our customers, and we were looking for a supplier who could deliver high-voltage switchgear systems compact enough to fit into the space-restricted areas of the ships", said Carl Dahlberg, account manager of Marine Global.
"We decided on Schneider Electric, whose RM6 switchgear makes it very suitable for onboard installation because of its compact size. Also, it is considerably smaller than similar marine-approved products on the market. In addition, Schneider Electric delivered the PLC touch-screen controller that integrates the shore connection into the power management system of the ferries.
"Sweden has a tax incentive to use green power, and, after analysing the solution's first-year performance, Stena Line estimates that thanks to the shore connection solution they have cut their power bill by 50% compared to power produced onboard by ship engines."