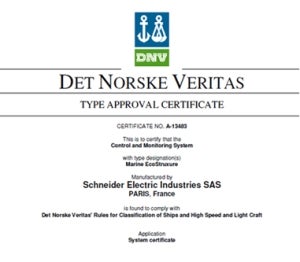 Schneider Electric Marine EcoStruxure successfully obtained a certificate authorised by DNV on 17 March 2014.
The Marine EcoStruxure ship management system is an integrated control, monitoring and alarm system based on redundant PLCs and distributed I/O connected to a ring Ethernet network.
The type approval certificate confirms that the system fulfils regulations from the IMO, IACS and the class society. The approval process includes documentation verification, function validation and quality assurance.
Schneider Electric Marine EcoStruxure is a reliable solution that helps safeguard both the crew and the machinery onboard vessels. This system could be adopted on all merchant vessels and provides customers with several advantages:
Engineered for modularity, a Marine EcoStruxure solution can be adopted by a diverse range of ships varying from simple vessels with hundreds of I/O points, to the most complicated vessels with thousands of I/O points
A customised solution, the Marine EcoStruxure can fulfil multiple specific requirements from both a shipyard and vessel owner
Fully integrated, a Marine Ecostruxure solution enables shipboard independent systems to interface with this central control system in order to realise remote control and monitoring functions
Standard products (PLC, I/O and HMI) are adopted not only in marine applications but also in other industries, so spare parts are easy to obtain worldwide
Full lifecycle support and global service availability
"Norway-based DNV, founded in Oslo in 1864, is one of the top international certification bodies."
With more than 90 years' experience in the marine industry and a worldwide presence, Schneider Electric is an experienced and reliable automation partner. The Marine Eco-Struxure system is supported by Schneider Electric Marine StruxureLab, a platform introduced two years ago in Shanghai, China, in order to demonstrate, test and validate marine solutions. The recent DNV certification is confirmation of the reliability and performance of this ship management system.
Norway-based DNV, founded in Oslo in 1864, is one of the top international certification bodies. It is the world's largest ship and offshore classification society, and became DNV-GL in September 2013.