Navalimpianti
Embarkation Davits

Address
Via Terza Armata, 18,
34074 Monfalcone (GO),
Other,
Italy
Phone
Navalimpianti Tecnimpianti designs and produces embarkation davits of every kind: semi-gravity, multi pivot, roller track, rescue boat and life raft, free-fall and NOD. The company is also the only producer of telescopic davits worldwide.
Navalimpianti is also an international leader in the design and supply of other marine equipment for passenger and merchant ships, navy, offshore and mega yachts.
Telescopic embarkation davits
Our telescopic davits with reserves of energy consist of two arms welded at the ceiling of the upper deck, enabling the promenade deck to be kept completely clear. This is particularly useful not only when this deck serves as the passengers' walking area, but also during embarkation in emergencies.
Sliding glass covers
Navalimpianti's Sky-Dome™ sliding covers allow full multi-seasonal employment of ships. The sliding glass cover is composed of sliding panels, each having a welded plating alloy structure on which the glass sheets are mounted underside the panels. Gear-motors move the panels backwards and forward.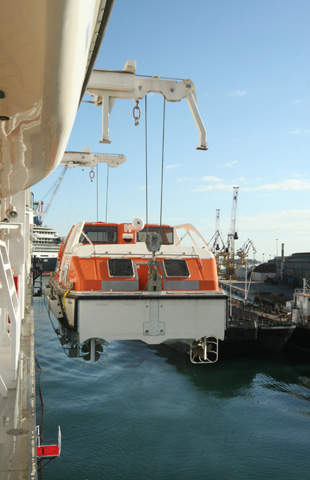 Navalimpianti Tecnimpianti designs and produces embarkation and telescopic embarkation davits.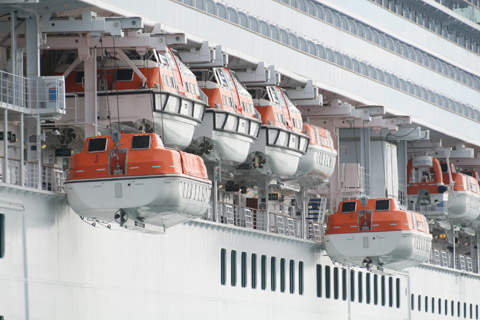 Navalimpianti is the only company worldwide to produce telescopic embarkation davits.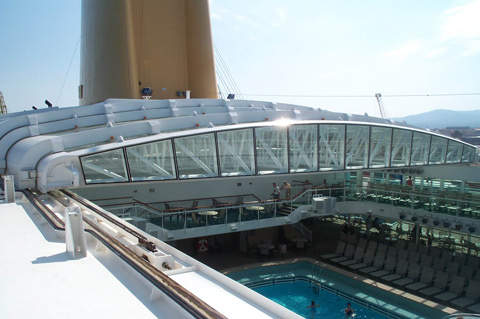 Our telescopic embarkation davits enable the promenade deck to be kept completely clear.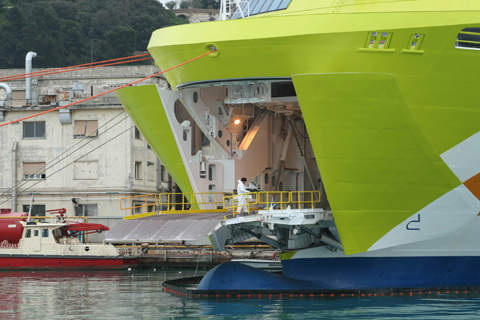 We produce a range of cargo access equipment for Ro-Ro and Ro-Pax ferries.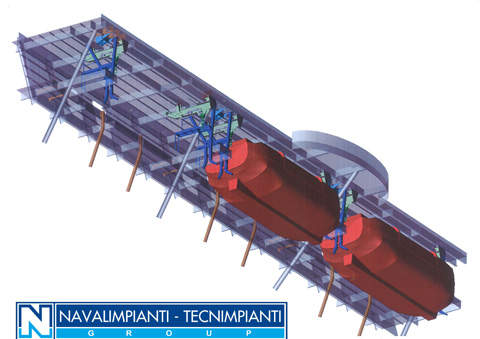 The Navalimpianti group has supplied more than 15,000 plants and systems worldwide on over 600 vessels.
Cargo access equipment for Ro-Ro and Ro-Pax ferries
Navalimpianti cargo access equipment for Ro-Ro and Ro-Pax ferries include bow visor, stern and side doors ramps, quarter ramps, shell doors, covers and internal doors, car decks, hoistable and tiltable ramps, and elevators. Our solutions for cargo access cover a wide range of products tailored for the needs of our customers, from the flexibility of the cargo spaces up to the handling of each type of vehicle, allowing efficient and cost-effective systems.
Navalimpianti cargo access equipment features integrated hydraulic and automation systems, to ensure problem-free working and easy operation.
Valve remote control systems
We can supply valve remote control on-board any ship, to help ensure the safety of passengers and crew. We provide reliable equipment for the operation of ballast valves, fuel transfer, sea chest emergency closing, and cross-flooding valves.
Hydraulic actuators and valve control systems
Our experience, gained from work with over 80,000 controlled valves, is today included in RAM – TORK – TORKLT linear and rotating hydraulic actuators and in the control systems Standard, Winners E and Winners H.
In particular the Navalimpianti Winners type is a valve remote control system with electro-hydraulic actuators. The relevant hydraulic actuator is installed on each valve and a micro electro-hydraulic unit is directly connected.
The system architecture is founded on three main technological choices: electro-hydraulic actuators (ETork and ERam), intelligent unit controller cabinets (WCC) and a non-proprietary network based on Lontalk protocol developed by Echelon.
There is no need for hydraulic linkages between the hydraulic station and actuator; the connections are electrical. There is also no traditional hydraulic power pack. Each actuator, either of linear or rotating type, is equipped with a micro electro-hydraulic unit.
Passenger and naval ship access and handling systems
We also supply access and handling systems for passenger and naval ships and special applications for the marine field. These include side doors and tender embarkation platforms, baggage loading platforms, quay ramps, and monorail cranes.
Common characteristics of our products are full compliance with current and applicable rules, structures and accessories designed for a problem-free operational life, and customisation to owners' and operators' requirements. Hydraulic automation systems ensure easier and safer operations.
About the Navalimpianti group
In the last 40 years, the group, with nine branches in six countries, has supplied more than 15,000 plants and systems all over the world on over 600 vessels.
The Navalimpianti group is headquartered in Ceranesi. It has two branch offices – one in Genova harbour and the other in Monfalcone. Various controlled companies include:
Tecnimpianti, founded in 1973 in Termini Imerese, which is specialized in the production of tender, lifeboat, rescue and raft davits
Navalimpianti USA, founded in 1994 in Miami, which is focussed on after-sales service
Navalimpianti Pula, started in 1996 in Croatia as an engineering studio for 3D structural design works
Navalimpianti China, a branch office opened in 1994 in Shanghai to offer commercial, technical and service support to ship-owners and shipyards in the Far East
In 2007 brand-new branches Navalimpianti Japan (on a commercial site in Tokyo), and Tecnimpianti Antwerp in Belgium (which is focussed mostly in after-sales service) were opened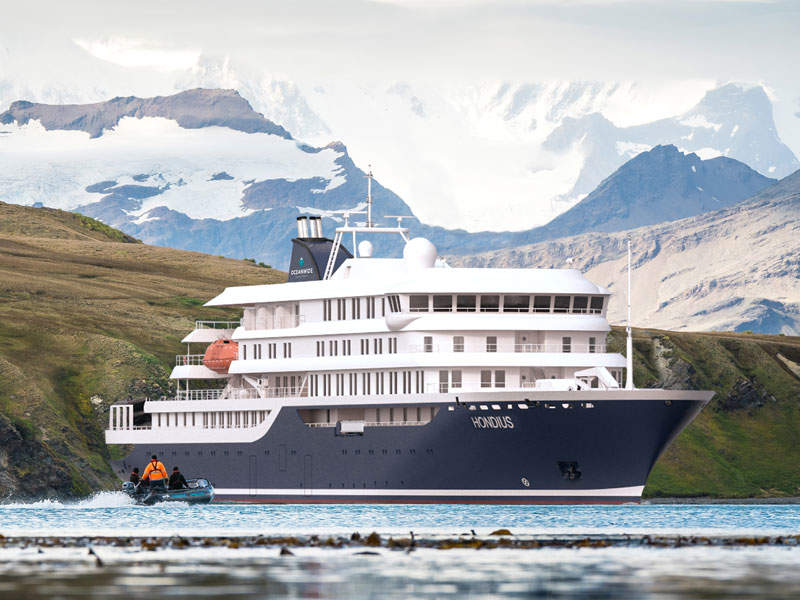 Hondius is a new expedition ship built by Brodosplit Shipyard in Croatia for Oceanwide Expeditions.
Navalimpianti Tecnimpianti Group took part at SMM - the 24th shipbuilding, machinery and marine technology international trade fair, Hamburg - which was held at the Hamburg Fair site from 7 to 10 September. Positioned in hall B2, stand 230, the representatives of the group welcomed visitors and c

15 September 2010
Navalimpianti Tecnimpianti is the international leader in the design and supply of marine equipment for passenger and merchant ships, and navy, offshore and mega yachts. The group has already supplied more than 15,000 plants and pieces of equipment all over the world. For the vessel

15 September 2009
Navalimpianti SpA
Via Terza Armata, 18
34074 Monfalcone (GO)
Other
Italy



Telephone Number




Fax Number




Email Address