NorthWest Clean Air Company
Permanent Air Filters For Ship HVAC and Engine Turbochargers
NorthWest Clean Air Company (NWCA) provides high-performance permanent air filters to the marine industry.
---
---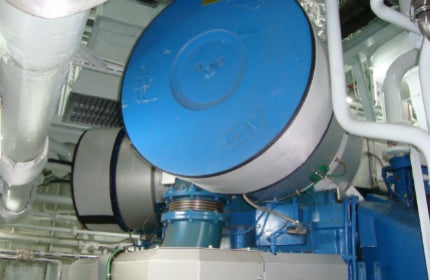 NorthWest Clean Air Company (NWCA) provides high-performance permanent air filters for diesel engine turbochargers, main air handling units, and in passenger cabin and public area fan coil units used in ship operations.
Our permanent / washable electromechanical air filters are at the forefront of the industry, and have been designed to offer maximum performance in demanding marine environments.
Through the use of NWCA next-generation washable air filters, ship owners are saving tens of thousands of dollars per vessel every year and eliminating thousands of disposable air filters from landfill sites.
NorthWest Clean Air Company
Turbocharger air filters with a ten year warranty
The NWCA electromechanical turbocharger filters are custom-fabricated to fit the silencer dimensions of leading marine turbocharger manufacturers, such as ABB, MAN, and Mitsubishi.
Each filter element is fabricated with double stitched edge bindings, and is complete with an adjustable Velcro attachment for ease of installation and a secure fit. The flexibility of our upholstery division allows for virtually any size required by the vessel.
Our permanent / washable turbocharger filters offer low-resistance, and provide complete silencer air intake coverage, eliminating blowby. The filters are designed to protect the charge air cooler, and reduce compressor contamination. Cleaning maintenance is achieved by washing with a degreaser.
NWCA turbocharger filters eliminate on-board synthetic roll media inventories, cutting time and disposal costs of the waste filter material.
Air handling unit air filters with a twelve year warranty
The NWCA next-generation electromechanical AHU filters eliminate the need for and the ongoing expense of disposable air filter material, providing significant cost savings and eliminating landfill waste requirements.
Designed specifically for use in high-velocity ship air handling units, the NWCA permanent / washable marine air filter is fabricated using AISI 316L stainless steel, with the 23mm frame welded and polished, complete with two drainage holes per leg. The filter media incorporates the principles of both electrostatic and mechanical filtration.
Direct results include:
Remove costly shipboard filter inventories (disposable filter media)
Minimise storage space for spare sets
Eradicate the costs of replacement cooling coils at dry dock intervals due to fin blockage caused by wet or torn air filter media debris (disposable bag filters)
Eliminate the negative environmental impact of disposable filters to landfill sites
Easily cleaned by washing with high or low pressure water
Passenger cabin filters and public area fan coil unit filters with a twelve year warranty
These next-generation electromechanical permanent / washable air filters are also fabricated using the same AISI 316L stainless steel components and filtration criteria as our air main handling unit filters with the exception of the sizes.
Typically these types of filters appear in mostly non-standard sizes, depending on the original equipment manufacturer specification. Our custom capabilities allow us to fabricate to any size requirement.
About NWCA
Our mission is to provide a sustainable return on investment so that our customers can maximise their economic and environmental bottom lines.
Our production facility is located in Toronto, Canada, and is staffed by highly skilled craftsmen, designers and engineers, supported by the latest SolidWorks 3D CAD software, assuring that all filter components are manufactured to the highest standards.
Our key customer base is worldwide and comprises leading cruise lines, ferry companies, merchant carriers, and superyachts.
The NWCA corporate office is located in Toronto, Canada, with representation in Los Angeles, US, and Kiel, Germany.
For assistance with your enquiry and to receive a response within 24 hours, please use the form below.
NorthWest Clean Air Company (NWCA) is honoured and excited to have been shortlisted for the Safer, Cleaner Seas Award 2016.
NorthWest Clean Air Company Inc (NWCA)