QleanAir Scandinavia
Smoke-Free Solutions, Air Filtration Systems and Cigarette Handling Systems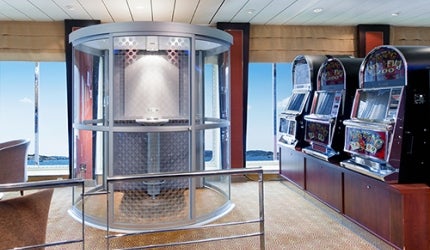 Do you have guests or crew members that are smokers? Do you struggle with bad smells in smoking rooms or smoking areas? Do you sometimes receive complaints concerning smoking?
Up to 25% – 35% of the adult population is still smoking. Regardless of their habit, they are important guests or a vital part of your crew, and so rest assured that the negative consequences of their smoking can easily be taken care of.
Improving the environmental air quality in a smoking room or smoking area can be challenging, especially when bad ventilation and a lack of air circulation leaves the hazardous gases and particles from cigarette smoke in the room.
QleanAir Scandinavia has developed unique solutions to this problem.
All-in-one smoking room
The clean air cabin provides a full service to protect non-smokers from passive smoking, enabling an environment that is completely smoke and odour-free.
The clean air cabin has three key aims:
Capturing the smoke: smoke is fully captured before it is able to spread through the room. The smell and all smoke are completely eliminated
Eliminating particles and hazardous gases: our advanced filter system is specifically designed to eliminate related particles and invisible hazardous gases in tobacco smoke
Increasing safety: our unique and non-flammable ash handling system (AHS) guarantees that there is no possible risk of fire. Our system is recommended and approved by the Swedish Institute of Research and Studies
Smoke-free solutions to prevent passive smoking
QleanAir Scandinavia develops, designs and sells solutions for protection from passive smoking. We aim to create smoke-free environments without any smell, to contribute to a better social climate as well as help reduce smoking.
Our solutions can be found on passenger and cargo vessels worldwide. We have a proven track record for implementing successful solutions within the maritime industry.
Products for smoking rooms to improve air quality and fire safety
Based on the technology in our smoking cabins, Qlean Air Scandinavia has developed the smoking room clean air concept, launched at Cruise Shipping Miami 2013, where a combination of products – AirQlean and QleanUp – ensure a significant improvement in the air quality, fire safety and overall environment.
Ceiling or wall-mounted air filtration system
AirQlean H is a ceiling / wall mounted air filtration system. Its advanced technology efficiently traps ascending smoke gases and particles, which creates a better air cleaning solution for existing smoke rooms. Using a system of high-performance HEPA and carbon filters, the captured air is returned to the smoking room filtered and 100% clean. Installed in the ceiling above the smokers, the AirQlean H extracts the maximum amount of rising hazardous cigarette smoke from the air.
AirQlean L is our floor-standing model; a high-performance air filter that draws in and cleans low-lying smoke particles within the smoking room. Strategically placing the AirQlean L within the smoke room provides optimal air filtration and ensures a significant improvement in the air quality of the smoking room.
Freestanding ash and cigarette handling system
QleanUp is a freestanding ash and cigarette handling system. The patented, fireproof design ensures that each cigarette is fully extinguished upon disposal, solving the smoke-related issues of user-finished, yet still burning cigarettes. The cigarettes are collected and contained in a patented, fireproof and scent-free aluminum bag (NiContain). QleanUp also complies with all regulatory guidelines.
For more information, please visit our international English website, or our local sites in German and Japanese, which are linked below.
QleanAir Scandinavia Images