SSR Engineering Pte Ltd was founded in Singapore in June 1991 by three manufacturers (Shibata, Sugita and Orbilan) to provide oil / petrochemical terminals and port operators with consultants and contractors for their wharf and jetty needs.
Our location in Singapore means that we are just a phone call away from customers in the Asia-Pacific area, enabling us to provide fast-response to sales enquiries and a comprehensive level of after-sales service and support.
We provide the following products and services:
Crane rail and Minex crane rail fixing system
Kyoritsu Kikai gangway systems
Ryokuseisha navigational aids
Orbilan UHMW polyethylene pads
Shibata marine rubber fenders
Strainstall AMTS quick-release mooring systems, vessels mooring load monitoring systems (MoorAlert), vessel dock alert systems (DockAlert) and environmental monitoring systems (EMS)
Sugita bollards
Quick-release mooring hooks and berth management systems
Currently, every VLCC berth in Singapore is installed with Strainstall AMTS quick release mooring hooks and integrated BerthManager systems. Terminal operators have testified that they are pleased and satisfied with the ease which Strainstall BerthManager and Mooring System can be operated with.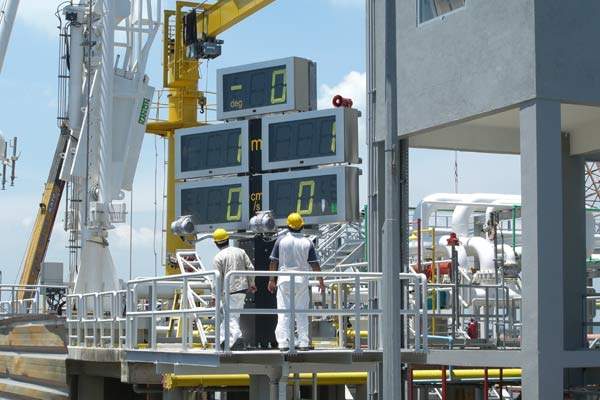 Commissioning Of Strainstall dock alert system.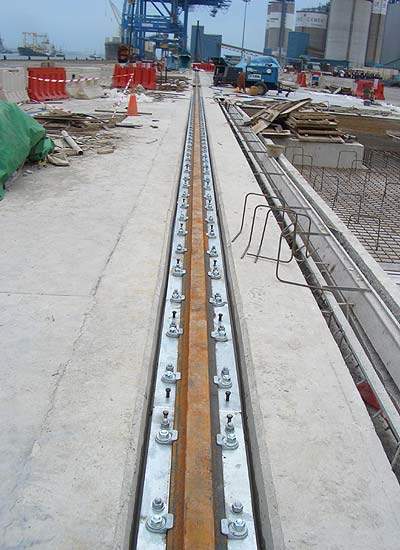 Crane rail And Minex fixing system.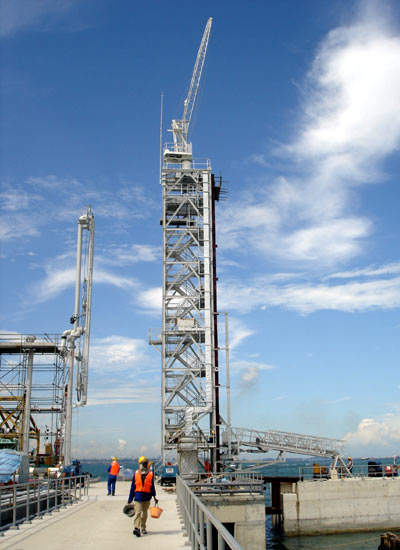 Gangway with crane for VLCC berth.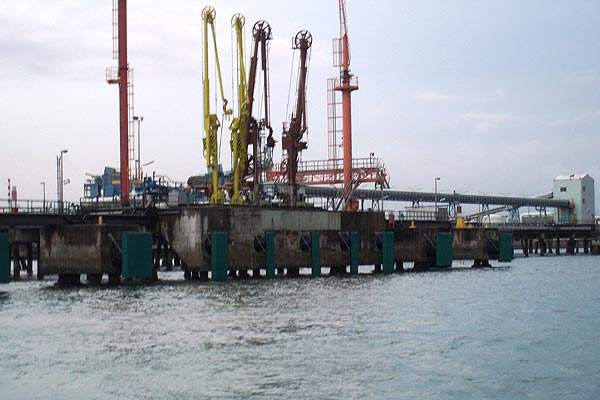 Shibata marine fender For Seraya power upgrade.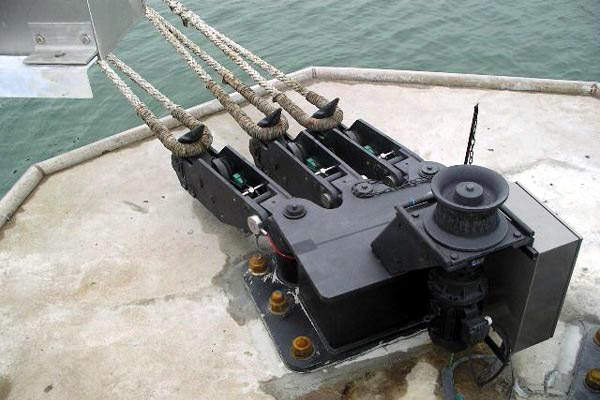 Strainstall AMTS QRHs.
The user-friendly software allows the operator to store and recall mooring configurations and alarms levels for all parameters; log all data on the hard disc; view trends of any measured parameter, output reports, alarm logs, etc.; and control remote release of the hooks. Strainstall's BerthManager System not only improves terminal efficiency, but also ensures that safety requirements are met and any potential risks reduced.
Circle-type fenders and bollards
Shibata fenders and Sugita bollards are installed at most of the PSA Corporation Singapore berths including the latest Pasir Panjang Terminal. This includes major oil / petrochemical terminals located in Jurong Island. Shibata have supplied their circle type fenders (CSS) with a 4.5m steel frontal panel to cater for a 3.5m tidal range to Singapore PSA Corporation container berths since the 1980s.
In 2006 our stakeholder, Shibata had their largest CSS fenders, standing at 3m high, which were installed at a VLCC berth for an oil storage terminal on Jurong Island, Singapore.
Gangways for tankers
To cater for the need of operators in oil terminals to have safe and easy access to berthed oil / chemical tankers, we supply and deliver Japanese-made gangways to Singapore and Malaysian companies. These gangways are simpler to operate and required fewer maintenance.
Rail fastening systems
Minex rail fastening system had been installed in ports based in Brunei, Indonesia, Malaysia, Singapore and Vietnam. Minex provides port operators with a maintenance-free rail fastening system. Its precision drop forged rail fastening clips together with its resilient pad means no wear and tear, or maintainance and replacement.
Minex's advanced and uniquely designed clips allow stepless lateral adjustment, a closed system with no water pocket, rounded in shape with 'no play' between the rail, guide plate, pressure plate and securing bolt. This offers long service life and free unhindered rail longitudinal movement.