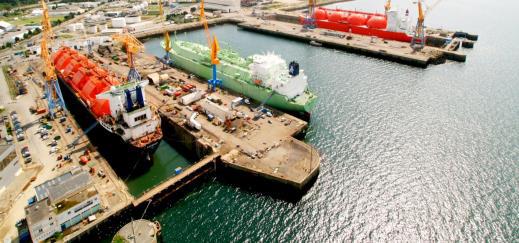 Greens Power Limited (GPL) of Wakefield, UK, have been working in close partnership with Damen Shiprepair Brest, supplying our services to carry out steam plant and associated equipment overhauls and presentation for class surveys.
In fact, since September 2015, GPL service and repair teams have been almost permanently present at the shipyard. As the success of Damen Brest in achieving ships repair and docking contracts continues, GPL are in close attendance.
Typical services GPL can supply are:
Open up, overhaul and present the following for class survey:
Main boiler / auxiliary boiler and associated equipment
Condensers
Economisers
Service, overhaul and presentation to lass of a wide range of valves (including steam, water, fuel)
Pipework repair and fabrication
Refractory repairs
Combustion equipment service and repairs
Sootblower overhaul and maintenance
Fuel saving / emission reduction upgrades
Manufacture, supply and install of a wide variety of steam raising and heat recovery marine equipment
Damen Shiprepair Brest is a well established repair yard with modern facilities. It has three dry docks, the largest being 420m x 80m, which is one of the biggest in Europe. This allows the yard to accommodate almost any ship in the world.
Some of the vessels GPL have worked on at Damen Brest in 2015 include Sonangol Sambizanga, Sonangol Etosha, Arctic Princess, and Polar Spirit.
We provide services that ensure economisers and waste heat recovery systems that we provide to the shipping industry work as efficiently as possible for their...
Green's provides complete services that ensure its customers' economisers and waste heat recovery systems operate as efficiently as possible during their entire lifetime.