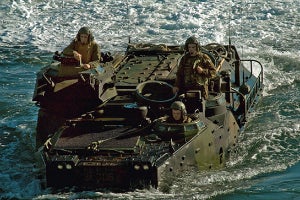 Marine jet manufacturer NAMJet has announced its successful bid to provide waterjet propulsion solutions for Science Applications International Corporation's (SAIC) initial upgrade to the US Marine Corps' Assault Amphibious Vehicle (AAV).
SAIC will manage the overhaul program in conjunction with the Program Executive Officer, Land Systems (PEO-LS) to perform initial upgrades to ten AAV prototypes. SAIC was awarded the initial engineering phase of the contract in 2014.
The initial upgrade program incorporates improvements designed to enhance protection, water- and land-based mobility, and combat flexibility.
As well as improving the vehicle's overall maneuverability and thrust through the addition of NAMJet waterjets, upgrades to the AAV include: armor, engine rebuilds for improved horsepower and torque, transmission enhancements, upgraded suspension components, installation of blast-resistant seats, and upgraded vehicle controls, instrumentation, and driver interface systems.
Initial contract options allow for a ten-prototype upgrade phase. Additional options, if exercised, will lead to developmental testing and low rate initial production (LRIP) of 52 vehicles for operational test and evaluation by US Marine Corps units.
"Protecting our nation's men and women in uniform is paramount," said Tom Hendrickson, NAMJet's vice-president, engineering. "NAMJet propulsion systems ensure unparalleled reliability, thrust, and maneuverability, while ensuring ample top speed performance to keep our soldiers out of harm's way."
With 2-3 times the impeller clearance of high-speed jets, NAMJet systems operate at much lower RPM than their high-speed counterparts, which decreases fuel consumption and system wear to provide a significantly lower lifetime cost of ownership.
Designed for engines in the 150hp to 900hp range, NAMJet systems are available with 15in to 24in (387-610mm) impellers to meet the standards of the most demanding commercial, military, and workboat operators.
In addition, NAMJet's proprietary design pumps significantly more water than high-speed jets to provide exceptional thrust per horsepower, which makes it a perfect fit for the AAV project.