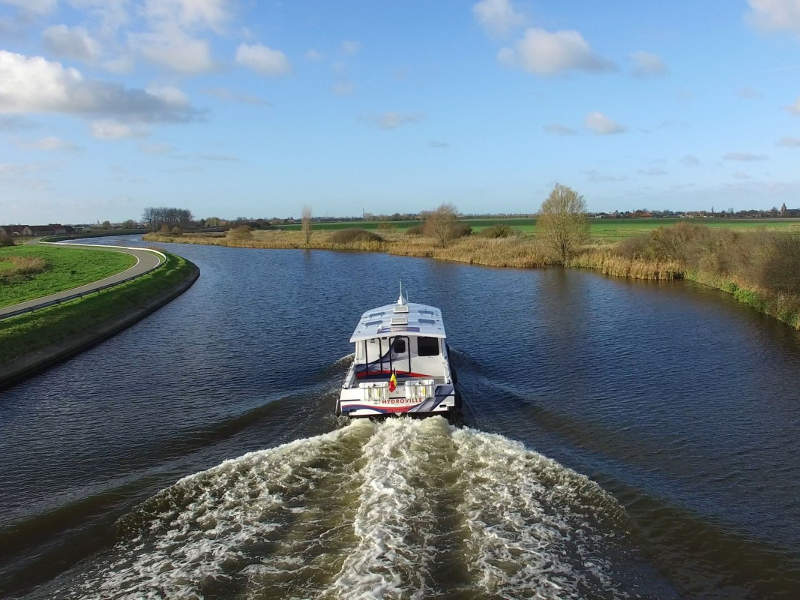 Hydroville is the first hydrogen-powered certified passenger shuttle propelled by a diesel engine. The ferry was developed by CMB Technologies for operations on the river Scheldt in the port of Antwerp.
The ferry was named Hydroville, which means water city or hydrogen city, to represent its homeport of Antwerp.
The sea shuttle is expected to be used as a platform to demonstrate hydrogen technology for commercial vessels.
Hydroville was christened and delivered in November 2017. It completed sea trials and received the Certificate of Class from the Lloyd's Register Group to burn diesel and hydrogen in the two combustion engines.
Hydroville transport operations
Hydroville will transport CMB employees between Kruibeke and Antwerp during peak hours to avoid traffic jams, in the initial phase of operations.
It will also host special events for third-parties and can be used to organise trips to the offshore wind turbine parks on the Belgian Coast.
Design and technical specifications of the hydrogen-powered ferry
The sea shuttle vessel was developed in line with CMB's long-standing goal of building an emission-free ship, which can be operated at a cheaper cost compared to vessels running on fossil fuels.
It features a fail-safe hydrogen-powered hull design leveraging the automobile manufacturer's expertise in hydrogen-fuelled vehicles.
Multiple risk analyses were performed during the design phase. The complete design was inspected and certified by Lloyd's Register Group.
Hydroville has an overall length of 14m, a beam of 4.2m and draft of 0.65m. It can sail at an average cruising speed of 22kt and can attain a maximum speed of 27kt. Its overall weight is 12t and full load displacement is 14t.
Accommodation on Hydroville
The passenger ferry accommodates a crew of two and up to 16 passengers. It offers business seats in three different configurations. A meeting layout can be formed on the ship when all 16 seats are placed around a large table.
In the cinema configuration, the seats are directed towards an information screen displaying movies and other presentations.
"Hydroville can be operated both on compressed hydrogen and regular fuel oil, offering cost-effective and emission-free operations compared to other vessels using fuel cells."
Hydroville also carries a facility that includes a small kitchen and a toilet for long trips.
Additional sound-proofing and two air-conditioning units are provided to enhance passenger comfort. A free Wi-Fi facility and built-in USB chargers are available for passengers.
Propulsion of Hydroville
The ferry incorporates two hydrogen/fuel-powered internal combustion engines (H2ICED), which produce a total shaft power of 441kW.
The fuel is supplied from 12 205l hydrogen tanks of 200bar pressure and two diesel fuel tanks holding a backup fuel volume of 265l each.
Sustainable features and benefits of the hydrogen-powered ferry
Hydroville can be operated both on compressed hydrogen and regular fuel oil. The vessel is designed to offer cost-effective and emission-free operations, compared to other vessels using fuel cells.
The use of the combustion engine delivers high-reliability of the fuel cells as the battery/fuel units are sensitive to saline seawater and less suitable for heavy transport.
Marketing commentary on the CMB Group
Originally founded as a shipping line in 1895, the CMB Group extended its shipping capabilities further over time. The group is based in Belgium and has offices in Singapore, Hong Kong, and Tokyo.
CMB Technologies is a part of the CMB Group's research and development department focused on innovation.
The CMB Group has three shipping divisions namely Bocimar, Delphis, and Bochem, which are respectively focused on dry bulk shipping, container shipping and chemical tankers. The group owns ASL, an aviation group that owns, operates and manages the fleet.