Schaller has been developing, producing and selling safety systems for large diesel, gas and dual-fuel engines in the shipping sector from its headquarters in Germany for more than 60 years.
These safety systems, called oil mist detection systems (OMD), have been successfully deployed in ships and power stations around the world. More than 55,000 engines have been equipped with our VISATRON systems.
Our daily mission at Schaller is the detection of hazardous operating conditions where damage to bearings can lead to the escape of hazardous oil mist. This oil mist contains minute oil particles and can, in extreme cases, lead to an explosion in the engine crankcase. Schaller oil mist detection systems represent a reliable safeguard against such accidents.
The company is working on the development of highly sensitive intelligent monitoring systems for early detection of damage to prevent any formation of oil mist before it starts.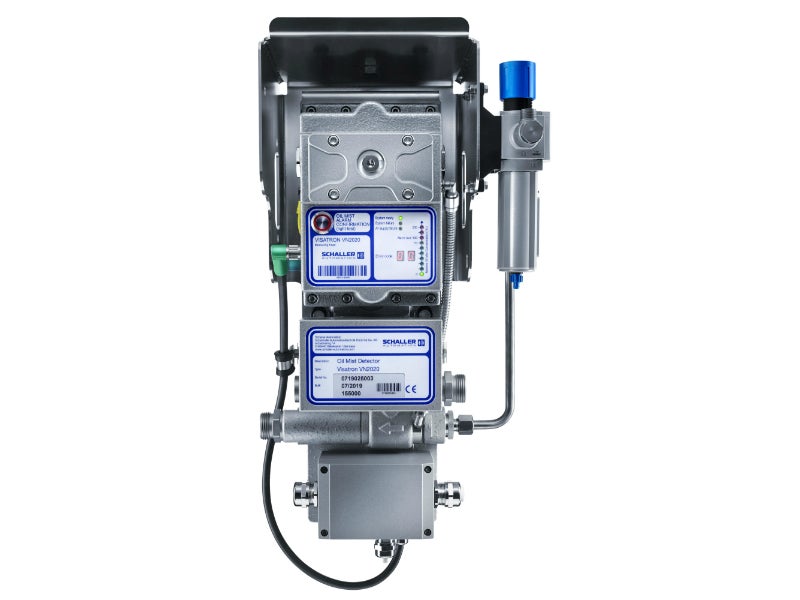 Schaller Automation offers its latest product VISATRON OMD VN2020.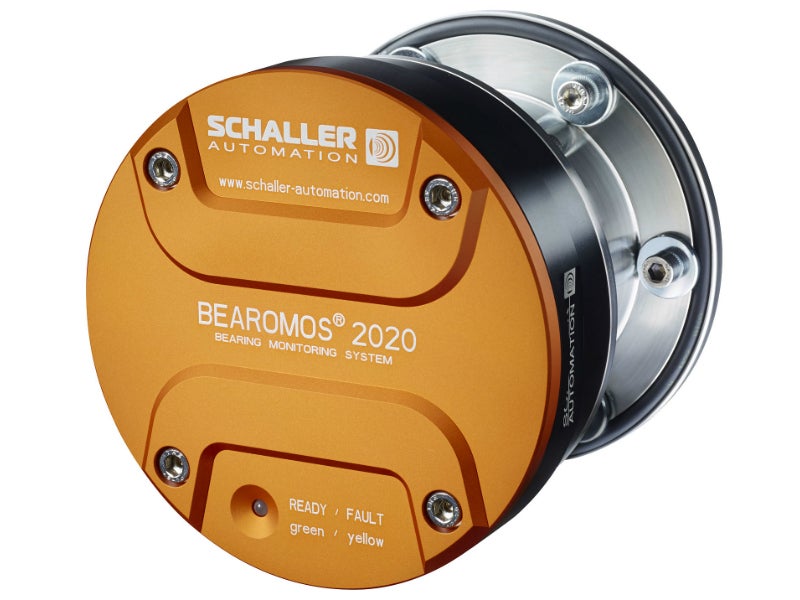 The Bearomos®2020 is a bearing monitoring system from Schaller Automation.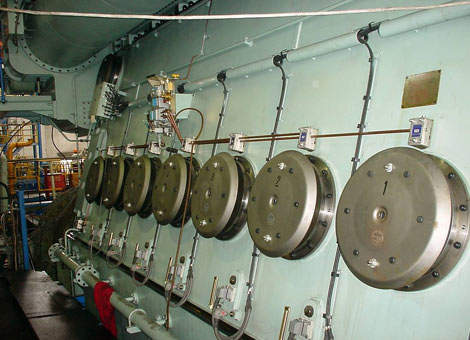 VISATRON oil-mist detectors are a successful, false-alarm-free system for engine protection against oil mist explosions.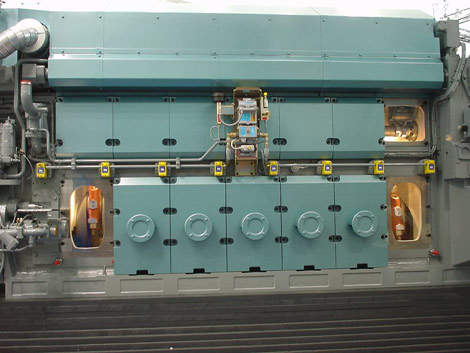 Schaller Automation offers VISATRON oil-mist detection systems with customised hardware and parameter settings.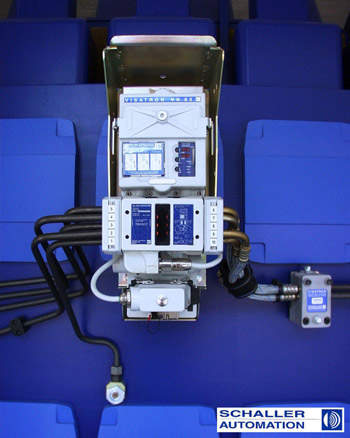 Schaller Automation's oil mist detection systems comply with the latest standards of IACS UR M10 and M67.
Ship testing under real conditions in the laboratory and on premises
Schaller differentiates itself from the competition through its significantly comprehensive investment in its own testing technology. Each product is subject to a complete 100% testing procedure before being delivered. This is designed to offer the highest possible reliability during operation, which Schaller considers to be essential. A range of equipment and measures available is listed below.
Test Vessel is a test unit in which an approximately 1m3 crankcase is installed and actual operating conditions can be simulated. This includes instances where lubricating oil has been splashed around (splash oil) or the pitching movements of a ship of +/- 22.5° in both directions.
Shaker is an electrodynamic fatigue-testing machine that simulates acceleration in three spatial directions.
All products are subject to a final test in the climatic chamber. Functionality is tested under unfavorable conditions at temperatures between 5°C and 70°C.
Engine Test Lab involves two single-cylinder internal combustion diesel engines being purposely damaged in the new engine test cell in order to record damage signals and thus validate reliable detection algorithms.
Testing on customer premises (OMDEA) is available on request. Detectors are tested on real engines in a simulation of real bearing damage. Massive production of oil mist is simulated, and the trigger time of the sensors is tested. Schaller is the only supplier to provide this service.
Installation and operation of the OMD require experience and expertise. Schaller offers training for the employees of customers, from engine manufacturers to the end user.
Full service and special expertise worldwide for the shipping sector
Our service partners in over 50 countries work every day to ensure that our customers' engines are optimally protected.
There are 33 qualified and specially trained partner companies that stand for service 'on board' and in power stations, as well as for the availability of spare parts around the globe. The maintenance, repair and replacement of all Schaller products is implemented as rapidly as possible.
Oil mist detection for ship engines
Schaller always listens to its customers and keeps an eye on developments in maritime shipping and the power station sector.
Customers are currently profiting from a series of innovative developments and technical advances in the sector of OMD.
They also profit from the second division of our company, which is increasingly gaining importance at Schaller, the early detection of damage by new sensing technologies for condition monitoring.
Networked and maintenance-free oil mist detection systems
Using regular customer surveys, Schaller continuously works with the users to improve its products.
Our 'Voice of Customer' makes it all possible, whether you need a design to be customised for installation requirements, optimised, as implemented on proven systems such as the VN301plus, or retrofitted for redesigned systems.
Customer requests also resulted in the early expansion of our product portfolio with systems for dual-fuel engines.
VISATRON VN301plus oil mist detector for marine diesel, gas and dual-fuel engines
Our VISATRON VN301plus is a specially designed system for large diesel combustion engines using up to 20 detectors to offer exact damage localisation for any source of undesired oil mist.
Up to 20 detectors (Master-Slave version) can be installed on an engine where each sensor monitors one crankcase compartment. The system is free of pipework and easy to install.
In normal operation, the system responds adaptively to machine clouding (automatic opacity). The system is designed with the durability of the machine in mind and entails only minimal maintenance costs. Active Dirt Protection is only available from Schaller for fresh, clean air to keep the optics clean.
Components include one to two Visatron VN301plus central units with compressed air system and stable protective cover. Our product novelty is a special hybrid cable for power and air supply and optionally also with remote monitoring (Remote Indicator II).
Preventive and predictive maintenance for ships
For future maintenance of large engines, two approaches are increasingly being requested by customers and classification societies.
The first approach is preventive maintenance with the targeted monitoring of engine components. The primary advantage here is that only the parts that are actually worn down need to be replaced.
The second approach is predictive maintenance, which involves recorded data being used to develop statistical predictive models and the remaining service life of components can be precisely predicted.
Ship predictive maintenance acceleration monitoring system
Our acceleration monitoring system 'ACCOMOS' is an innovative three-axis acceleration monitoring system specially designed to monitor the vibration limits set by DIN ISO 10816-6 on combustion engines larger than 100kW.
Monitoring is carried out to comply with the vibration limits according to DIN ISO 10816-6. It can detect discrepancies in vibration behaviour immediately and trigger an alarm. The real-time data can be transmitted via CAN or RS485 connections.
Mixed-friction detection for early identification of journal bearing damage
The BEAROMOS 2020 system provides the basis for early detection of slide ring bearings changing from liquid to mixed friction. Over time, mixed friction may be a sign of the slide ring bearings approaching a failure condition.
This is not only of interest for larger engines but also for customers in the wind power sector, as the majority of wind power plants use journal bearings in their transmissions.