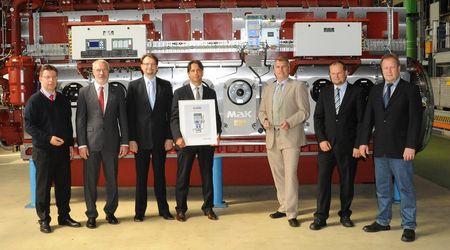 Schaller Automation in Blieskastel have supplied their 50,000th safety system. The safety system of the type VISATRON© VN115/87plus was supplied to Caterpillar Motoren in Kiel, Germany, and will be used on an eight-cylinder diesel engine of the type MaK 8M32 C. During a ceremony, managing director Stephan Schaller presented the certificate for the 50,000th VISATRON© to Philipp Wellendorf, Purchasing Manager at Caterpillar Motoren in Kiel.
Oil mist detection systems prevent engine room explosions on large diesel, gas and dual fuel engines. These can occur e.g. after a bearing damage inside the engine's crank drive. Schaller Automation have specialised in this task and are today the worldwide market and technology leader for these safety systems.
The first device of the VISATRON© type was sold in 1968, with the electronics and the sensor system developed by company founder Werner Schaller himself. The creation of a worldwide service network became indispensable as more and more systems were installed on board of all types of seagoing vessels, including tankers, container ships, ferries and cruise ships, as well as in land-based use, such as in power plants.
Today the operators of these engines have access to a Schaller network of 40 service partners for 45 countries, including four own subsidiaries bearing the Schaller name in key markets.
VISATRON© oil mist detection systems are approved by all relevant classification associations and protect engines from a size of approximately 2MW, produced by the most renowned engine manufacturers worldwide.
In future, VISATRON© oil mist detection systems will also be available in a flameproof version with ATEX certificate. Further sensor systems will be added to the oil mist detection to create a new protection system for the entire engine – the Diesel Engine Monitoring System (DIEMOS).