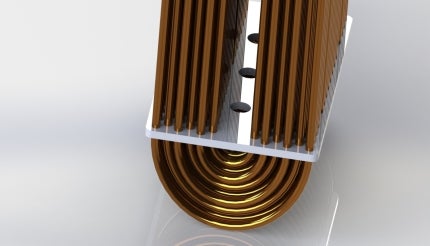 WEKA Boxcoolers (WEKA) is a manufacturer and supplier of all cooling systems for the engines, generators, air-conditioners and auxiliaries. The company's core business is boxcoolers, which are used for inland waterways and seagoing vessels.
HVAC and equipment cooling products for the maritime industry
WEKA specialises in solutions for cooling propulsion and auxiliary engines, air-conditioning units, bow thrusters, compressors, electrical equipment, generator sets, hydraulics, pumps and reduction gears.
Since 1957, the company has delivered 200,000 boxcoolers, which are available in different sizes and can be used in a variety of vessels, including: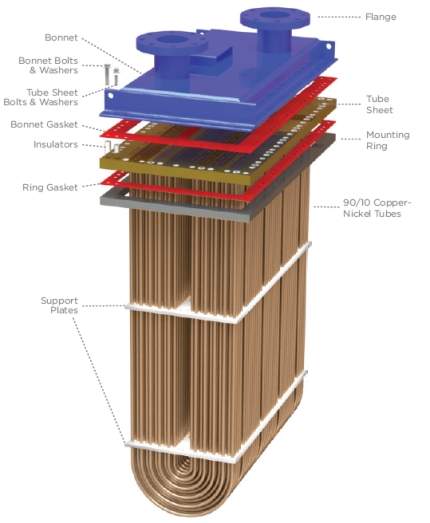 WEKA Boxcoolers specialises in boxcoolers and cooling systems for vessels.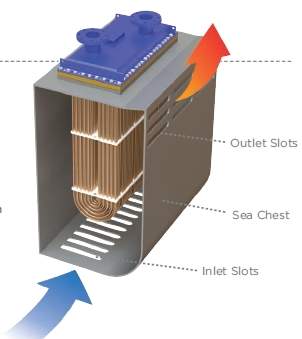 The position of the inlet and outlet slots directs the natural flow of seawater through the sea chest and across the boxcooler tubes.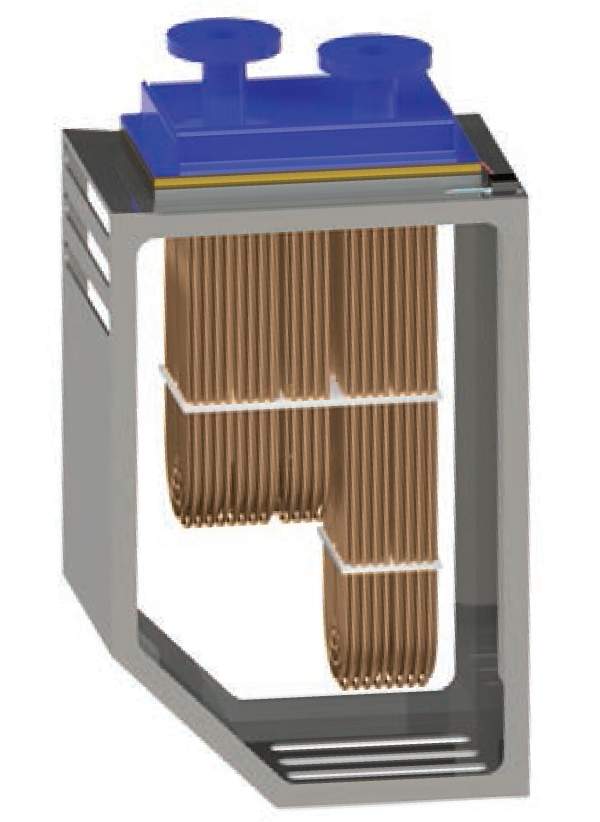 A WEKA boxcooler can be engineered to accommodate tight spaces onboard vessels.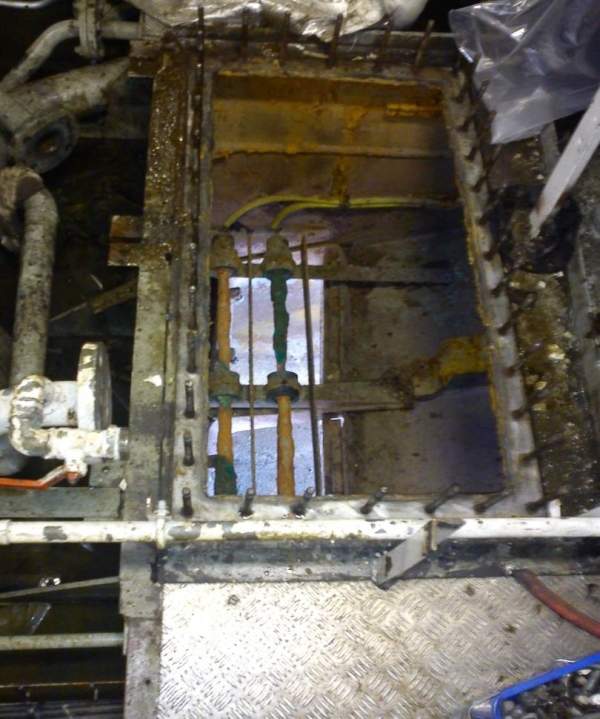 An example of used dissolved copper anodes for an impressed current anti-fouling (ICAF) system.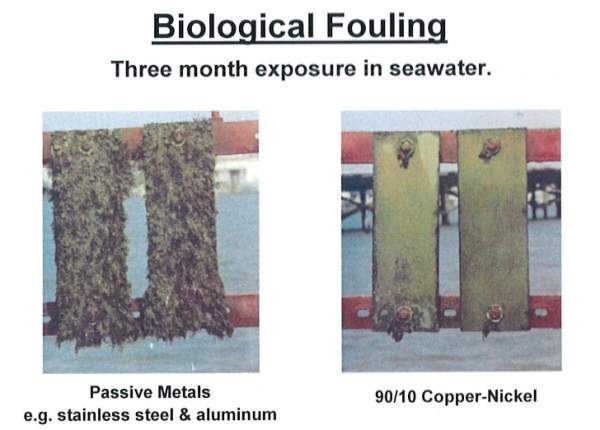 The protective oxide film in copper alloys ensures naturally high-resistance to biofouling.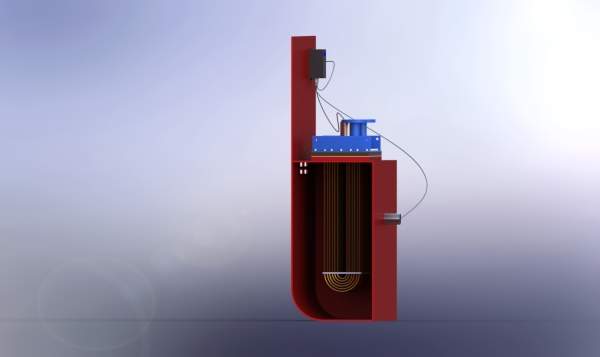 WEKA boxcoolers can be fitted with ultrasonic transducers for extra anti-fouling properties.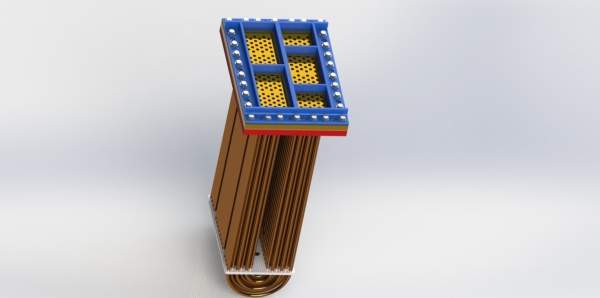 WEKA boxcoolers are available with a removable bonnet.
Barges
Fishing and supply vessels
Cargo ships
Ice breakers
Carriers
Dredgers
Tankers
Ferries
Tugs
Cooling systems for propulsion and commercial engines
Boxcoolers are used for cooling of diesel engines between 3kW and 10,000kW, and have several advantages over conventional cooling methods such as size, cost-effectiveness, reduced maintenance and high-reliability.
The boxcooler exploits natural convection. The heat source cooling water is circulated through the tube bundle suspended in the sea chest. Heat is transferred from the boxcooler tubes to the seawater, causing it to rise due to its lower density and creating a natural upward circulation. Openings in the bottom and upper side of the sea chest help to direct and focus the natural convection flow of seawater through the sea chest and across the boxcooler tubes.
Marine cooling engineering
With the expertise in marine cooling engineering and the knowledge of a broad range of reliable cooling systems, WEKA offers complete and cost-efficient cooling solutions.
The WEKA Boxcooler is a compact, closed-circuit cooling system that is mounted in a sea chest within the vessel's hull, offering high-protection from submerged obstacles, and eliminates the need for raw water pumps, strainers, and filters.
Each boxcooler is custom-engineered to meet the specific requirements of the engine, vessel, and operating conditions. With more than 50 years of experience in marine cooling, WEKA provides expert advice on cooler sizing, placement, installation and service.
WEKA boxcoolers can be designed to accommodate tight spaces by stepping the unit and for cases with limited sea chests, by a combined cooler but with separate cooling circuits.
Corrosion-resistant, copper-nickel boxcoolers
WEKA boxcoolers are constructed using uncoated 90/10 copper-nickel tubing. This alloy does not require a protective coating or impressed current anti-fouling (ICAF) system due to its inherent corrosion-resistance to seawater and natural anti-fouling capabilities.
The company recommends boxcoolers made of copper-nickel with CuNi protection for almost all applications, but can be made out of different materials for special applications, such as:
Copper-nickel coated
Steel galvanised U-formed / coated horizontal / coated U-formed
Aluminium-brass / aluminium-brass coated
Biofouling protection systems for ships
WEKA boxcoolers are constructed to be isolated from the hull during installation and in operation.
The exclusive WEKA Protector Type T and WEKA Guard help minimise potential damage to the units and hull from stray electrical currents and galvanic corrosion.
The WEKA Protector protects the cooler against stray currents and allows the copper-nickel to maintain its anti-fouling capabilities, protecting the tubes from marine growth while the ship is in operation.
The WEKA guard, which drains away the welding currents, will be used when the ship is under construction
Ultrasonic systems for marine growth protection
Boxcoolers can be affected by potential biofouling due to the warm environment inside box-chests, especially for low-temperature circuits on a non-moving vessel, or regions with rich marine creatures. Barnacles, mussels, algae and other types of shellfish can grow on the tubes of the boxcooler and reduce its cooling efficiency.
The WEKA Ultrasonic system can protect the boxcoolers against marine growth in such conditions. The devices are of exceptional quality, far exceeding the effectiveness of existing primitive ultrasonic anti-fouling technology, and offer much more than just ultrasound.
The big difference of the Harsonic devices, in comparison with the traditional ultrasound devices, is that they emit a powerful sound but without consuming a lot of energy.
Efficient and eco-friendly cooling solutions
WEKA is an environmentally conscious company, so its does not incorporate an ICAF system in its boxcoolers.
The company offers an ultrasonic, low-voltage, anti-fouling system for several environments, which is eco-friendly and protects the boxcooler from marine growth.
About WEKA Boxcoolers
Located in Krimpen aan den Ijssel, Netherlands, WEKA's experienced engineers and technicians at several locations worldwide provide after-sales service.