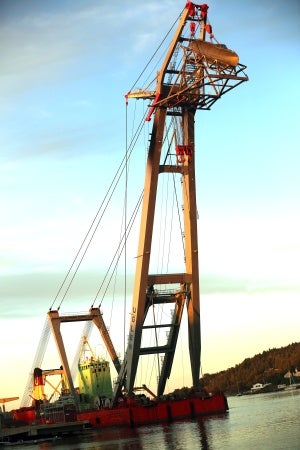 Norsafe, designer of the world's most advanced free-fall lifeboat, has taken back the world record it has held since 1999 with only two brief exceptions. At 7.50pm on Tuesday 3 September, the Gravity Escape System (GES) 52 was successfully dropped from a height of 66.8m. The new generation free-fall lifeboat fulfills the latest standards for life-saving appliances on the Norwegian continental shelf, and will be certified for heights of up to 51m. Norsafe GES52 is the second model in a series of three newly developed free-fall lifeboats that all meet the new DNV-OS-E406 regulations that take effect in 2015.
GES52 is 52ft long and has capacity for at least 70 persons of 100kg. The boat's design has undergone extensive testing that has shows it offers the best possible conditions for a safe evacuation in an emergency situation.Norsafe is the world-leading provider of marine life-saving systems, and has become known over its 110-year history for always setting safety and quality as its first priorities.
Norsafe Group is headquartered in Arendal, Norway, and counts over 1,000 employees. The company has a worldwide involvement that includes production, sales, delivery and service of lifesaving equipment for ships and the offshore industry. Norsafe has its own production and sales/service companies in Norway, China, Greece, Mexico, Singapore, South Korea, Australia, the US, Japan, Brazil and the Netherlands. In addition, Norsafe Group has a network of 45 authorised service partners spread across all continents. Norsafe Academy offers courses and training, STCW95/OLF and OPITO, as is currently expanding its network. The company is continually growing, and new daughter companies and service stations are currently being planned/developed.