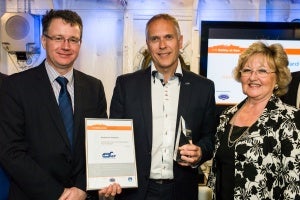 The great annual Safety at Sea Awards took place on-board the famous British warship HMS Belfast in London on 13 June. A record number of candidates were there to compete for the coveted trophies, and in the final Norsafe was nominated in the equipment category for their newest free-fall lifeboat, the GES50 MKIII. It was therefore a fantastic international recognition for Norsafe when the lifeboat was named the winner and the best new maritime safety equipment in 2013.
A jury member remarked: "The new free-fall lifeboat from Norsafe, GES50 MKIII, is one of the most advanced LSA equipment around, a real improvement to the lifeboat technology." One of the judges added: "If I had to abandon a ship in one of these boats, I would feel secure. A real life saver."
The product is an advanced-technology fully-enclosed free-fall lifeboat for evacuation from ships, rigs and offshore constructions. The GES50 MKIII provides a secure and protected means of escape for persons on-board vessels or platforms. The boat is designed to maximise safety at sea and to save lives when an emergency evacuation is necessary.
Last year, Norsafe conducted the extreme free-fall test with the newly developed free-fall lifeboat. The lifeboat was tested from a drop height of 61.53m and has been certified for heights up to 47m. The GES50 MKIII is the first in a series of three newly-developed Norsafe free-fall lifeboats designed and manufactured according to the latest DNV-OS-E406 and SOLAS requirements. We have orders for more than 100 boats from all continents, as the new standards are increasingly being adopted worldwide.
The GES50 MKIII is 50ft (14.9m) long and has a capacity of 70 people, each weighing 100kg. The boat is constructed with fire-resistant glass-fibre-reinforced polyester. All materials used in the boat are approved by the International Association of Classification Societies (IACS). These include the polyester laminate and the release hook and lifting pad eye components. The polyurethane buoyancy foam-filled spaces between the hull and hull liner and the deck and deck liner have also been approved by the IACS.
The design and construction of the GES50 MKIII allows for reliable and low-maintenance standby and operation. Norsafe has designed and built a completely new SW50 davit for skid launch of the boat, designed for minimum weight and maximum strength. Together, the lifeboat and davit are the safest new sea equipment in the world.
For more information, visit the Norsafe website.
Norsafe, global leader in marine life-saving equipment, is the first supplier in its sector to...