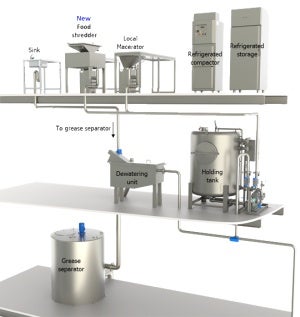 Uson Marine's recently launched, unique food waste shredder with integrated macerator is now installed in a number of ships worldwide. Suitable for newbuilds or retrofitting on existing vessels, this rugged shredder, specially designed and tested for galley food waste, represents a clear step forward for onboard food waste handling.
It takes care of all food waste fractions, including those difficult for any macerator to handle, reducing storage and disposal problems and increasing hygiene onboard. With the tighter discharge restrictions on raw food waste that came into force on 1 January this year, the system is a welcome innovation for vessels or offshore rigs with more than 30 people onboard.
Most people working with food preparation on ships and rigs are familiar with the problems of handling high volumes of food waste that are too large or unsuitable to be handled by any macerator. This typically relates to fractions such as big bones, fish skins, long fibres or hard shells, Such fractions must be handled manually and stored for later disposal ashore, or until they reach an area where it is permissible to discharge them overboard.
Resulting problems with hygiene and odours force many ships to have separate refrigerated areas for food waste, or special freezing rooms. Handling these fractions involves unpleasant, time-consuming labour for the crew and storage takes up valuable space onboard. For offshore rigs the food waste that cannot be ground up always has to be transported to shore.
The UMS food waste shredder – an effective solution
The Uson food waste shredder has an integrated macerator fitted below the shredder head. Synchronized in operation, the two-stage process can handle all food waste fractions, including bones, hard shells, fish skins, long fiber food waste and large quantities of pasta, potatoes, and rice, etc.
Thanks to its high capacity the food shredder can be the main collection point and replace two or several macerator stations, which minimizes operation time and space requirements.
After passing through the shredder head the shredded material is collected into a second hopper connected to the macerator. The ground up waste from the macerator can then be discharged overboard or stored in a holding tank when the vessel is operating within an area where discharge is prohibited. This eliminates manual handling and cold storage of difficult waste and eliminates any unpleasant odours.
High durability, low noise
During the development extensive testing was performed to ensure robust performance during heavy duty operation.
The tests showed that the shredder housing and bearings are completely watertight during operation. The Uson food waste shredder is of the slow rotating type (20 rpm) designed for heavy duty shredding with minimum noise. It is equipped with an extremely durable shredder head in Hardox steel and the material in the shredder knives is Hardox 400 extremely high-strength hardened steel.
The shredder, hopper and stand are in stainless steel for maximum hygiene. The hopper has an integrated water supply through two water nozzles and the amount and timing of the water injection is automatically controlled for the shredder and macerator unit. The shredder is equipped with integrated water flushing with spraying nozzles.
Highly user friendly
The Uson food waste shredder, equipped with an easy-to-use feeding hopper, requires no special knowledge or crew training to operate. Thanks to an electronic overload control, when overloaded the unit reverses in order to release the material and then starts again.
Suitable for newbuilds or retrofitting
The compact design of Uson's unique shredder-macerator solution makes it easy to fit into tight compartments. Incorporated into the design of a newbuilding or conversion, the shredder can reduce the number of local macerators required in the food waste handling system and minimize the need for refrigerated storage space for food waste.
The solution is suitable for retrofitting on most existing vessels or rigs, with or without food waste handling systems, and can replace macerators with no need to replace piping. The shredder can easily be integrated into an existing Uson food waste system or any existing system using vacuum or gravity. If it's a gravity system a pump can be added, depending on the design of the existing piping system.
Tighter discharge restrictions
Discharge is now only allowed inside the Special Areas (such as the Baltic and Mediterranean) if the food waste is ground up (able to pass through a screen with openings no greater than 25 mm) and the ship is more than 12 nm from the nearest land. The above discharge criteria are valid for offshore rigs regardless of area of operation.
Outside the Special Areas food waste can be discharged ground up when the ship is more than 3 nm from the nearest land.
If not ground up it can only be discharged when the ship is more than 12 nm from the nearest land.
Discharges are only allowed when the ship is en route, which may require the vessel to store the food waste onboard for long periods until discharges are permissible.
Uson food waste shredder installed on MS Fram
MS Fram is a 12,700 GT cruise vessel owned and managed by Norway based Hurtigruten ASA. The ship operates in some of the world's most sensitive waters, including the Arctic ocean, around Greenland, and the Antarctic ocean with strictly limited discharge possibilities.
Onboard MS Fram a Uson OWMS food waste system macerator grinds raw food waste to particles less than 25 mm in size and transports it by vacuum to a special holding tank for disposal where permitted. In April 2012, on Uson's advice, the system was upgraded with a Uson food waste shredder. The shredder replaced one of the existing macerators and is now the main collection point in the galley.
Chief Engineer Frank Hermanse SAID, "The shredder gives us an even bigger margin of safety when it comes to larger pieces of food waste being put through the system. We can now be 100% sure that we are complying with MARPOL regulations."
The shredder also saves time and money on disposal ashore of food waste that cannot be ground up in a macerator. "Ports in some countries have extremely tough rules relating to disposal of raw food waste. Thanks to the Uson food waste shredder, we no longer need to land waste of this type."
The crew are now familiar with the system. "Uson Marine spent time showing us how to operate the shredder to get optimum performance and we are totally satisfied with the equipment," relates Hermansen.