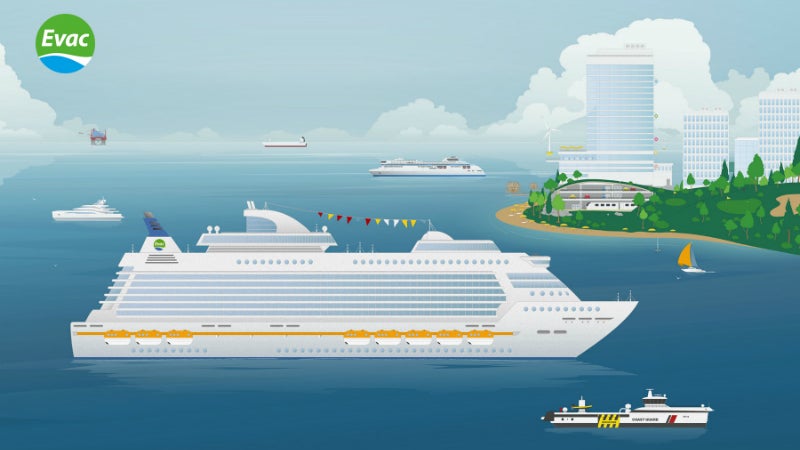 Evac is a leading supplier of integrated waste, wastewater, and water management systems for the marine, building and offshore sectors. We have successfully carried out more than 20,000 marine projects, 2,000 building projects, and 2,000 offshore projects for customers worldwide.
The company has employees in Brazil, China, Finland, France, Germany, Korea, Norway, Sweden and the US, as well as representatives across more than 40 countries.
Evac develops sustainable technologies that address the growing need for innovative Cleantech solutions, driven by climate change, increasingly scarce fresh water resources, and the need for energy efficiency.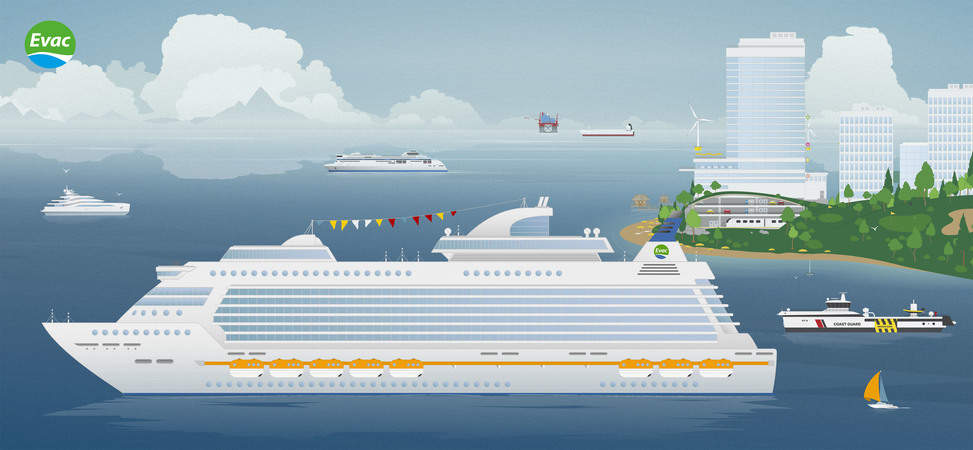 Evac supplies integrated waste, wastewater, and water management systems for the marine industry.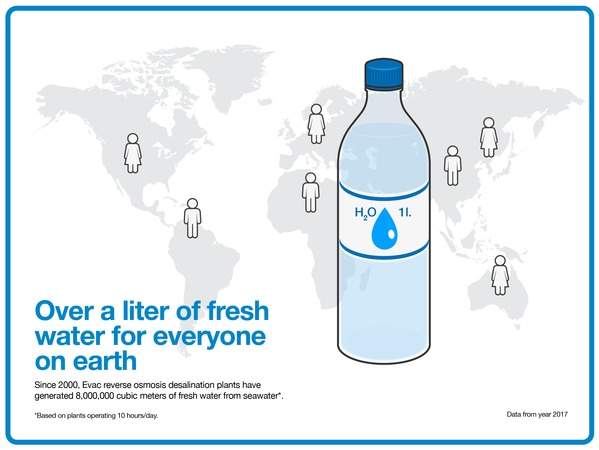 Since 2000, Evac reverse osmosis desalination plants have generated 8 million cubic metres of fresh water from seawater.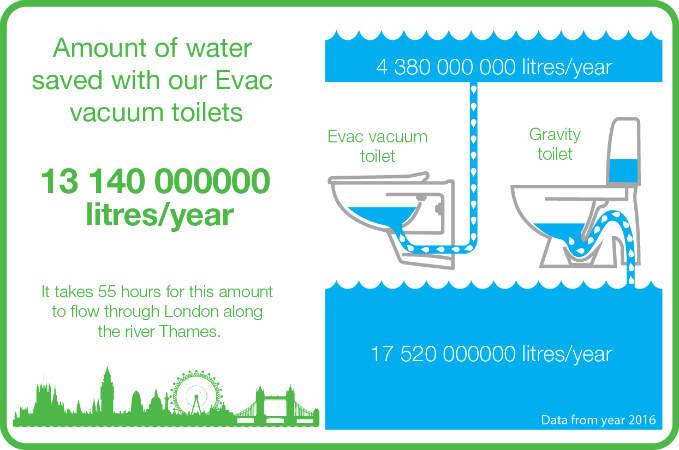 Evac vacuum toilets save 13,140,000,000l a year.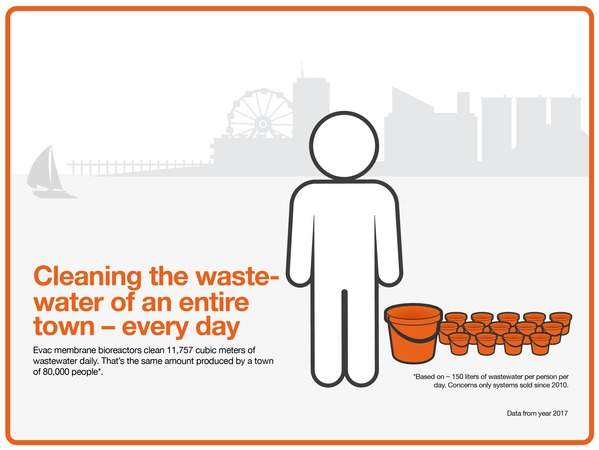 Evac membrane bioreactors clean 11,757 cubic metres of wastewater daily.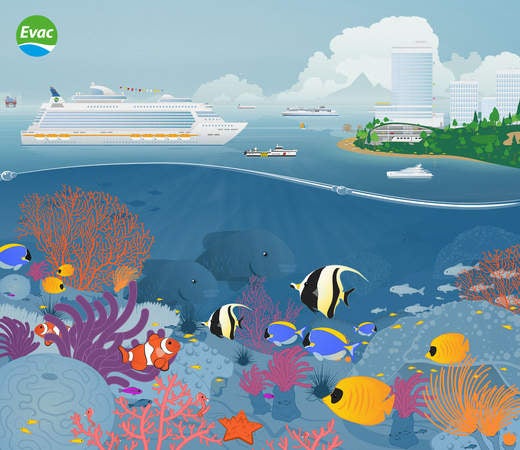 The company systems' contribute to cleaner seas and a better environment.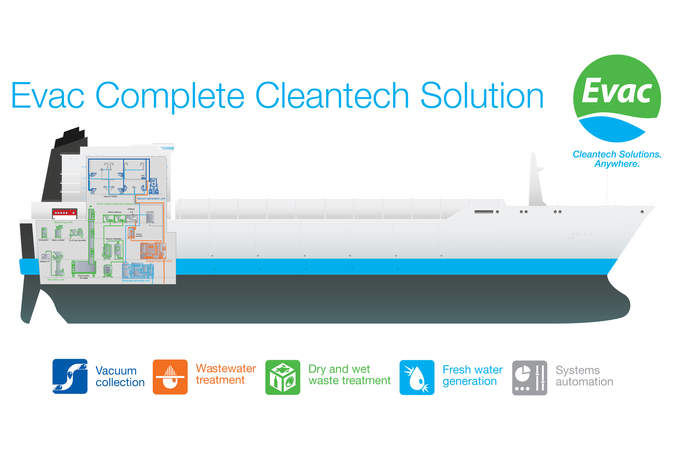 The Evac Complete Cleantech Solution covers vacuum collection and wastewater treatment, fresh water generation, waste management, and fresh water generation.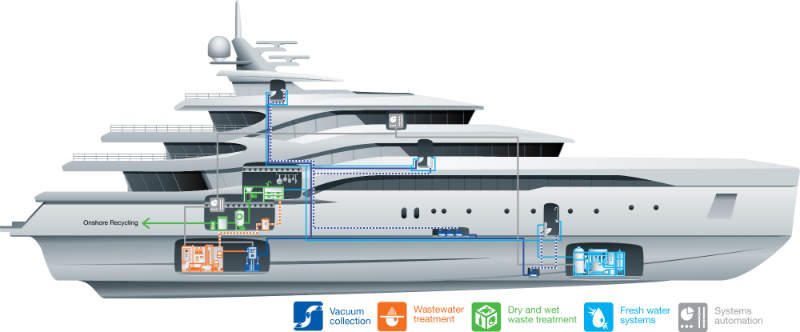 Evac develops and refines waste management systems for a wide range of vessels, including superyachts.
As a preferred partner, Evac's vision is to build a cleaner world for everyone by helping clients to meet their water and waste management-related environmental performance targets wherever they operate.
The company contributes to cleaner seas and a better environment by helping our customers:
Reduce water consumption
Treat and recycle waste
Manage food waste responsibly
Purify wastewater
Generate fresh water from sea water
Leading expertise supported by in-house product development
Evac's in-house product development team continuously develops new systems and refines existing ones, while our technology specialists support customer engineering teams to find the most appropriate solutions for their specific needs.
The company offers its customers the combined benefits of local flexibility and a global supply chain. Regardless of where vessels are located, we can provide expert service, cost-effective sourcing, and efficient delivery of spare parts.
Certified wastewater management systems and operations
We work closely with standards organizations and relevant authorities to ensure our systems meet and often exceed the requirements of global and local environmental regulations. Evac's operations are certified under ISO 14001:2004 (Environmental Management Systems), ISO 9001:2008 (Quality Management Systems), and OHSAS 18001:2007 (Occupational Health & Safety Management Systems).
Evac Complete Cleantech Solution
Clients are able to purchase a full range of waste, wastewater, and water management systems from Evac to simplify coordination and integration during projects. The Evac Complete Cleantech Solution covers a variety of requirements, including vacuum collection and wastewater treatment, as well as fresh water generation, wet, dry, and food waste management, and fresh water generation. This comprehensive offering is what sets Evac apart from the competition.
Vacuum collection systems
Vacuum collection units collect condensation, sewage and food waste by pumping it into a collection tank or sewage treatment plant.
Since the 1970s, Evac has developed a wide range of vacuum collection systems, including water-saving vacuum toilets, food waste collection units, and vacuum and collection units for condensation, which are typically used in conjunction with cooling equipment both at sea and on land.
Wastewater treatment systems
Wastewater treatment systems separate and neutralize organic contaminants in wastewater in compliance with national and international legislation. Evac's products include electrolytic and wastewater treatment plants that refine gray and black water, as well as systems for separating grease from kitchen and galley wastewater.
Our moving bed biofilm reactors (MBBRs) and advanced membrane bioreactors (MBRs) are biological sewage treatment plants. MBBRs are mainly suitable for large cruise vessels, while MBRs are suitable for a wide range of vessels. Both systems offer nutrient removal. Our electrolytic wastewater treatment plants can be used on a variety of vessel types, but are especially suitable for naval applications, offshore vessels, and platforms.
Dry and wet waste treatment
Evac's wet and dry waste systems manage recyclable or mixed waste via safe, environmentally friendly and energy efficient methods, reducing the volume through compaction, shredding, and burning.
Our portfolio includes bio sludge treatment units, incinerators, dryers, waste briquetting systems, waste compaction equipment and food waste treatment units that offer cost-effective installation and maintenance.
Fresh water generation
Fresh water generation systems convert seawater into process, service, and drinking water. The equipment also filters, disinfects and adjusts the hardness of water, as well as mineralizes fresh water . Evac provides seawater desalination units using reverse osmosis (RO), as well as potable water treatment systems that provide disinfection and mineralization. Evac offers products that suit the requirements of passenger, merchant, and naval ships and offshore facilities.
RO desalination units are economical and energy efficient, especially compared to evaporators. If energy recovery systems are used, even higher energy efficiency can be achieved, leading to a shorter amortization time.
Automated systems for waste treatment and fresh water generation
Our integrated vacuum collection, dry and wet waste treatment, wastewater treatment and fresh water generation systems feature touchscreen panels for easy control. Evac systems have a similar user interface, making operation, maintenance and supervision easy and quick to learn.
The main automation system has all the systems on one interface to allow remote programming. Supervision and diagnostics are easier, with real-time information on all systems available in one place. The systems use the same parts, reducing storage and inventory costs, and are modular, meaning that new units can be added or removed when required.