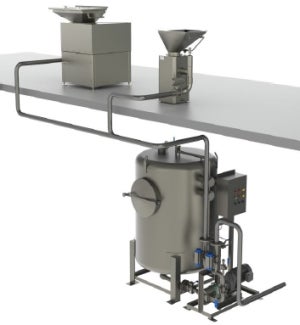 Uson Marine Group will demo the Uson Marine GPS Discharge Control system at the SMM 2014 exhibition in Hamburg, Germany.
The system will be showcased from the indoor stand in Hall A1, Stand 418 and the outdoor stand Hall A1, FG 007 from 9-12 September.
The Uson Marine GPS Discharge Control system for food waste ensures compliance with associated regulations
Through a cooperation with Marine Position, Uson Marine can now offer functionality from the Seatrade award winning system Environmental Navigator for its new GPS Discharge Control system for food waste. Together, the systems provide fail-safe control and monitoring of food waste discharge.
OWMS
The Uson food waste vacuum system (OWMS) is designed for hygienic collection and treatment of food waste in compliance with IMO Marpol 73/78 Annex V, US Coast Guard and other relevant regulations and standards. The system is easy to install, with a low water consumption and a small pipe diameter that allows a flexible pipe routing.
Uson GPS Discharge Control system
The Uson GPS Discharge Control system is an embedded feature of Uson Marine's Food Waste control system. Utilising the Environmental Navigator's unique database of rules related to food waste (Annex V, etc.), combined with information from the ship's GPS, the system automatically controls and monitors all food waste discharge for full compliance with the relevant regulations.
The system has the following functionality:
It stops automatic discharge when not allowed to, according to rules
It empties the tank automatically prior to entering a prohibited area (it is often forgotten to empty the tank before approaching a land and port call)
It logs all discharge of food waste in terms of date and time, discharged volume, and GPS position. The logged data is stored for two years to comply with the Garbage Record Book requirement in MARPOL
The Uson GPS Discharge Control does not require an Environmental Navigator on the bridge for its functionality. A GPS signal is connected to the Food Waste control system and the functionality is achieved with software on an industrial PC and PLC within the control system cabinet.
Evac is the world's leading provider of integrated waste, wastewater, and water management systems for the marine, offshore and building industries.