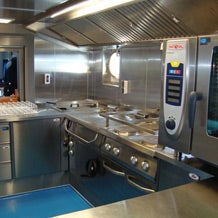 Hatenboer-Water and Pentair have finished a partnership deal making Hatenboer-Water an official dealer of the Everpure foodservice product range.
The 110-year old Hatenboer-Water, based in Schiedam and Singapore, is well known as a full service player in the maritime water treatment market. CEO Willem Buijs explains: "We are always looking for innovative ways to support our growing customer base, providing the right products and spare parts to maintain the right water quality on-board."
The addition of Everpure is another step in strengthening Hatenboer-Water's role as a one-stop solution for water treatment.
"We offer a multitude of solutions and services to keep water safe on all places on board. Our dealership with Everpure matches perfectly. Everpure's products are especially suited for the galley area of a vessel or rig, providing point-of-use filtration, softening and reverse osmosis where the water is used for human consumption and quality requirements are high."
An Everpure MRS-600HE complete galley solution and a reverse osmosis fresh water maker will be on display at the Hatenboer-Water stands at the SMM exhibition in Hamburg, and Offshore Energy exhibition in Amsterdam.