Good and safe drinking water is essential on-board ships, and you can find an up-to-date and sophisticated range of products, engineered systems and services at Hatenboer-Water, specialist in providing potable water since 1906. You can rely on Hatenboer-Water to provide safe and reliable potable water on-board, from production to consumption.
With specialist expertise in the shipping industry, the application of its own engineering and design, and a modern operating environment, Hatenboer-Water supplies cut-and-dried solutions for all your water-related challenges. The company provides turnkey services from the supply of a simple, standard product such as a pump or filter, right up to fully integrated custom-made systems, with all the necessary worldwide after-sales service.
Seawater desalination systems
For reliable potable water production on-board, Hatenboer-Water's Demitec® RO seawater desalination systems are available in a wide range of capacities. Your demands and conditions on-board are met in a proven design.
Your system is designed according to Hatenboer-Water standards, based on more than 100 years of experience. Hundreds of Demitec RO seawater desalination systems are operational on ships worldwide.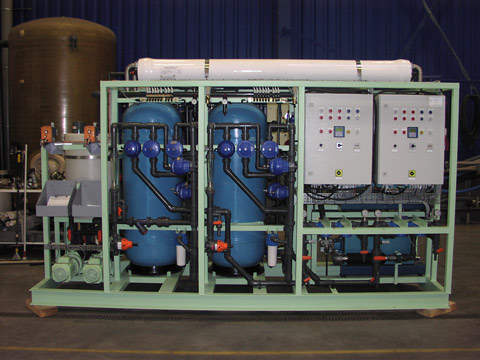 Hatenboer-Water's Demitec&reg; RO seawater desalination systems provide reliable potable water production on-board.<br/><br/><br/><br/><br/><br/>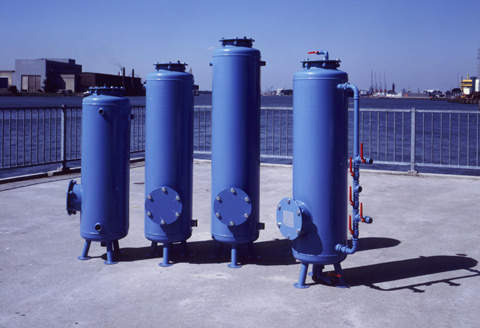 Your potable water system is designed according to Hatenboer-Water standards, which are based on more than 100 years of experience. <br/><br/><br/><br/><br/><br/>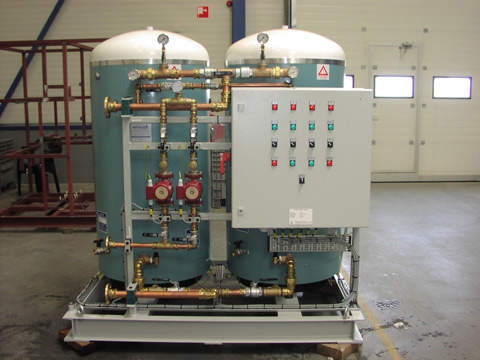 Hatenboer-Water is a one-stop-shop for potable water systems.<br/><br/><br/><br/><br/><br/>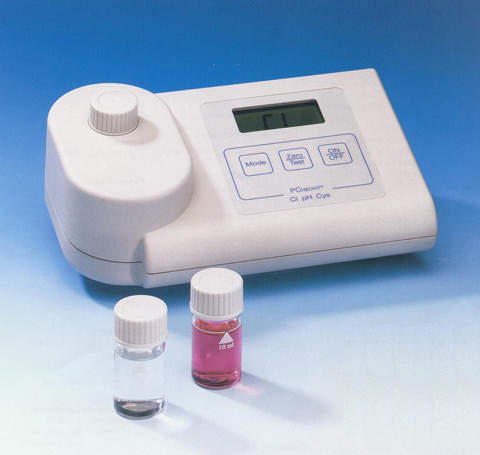 Hatenboer-Water can provide potable water system assessment services.<br/><br/><br/><br/><br/><br/>
Potable water transportation modules
Plug-and-play modules ensure a reliable and safe potable water supply. You save cost and time during installation on-board because Hatenboer-Water units are completely preassembled and fully skid-built. These complete skids comprise all equipment you require for pressurizing, treatment and heating of potable water for use on-board. The equipment can be delivered during construction of the ship, so installation is easy and quick.
Potable water system design and assessment
Throughout your potable water system, corrosion and bio film can occur, causing serious health risks and an unsafe on-board environment. By using Hatenboer-Water's established expertise in potable water, equipment and installation technology, you are able to prevent issues like corrosion and bacteriological growth during design and new building.
Offshore installation disinfection products
The ageing of offshore installations can be prevented by applying Hatenboer-Water's recommendations concerning used materials, installation instructions and required treatment equipment.
Different challenges ask for different solutions. This is why you can find a wide range of disinfection products in Hatenboer-Water's scope of supply. Hadex dosing, Demitec UV and copper-silver ionisation are only three of the possibilities we offer, in combination if required, to guarantee water to be free from bacteria like Legionella or E-coli.
Existing offshore systems can be upgraded to a safe system by implementing our risk assessment and management plan. Risk management is an essential part of a responsible and modern way of running a business. It increases the safety of man and machine on-board and the reliability and efficiency of your potable water system.
Every risk assessment and management plan is tailor-made after a visit on-board by one of our qualified drinking water experts. You can also entrust Hatenboer-Water with your water sampling, analysis, quality reports and on-board audits to assess the chemical, microbiological and physical condition of your water.
Maritime and offshore potable water training
Enhance the knowledge of your offshore crew about water, water treatment and water management with Hatenboer-Water's professional two-day maritime and offshore potable water course. This training is held several times throughout the year at Hatenboer-Water's offices in Schiedam, the Netherlands, or, upon request, at your location. Please contact Hatenboer-Water for the training dates of this year.
Your 'one-stop potable water shop'
Hatenboer-Water's complete scope of supply also comprises:
Silver sterilizers
Water softeners and mineralisers
Filters and filter materials (including activated carbon)
Hot water calorifiers
Point-of-use water coolers
Pumps and dosing equipment
Test kits and analysis equipment
Fresh, sewage, and bilge-water sampling and testing
Spare parts and consumables in stock in a well-utilized warehouse
With a complete delivery program for potable water, own engineering, workshop, warehouse, technical services and consultancy Hatenboer-Water continues to serve you swiftly, with flexible and made-to-measure equipment.