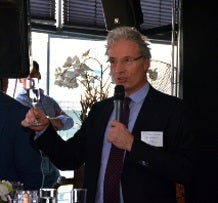 This year marks the 110 year anniversary of Hatenboer-Neptunus Holding. The organisation started in 1906 with the supply of drinking water to seagoing vessels in the port of Rotterdam. Since then, the Hatenboer organisation has not only grown, but has also expanded its range of activities, becoming a well-respected and international specialist in water treatment with offices in The Netherlands and Singapore employing around 130 professionals.
In a statement, Hatenboer board member Peter Willem Hatenboer says: "We are proud of 110 years of supplying water, water production and treatment units and not to forget our range of services. Nowadays, Hatenboer-Water supplies high-quality solutions in the maritime and offshore market as well as land based industries like the food & beverage and the agriculture sector, to mention but a few. The water desalination units enjoy an excellent reputation around the world. We have remained 100% privately owned, another title we are proud to hold. Hatenboer-Neptunus still serves as a supplier for drinking water, but the company supplies also demineralised and cooling water by road truck throughout Europe these days."
The company has developed into a full-service partner for its clients. With in-house engineering, R&D, a modern workshop, and additional support teams in the water quality and service departments, together with the sales department for projects and spare parts and consumables. In Singapore, close to the construction locations of many of their end-user clients, Hatenboer-Water Asia was incorporated to serve the customers in the region with the same service and responsive attitude as stated above.
The spirit of the company's founder can still be felt in each of the organisation's divisions: serving our customers with a constant quest for the technologically and economically best solutions. Always available with more than a century of experience and the commitment that Captain D Hatenboer Sr. showed in 1906 and throughout his lifetime.
Hatenboer-Water likes to express its gratitude to all for their role in the Hatenboer history; the collaboration and the trust everyone has put in the organisation.