KOW Watertreatment offers high-quality and cost-effective processing systems that use reverse osmosis technology to provide fresh and technical water for cruise ships, offshore installations and remote locations.
We can deliver complete new solutions, upgrades, spare parts and after-sales services for marine water processing plants.
Drinking water processing plants for ships
KOW Watertreatment's plants provide high-purity drinking and process water with low maintenance requirements in compliance with international standards for water quality.
Our range includes all sizes of processing plants that can provide a daily drinking water output from 25m3, and our low range systems are designed to produce 100m3 of water a day. Custom-made or retrofit plants can be supplied with a daily capacity of up to 1,200m3.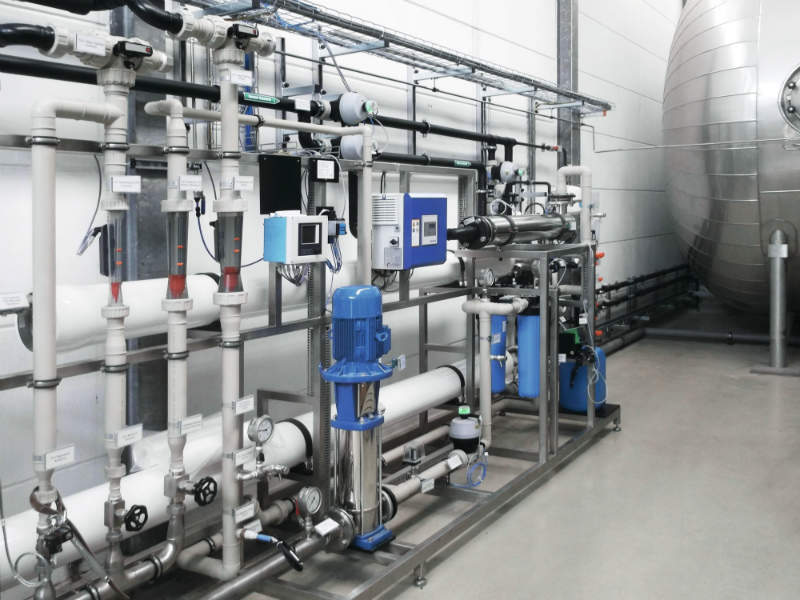 KOW Watertreatment provides water processing plants for cruise ships.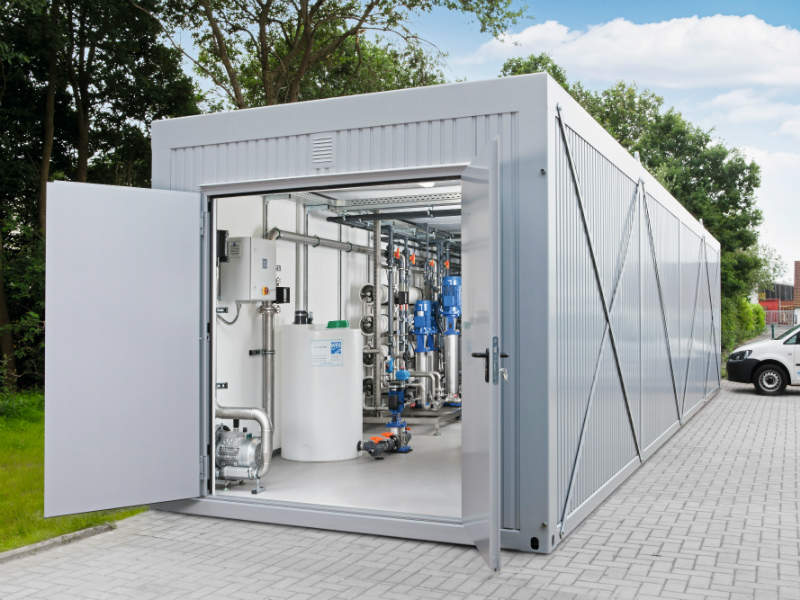 Our plants are available for offshore and remote locations as an alternative to a land-based water supply.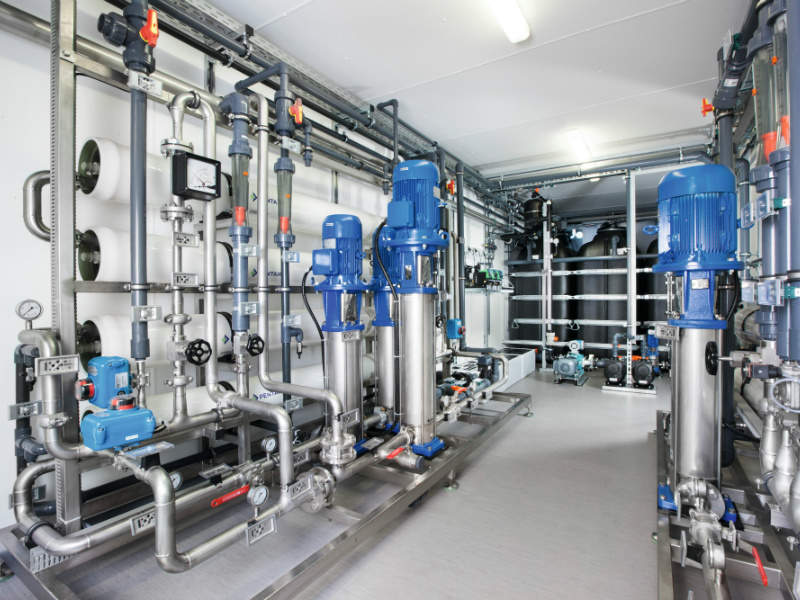 Processing plants use reverse osmosis to create drinking water for passengers and process water for ship boilers.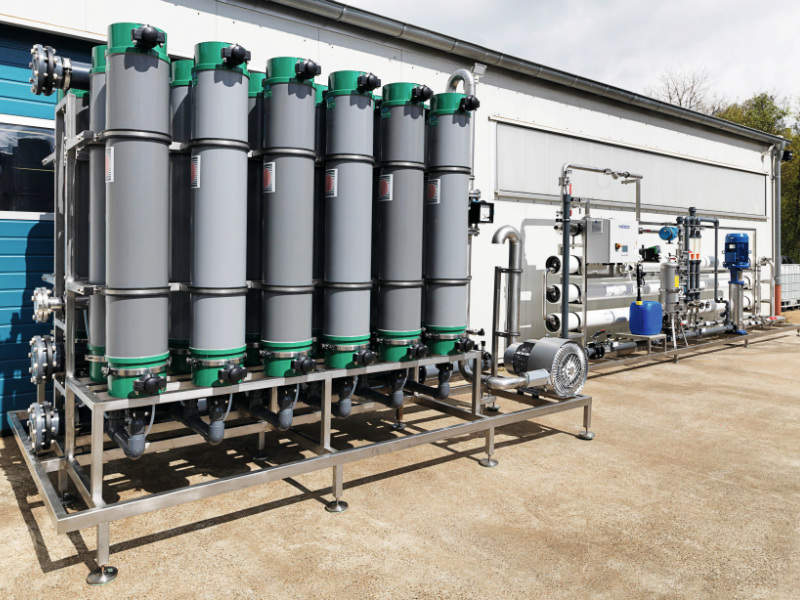 Water processing systems can be fitted on new-build ships or installed as a retrofit solution.
We can also integrate our Interstage Boosting (ISB) technology to increase the capacity of existing reverse osmosis plants. The innovative technology increases freshwater production of the plant by up to 50% without additional energy consumption.
Systems can be installed during vessel construction or as a retrofit solution. Retrofit systems are delivered as individual parts that are fitted without impacting normal ship operations. These solutions can be operational within two to three weeks.
KOW Watertreatment supplies land-based plants to provide water treatment for islands, rural areas or any other location without access to drinking water. They are suitable for use at hotels and resorts to supply clean water for sanitation, swimming pools, kitchen and laundry facilities, and gardening.
Reverse osmosis water processing systems
KOW Watertreatment's expert team provides engineering and distribution for water processing systems, with a number of reverse osmosis plants installed on cruise ships and onshore.
Reverse osmosis processing plants use semi-permeable membranes to filter the salt out of seawater to make it drinkable. The technique is also suitable for the treatment of high-purity process water for steam boilers, generating permeate water with a very low conductivity of 30 micro-Siemens per centimetre (µS/cm) and lower if required.
Reverse osmosis plants can be used to produce permeate water for steam generators, cooling systems, and the chemical and pharmaceutical industries. There are a number of benefits in using permeate water in boiler plants, including safe and economical operation without the need for chemicals, as well as reduced water and energy consumption due to the low conductivity.
We also provide pre-treatment systems with cartridge filters and softener plants, membrane technology with reverse osmosis, ultra-filtration or micro-filtration, as well as post-treatment units such as disinfection by UV or chlorination, and pH adjustment.
Energy-efficient water purification on ships
It is crucial that modern processing plants are environmentally friendly with a low resource consumption. KOW Watertreatment's systems have low energy consumption at approximately 3.5kWh/m³ of permeate water.
Cruise ship water processing plants
All KOW Watertreatment plants are supplied with a two-year performance warranty, optimum pre-treatment and generation and a durable membrane. Processing plants are easy-to-use with an automatic system start and stop. They can operate for as long as four to six months between cleaning cycles.
Personnel can be trained on how to safely and efficiently use the water treatment plant and maintenance or repair is carried out by qualified service technicians.
The water processing plants have highly efficient desalination, leaving a residual salt content of less than 500mg/l total dissolved solids (TDS) by using one-stage systems. Using two-stage systems, the produced water comes out with TDS lower than 50 mg/l.
KOW Watertreatment can provide cost-effective processing systems for offshore installations that cannot be connected to a land-based water supply.
Spare parts and maintenance service
KOW Watertreatment provides spare parts and services for RO fresh water production plants, as well as water treatment systems with re-mineralizing, pH-adjustment and dosing systems.
The company offers automation, measurement and control services, consulting and troubleshooting for yards, shipping companies and ship owners, as well as practical and theoretical staff training.
Spare parts available include high-pressure pumps, energy recovery systems, membranes, pressure vessels, dosing units, and pipes and valves.
Maintenance services and spare parts are offered not only for KOW plants but also for all common brands and manufacturers.
KOW operates a life-cycle service, which consists of a planning and design phase, plant construction, commissioning inclusive crew training on board, and worldwide after-sales care.
About KOW Watertreatment
Part of the KF Group, KOW Watertreatment has extensive experience in delivering water treatment and environmental technology solutions. The group provides solutions to minimise pollution in soil, water and air.
Our engineers and technicians supply our clients with solutions that are individually customised. We also provide a reliable after-sales, maintenance and repair services and worldwide delivery of spare parts.