Tecnicomar is Europe's first manufacturer of watermakers, sewage treatment plants with IMO Marpol MEPC.159(55) approval, water purifying systems and oil-water-separators. A wide range of standard, semi-customized and full customized products for marine, industrial and home application are designed and built in a modern 3,000m² production facility.
Odour-free sewage treatment without residuals
The ECOMAR sewage treatment plant is a physical-chemical system able to treat grey and black water in accordance with the international standards and to render it transparent and odor-free for direct discharge into the sea. No residuals remain on board and consequently the installation of a sludge tank is not required. The treatment is completely automatic, up to two holding tanks can be piloted separately by the PLC control panel.
Compact and rustless sewage treatment plant
The design of the ECOMAR sewage treatment plant series is compact and light for easy fitting even in narrow spaces. The treatment tank in strong polypropylene is resistant against the high corrosive mixture of sewage and sea water. The internal tank and probe are washed with seawater at the beginning and end of every cycle.
The ECOMAR range provides capacities from 2300 lt/day (607 gpd) up to 50,000 lt/day (13196 gpd). The system has been installed on hundreds of pleasure, commercial and navy vessels around the globe.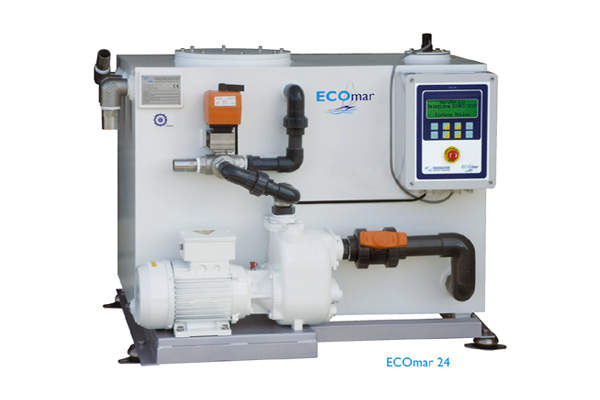 Sewage treatment plant ECOmar: type approved according to IMO Marpol resolution MEPC.159(55). Capacities available: 2,300-50,000 lt/day (607-13,196 gpd).
The watermaker series STDC & SW-8 are designed for large vessels with continuous high fresh water demands. Real fresh water production: 400 to 10 000 lt/h (2,536-63,408 gpd), higher capacities available on request.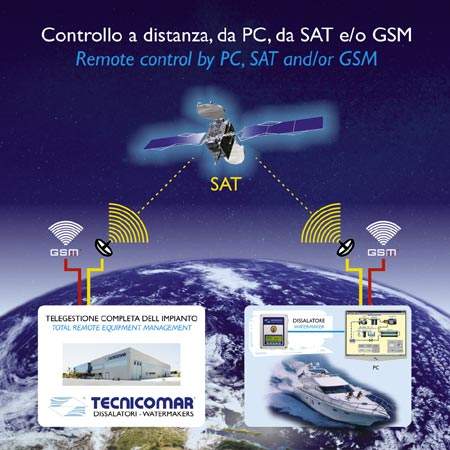 Innovative technology: remote control via GSM or Ethernet connection for servicing and monitoring of the system and transmission of read values for easy remote assistance by the manufacturer.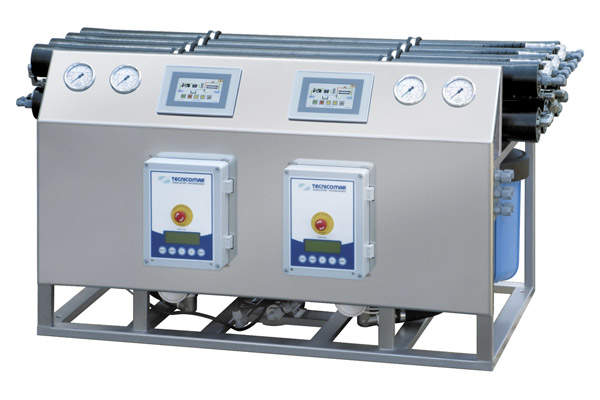 Compact duplex water maker with oil-free Danfoss HP pump, light and resistant carbon fibre vessels (TUV certified) and automatic pressure regulation as standard features. Can work in parallel or separately.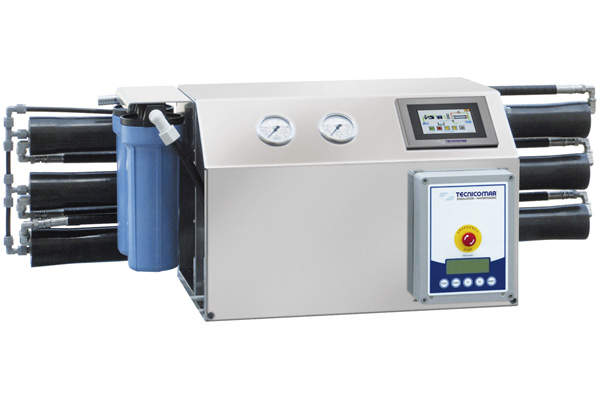 The bestseller: fully automatic PLC controlled R.O. watermaker mounted in a compact stainless steel frame. Main features: simplicity, low noise operation and low maintenance expenses.
RO water desalination for marine, river and offshore application
Tecnicomar offers a wide range of standard products and accessories as well as completely customized systems. State-of-the-art RO watermakers, both for sea and fresh feed water, with capacity from 25 to 10,000 liters/hour (222 to 63,408 gpd) are serially available at short lead time. Bigger units suitable for cruise lines or hotels on the sea side are designed and manufactured upon request. More than 3,500 units have been supplied to marine and offshore clients.
Tecnicomar watermakers are silent working, compact, energy saving and PLC controlled by default. A wide range of accessories like remote control with optional touch screen, SAT, GSM or PC link make the systems adaptable to customer requests.
Water treatment: filtration, UV sterilization, water softeners, bilge water separator, dosing systems
The following water treatment systems are available on stock or with short lead times:
Filtering systems for sea and fresh feed water with a wide range of cartridges ready on stock
Multimedia sand filters
Activated carbon filters
Rehardening calcite filters
UV sterilizers for bacteria-free potable water
Pumps and dosing equipment for chlorine, silver nitrate, antiscalant etc.
Water softeners
Cooling and carbonation systems
Bilge oily water separator
Corporate values since 1978 have been quality, reliability, low-maintenance impact and World-wide service Tecnicomar SpA, ISO 9001:2000 certified, holds over 30 years of experience in water treatment: this guarantees technical competence, highest quality standards, competitive prices and particular eagerness for constant product improvement and customizing requests. The company was established in 1978 by Mr Francesco De Vita in Marsala, Sicily. Thanks to the attention and expertise Tecnicomar dedicates to customer requirements, quality and reliability, Tecnicomar has become a world-wide known brand with a global sales and service network.