AYSTAR Enterprises, based in British Columbia, Canada, is a licensed provider of the WATERMINER electrochemical wastewater treatment technology. 
AYSTAR was created to introduce a unique form of electrochemical raw sewage and bilge water treatment technology to the maritime industry. This technology allows what was once expensive wastewater to be recycled and re-used and provides both environmental and cost-saving benefits. 
 Designed and manufactured by Valence Water, Canada, the WATERMINER removes heavy metals and other toxins from wastewater. This proven technology is new to the marine industry and is a high performance, high flow, instant on/off solution for onboard bilge and raw sewage wastewater treatment in separate or blended flows. In addition, the company expects that the technology can be used to clean exhaust scrubber water and it is keen to explore this market with an innovative market vendor or shipping company. WATERMINER technology may also have the potential to be used as an exhaust gas water scrubber.
WATERMINER effectively 'mines' problematic or valuable commodities from wastewater, producing clean water that can then be re-used. This technology removes or reduces chemical oxygen demand (COD), biochemical oxygen demand (BOD), total suspended solids (TSS), faecal coliform, hydrocarbons, heavy metals, H2s, volatile organic compounds, and more from wastewater. It can also remove benzene, toluene, ethylbenzene, and xylene (BTEX) compounds, which are common by products in the industrial shipping industry.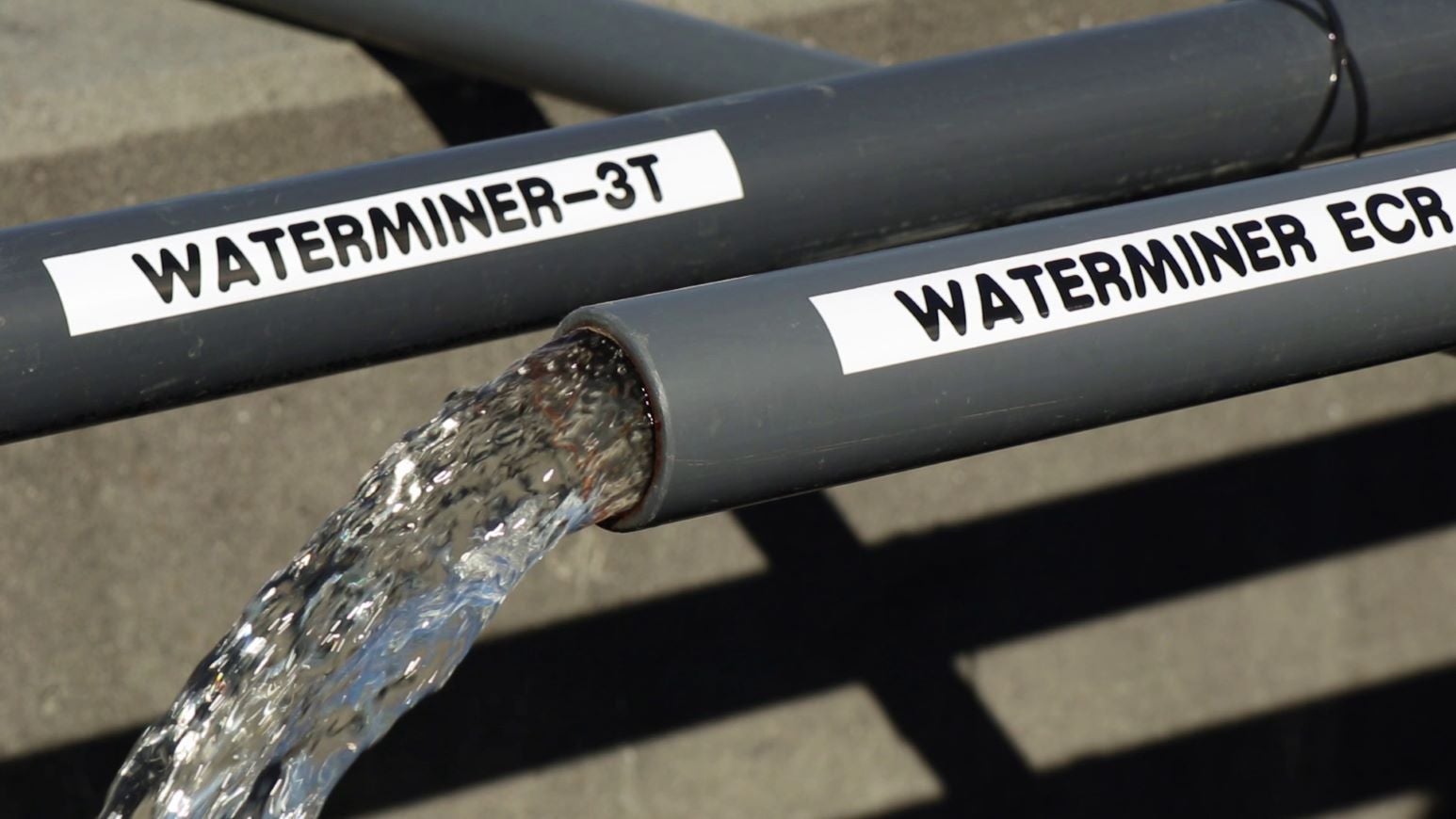 AYSTAR WATERMINER 15 minute raw sewage treatment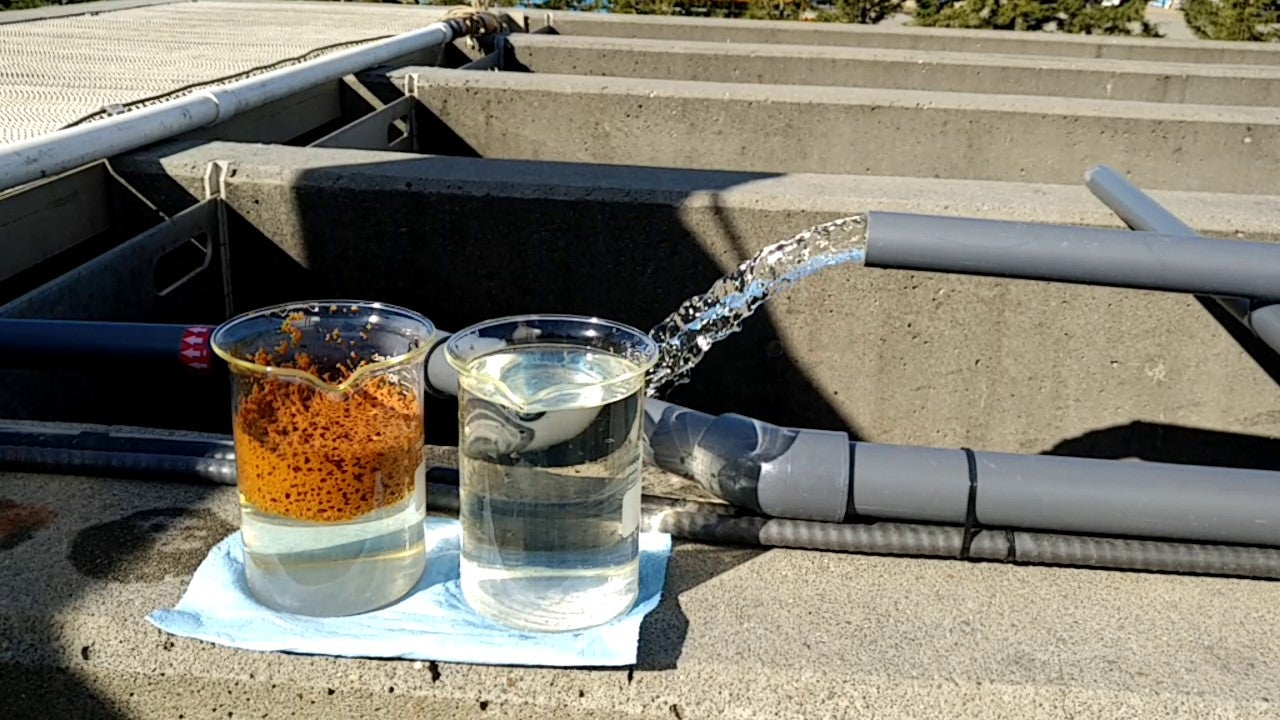 AYSTAR WATERMINER 15 minute raw sewage treatment sludge
AYSTAR WATERMINER 15 minute raw sewage treatment B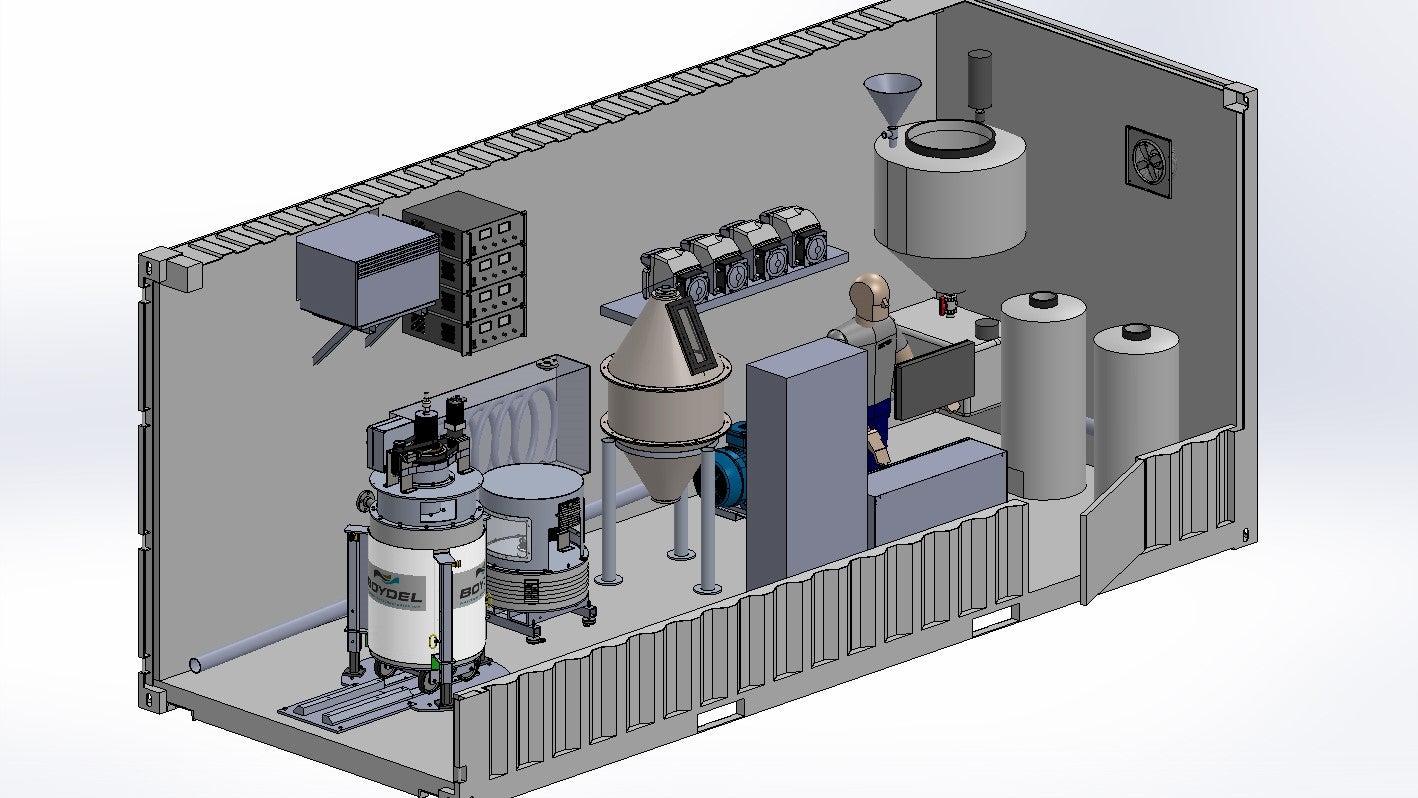 AYSTAR WATERMINER W350-W500 platform schematic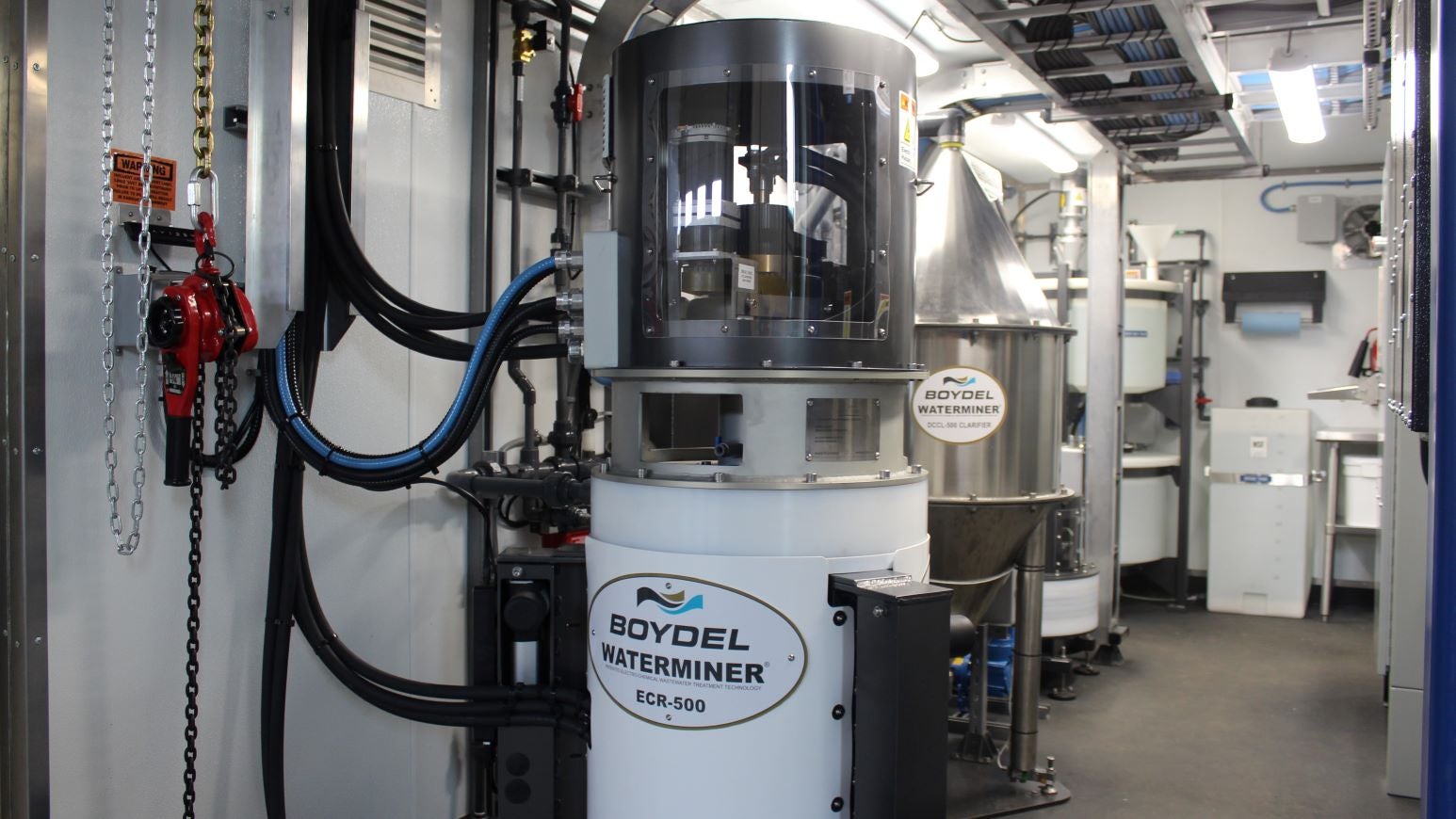 AYSTAR WATERMINER W500 platform reactor clarifier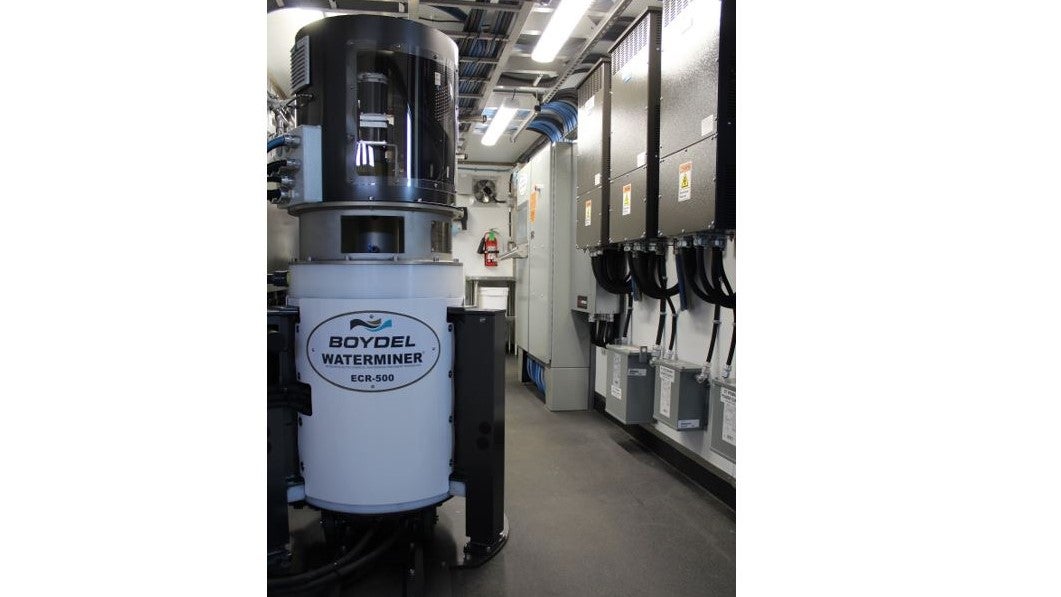 AYSTAR WATERMINER W500 platform reactor, power supplies, operator office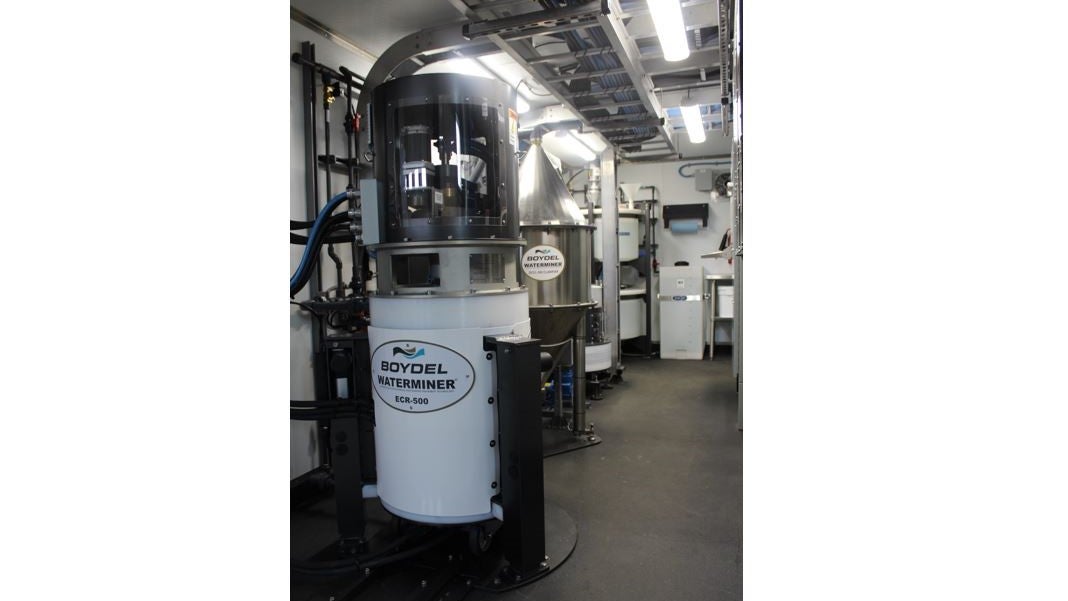 AYSTAR WATERMINER W500 reactor and clarifier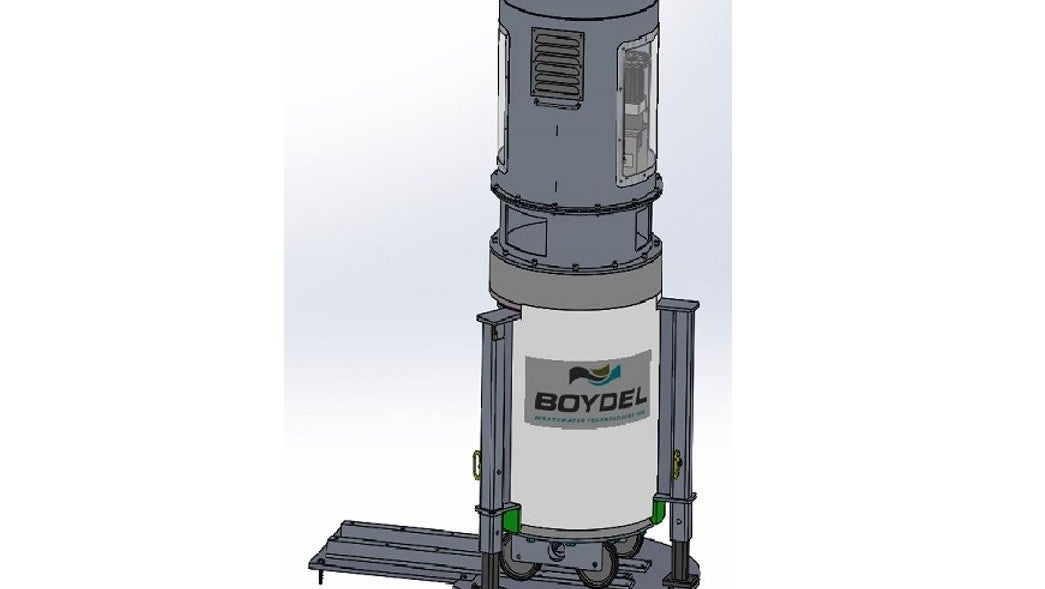 AYSTAR WATERMINER EC-EO reactor schematic
Electrochemical water treatment technology for the shipping industry
The globally patented WATERMINER reactor combines both electro-coagulation and electro-oxidation in one device which, when working intimately together, creates a unique, high-performance water cleaning system that is extremely powerful. 
Due to the electrochemical nature of the core technology, a large or small chlorine residual, based on the operator's wishes, is created in the process so that the effluent and the captured sludge are disinfected.  This chlorination benefit enhances the re-use potential of water treated by WATERMINER technology. 
Being a 100% non-biological process, odors are almost non-existent with this form of waste removal. The technology is nearly silent and provides a very clean, high-comfort environment for operators. In addition, electrochemical treatments are known to produce approximately 80% less sludge, compared to other treatment methods. This can then be dried to 50%-60% dry, depending on the dewater equipment that is installed.  
WATERMINER's revolutionary design means that it can be turned on/off instantly and, in only 15 minutes, treated water is ready for toilet flushing/washdown re-use or discharge. Aystar hopes that this technology will become the industry standard for onboard wastewater management as it is safe, effective, and efficient. For example, in a 20ft or 40ft shipping container, it can process up to 45m³/d or 400m³/d of water, respectively or >10,000m³/d in a floor mounted permanent installation.  
WATERMINER operates most effectively between 5°C-35°C and is not affected by harsh cleaning supplies; instead, it will remove or neutralise many cleaning chemicals. It is also capable of effectively cleaning blended bilge and raw sewage influent, meaning users only need one plant to manage and treat all main water flows.  
Benefits of WATERMINER water treatment technology
With WATERMINER, there are no aeration tanks, no biology, very low and readily dewaterable sludge, with only four hours of influent equalisation required. As a modular component built assembly, WATERMINER packaged plants can significantly reduce the floor space required for marine application water treatment, which means that in cruise ship applications, the recovered deck space can be reassigned to revenue generating cabins or other high-value infrastructure or operational requirements. The system can be easily assembled using modular components inside an existing vessel, or shipped as a complete package plant of up to 400m³/d, making WATERMINER the ideal technology for new constructions or refits. 
If vessel toilet tanks are plumbed to exclusively receive WATERMINER treated re-flush water, all toilets will flush with chlorinated, disinfected water to keep crew and guests happy and healthy. All pipes, pumps, and staging tanks downstream from WATERMINER will also be disinfected. 
Aystar also guarantees permanently low and stable operating consumables expenses of approximately $0.35-U$0.50 per m³ in typical onshore applications. For any special site requirements, Aystar will work with clients to determine how specific site and safety issues will affect the typical onshore operating expenses.   
Designed for ship builders or vessel and/or platform owners/operators who have an interest in the latest technology, WATERMINER can provide flow rates of 30m³/d-400m³/d in as little as 30 weeks from the initial request. To install and initiate a WATERMINER platform, simply connect it to an influent, effluent sludge discharge line consistent with a static dewatering bag, and lastly, mains power lines connected to the onboard distribution panel. The containerised packaged plants are all excellent value for money and clarification is included in the platform using the company's proprietary dual cone clarifier. The company's products can also be shipped globally.  
WATERMINER is also the ideal barge mounted treatment solution for wastewater treatment vendors that currently service the marine industry via barge and extensive trucking to onshore plants or disposal sites. It eliminates the need for trucking and creates cleansed wastewater that can be resold back to marine clients for washdown or toilet flushing reuse. 
Piloting is especially easy and cost effective. As a completely non-biological and containerised plant technology, WATERMINER is indifferent to seasons and temperatures. This means that a simple, low cost, one-month pilot will tell users how the plant will run every month on the same influent for the entire 120-month-plus life of the plant.