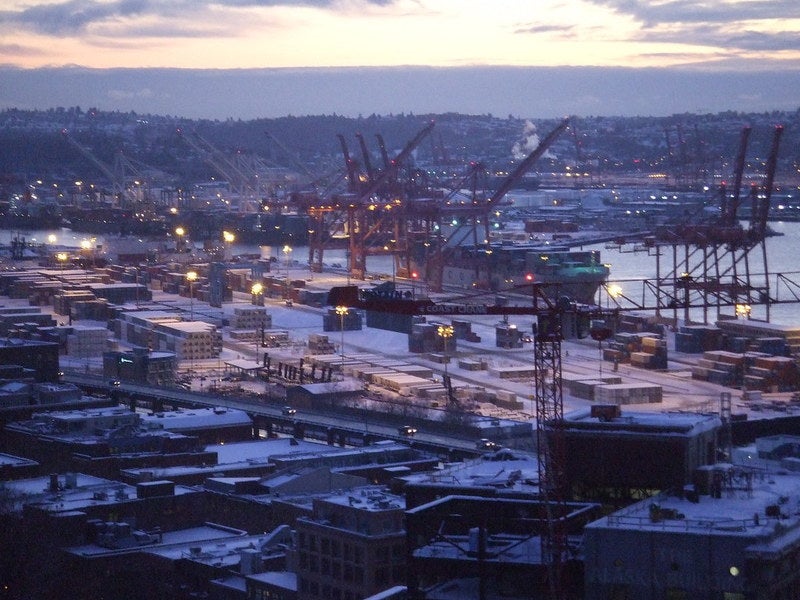 Port of Corpus Christi in the US launched a $380m project to deepen and widen its ship channel to accommodate larger vessels.
The Port of Corpus Christi Ship Channel Improvement Project will be executed by Great Lakes Dredge and Dock Company.
Under the plan, the Corpus Christi Ship Channel will be deepened from 47ft to 54ft and widened from 400ft to 530ft.
---
Port of Gothenburg in Sweden concluded phase one of the water-based works related to the construction of a terminal at the port.
The first phase of construction commenced with stabilisation work. This involved the sinking of 1,500 piles into the seabed down to bedrock level, in the lead-up to the construction of the rock embankments around the Arendal Bay.
Gothenburg Port Authority CEO Magnus Kårestedt said: "The terminal is a crucial aspect of the port's long-term expansion plans and will further strengthen Gothenburg as the Nordic logistics capital."
---
Tech firm ABB opened a marine service centre in Russia to support growing Arctic maritime industries.
The new centre will support the company's ship power, propulsion and automation technologies and expand service capabilities for ice-going vessels.
After supporting 15 vessels in 2009 and 50 ships in 2019, the company decided to further strengthen its presence in Murmansk, Russia.
---
French shipping firm CMA CGM Group and Swiss shipping line MSC Mediterranean Shipping Company (MSC) are set to join blockchain-enabled digital shipping platform TradeLens.
The blockchain platform is collectively developed by AP Moller – Maersk and tech giant IBM. It allows participants to connect, exchange information and partner across the shipping supply chain.
It digitises the supply chain process from end to end and allows authorised participants to access trusted data in real time.
---
Norwegian shipping company Norled and shipyard Westcon reached an agreement for the construction of two environmentally friendly ferries.
One ferry will run on hydrogen fuel while the other will be a battery-powered ferry, similar to MF Ampere.
With a capacity of 299 passengers and 80 cars, the ferries will operate on the Hjelmeland-Skipavik-Nesvik route in Ryfylket from early 2021.
---
The Québec Port Authority (QPA) reached an agreement with Hutchison Ports and Canadian National Railway (CN) to build and operate a container terminal with an investment of C$775m ($574m).
To be known as Laurentia, the project will be jointly funded by the three partners.
QPA said that it selected Hutchison Ports following a competitive process where leading global port operators were invited to submit proposals to participate in the project.
---
UK-based engineering, construction and services firm Subsea 7 and ship-builder Royal IHC commissioned the fully integrated reel-lay vessel Seven Vega.
The launch ceremony was organised at IHC's shipyard in Krimpen aan den IJssel, the Netherlands, and was carried out by Monica Th Bjørkmann, vice-president for Subsea 7 in Norway.
Subsea 7 strategy and commercial executive vice-president Stuart Fitzgerald said: "The vessel marks an important investment for the future. When delivered in early 2020, Seven Vega will be one of the most capable and cost-effective reel-lay vessels in the market and a global enabler for Subsea 7."
---
Damen Yichang Shipyard in China held a keel-laying ceremony for an LNG bunker vessel for energy brand Elenger, previously known as Eesti Gaas.
Damen Yichang Shipyard said that the vessel will have a capacity of 6,000m³. It will play a key role in supporting the adoption of LNG by providing a ship-to-ship distribution service for all kinds of LNG vessels in the Baltic region.
Sea testing of the LNG bunker vessel is expected to begin in early 2020. Subsequently, the ship will reach Estonia by mid-2020 and will start serving LNG clients towards the end of the year.
---
Finland-based marine technology company Wärtsilä launched a product aimed at improving the efficiency and sustainability of dredging operations.
Called Wärtsilä HY for Dredger, the product was showcased at a Future Dredger Day event held at the company's Hybrid Centre in Trieste, Italy.
Wärtsilä Marine sales and business intelligence director Giulio Tirelli said: "Real operational data from the field was analysed so as to understand exactly the challenges to be overcome, and the product was engineered accordingly."
---
Babcock International's LGE business received a contract to deliver the LPG cargo handling and fuel gas supply system (FGSS) for a vessel, which will use LPG as a primary fuel source.
Being constructed in China, the 86,000m³ ship was ordered by a leading Asian ship-owner. The carrier is scheduled to be delivered in January 2021.
Babcock's FGSS connects with the cargo handling system for transfer between the two systems during voyages.