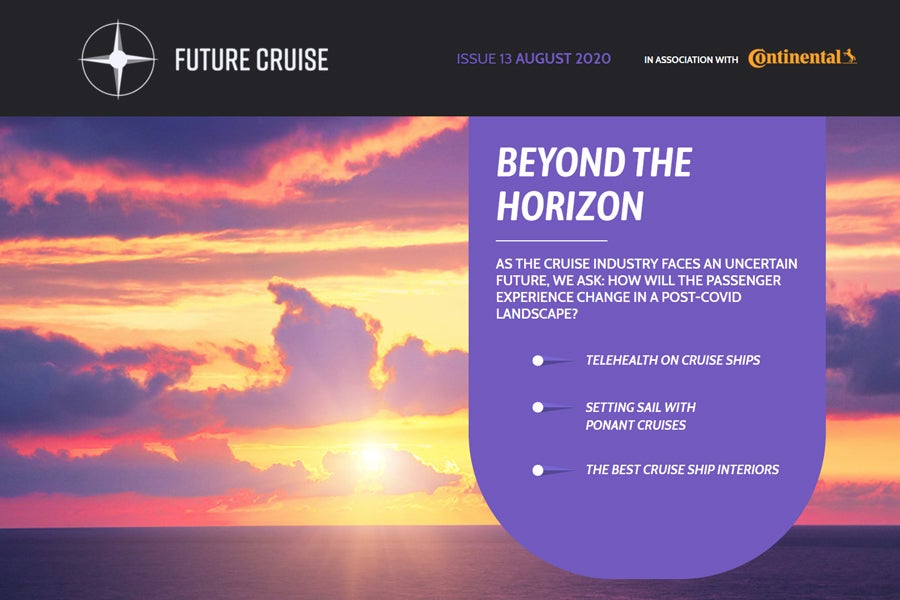 Future Cruise is back for another issue packed with industry news and analysis. In this issue, we discuss five ways the passenger experience is likely to change in the post-Covid landscape, explore the potential rise of telehealth on cruises, and take a look at some of the best cruise ship interiors in the world.
Whether you are on a desktop, tablet or smartphone, you can read the magazine for free online.
In this issue
Norwegian: a major cruise casualty of coronavirus?
The Covid-19 pandemic is proving highly damaging for Norwegian Cruises, which has been scrambling for cash ever since the beginning of the crisis. With its share price continuing to fall, and the no-sail order still in place, how much longer can it survive? Adele Berti investigates.
Telehealth on cruise ships: a safer way to handle sick passengers?
In May, Tritan Software announced the launch of SeaConsult, a new telehealth solution allowing doctors to carry out virtual cabin visits. Ilaria Grasso Macola finds out how telehealth solutions work on cruise ships and ask whether they could experience a surge on board after 2020.
Q&A: ship design standards post-Covid-19 with Foreship
Ship design and engineering firm Foreship has launched Project Hygiea, the company's four-step plan to build vessels that are resistant to the spread of coronavirus. Ilaria Grasso Macola speaks to Foreship sales and marketing vice-president Mattias Jörgensen to find out what is required to prevent the spread of pathogens on board.
Cruise ships post-Covid-19: five ways the passenger experience will change
It's been a tough year for cruise ships but as the industry begins to pick itself back up, how will the experience be different for passengers onboard? From dining and recreation to rules and regulations, Adele Berti discusses five ways the passenger experience may change after the Covid-19 pandemic.
Ponant: sailing into a new era of cruising in France and Iceland
Founded in 1968, Ponant has gained a reputation for five-star cruising on innovative, environmentally conscious yachts. As the first company to restart ocean cruising in France in following the Covid-19 lockdown, Frances Marcellin looks at what protocols the company has put in place and how science and technology combine to create a safe and hygienic environment on board.
Scarlet Lady: on board Virgin Voyages' inaugural ship                                          
Before lockdown, Frances Marcellin travelled to Liverpool, UK to visit Virgin Voyages' Scarlet Lady. What does the future hold for this breath-taking cruise ship, and will it need to change its onboard procedures to best welcome passengers in a post-Covid world?
Cruise Ship Interiors Awards: spotlight on the trends making waves
The inaugural Cruise Ship Interiors Awards 2020 took place (virtually) in June. From the best newbuild to sustainability drivers, Adele Berti profiles the most eye-catching winners and the reasons behind their success.
Expansion on track: Port Everglades' new infrastructure projects
Florida's Port Everglades, one of the largest cruise terminals in the world, is undergoing a transformative set of infrastructure improvements. Costing $1.6bn, the projects include the biggest berth expansion in its history, as well as deeper and wider channels and a new logistics centre. Covid-19 is yet to hinder progress, as Ross Davies reports.
Next issue preview
In the next issue of Future Cruise, we give a rundown on who's buying and selling cruise ships as the market steers towards recovery. As cruise ships restart their operations with a plethora of new health protocols to keep Covid-19 at bay, what will more stringent measures mean for crew members stuck on board?
Also in this issue: we speak to tech provider IBS Software about what cruise operators can do to find new revenue sources; explore how kids clubs are changing to meet the expectations of a new generation onboard ships; and investigate Greece's potential as a cruise destination after the country's ports reopened in August.
We also ask British cruise line Swan Hellenic about its long-awaited return to the waters and find out why Royal Caribbean is replacing standard safety drills with Muster 2.0, its new digital safety induction for passengers.
Would you like to be notified when a new issue of Future Cruise is out? Sign up for email alerts here!
We will only use your email address to let you know when a new issue is available. Future Cruise is published quarterly.