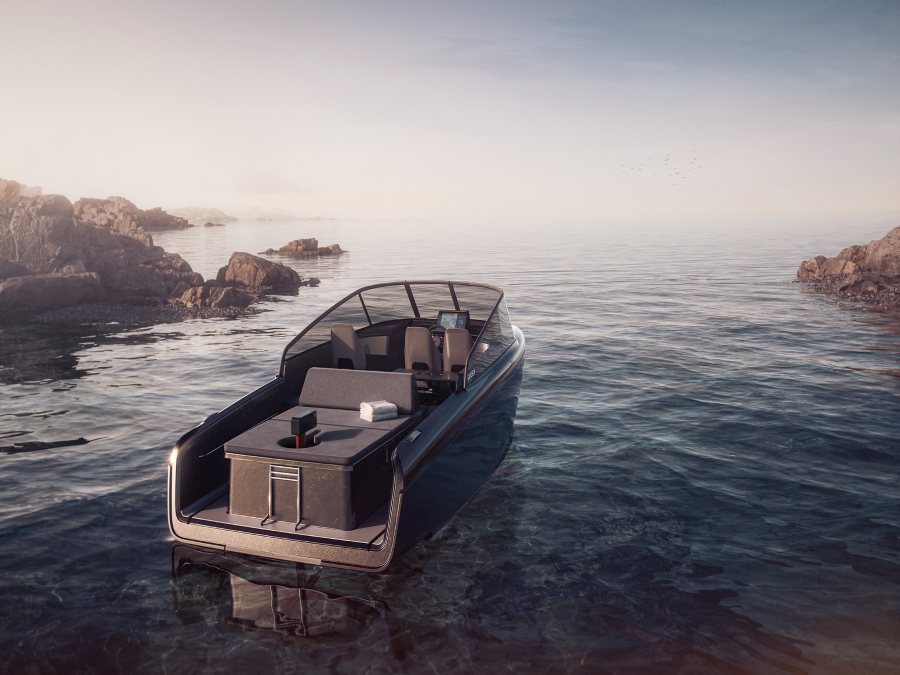 Candela's boats are the first electric hydrofoil boats in production, and more significantly they are long-range and high-speed electric boats. The electric hydrofoil boats require 80% less energy and can achieve long-range and high-speed as a result.
In 2013, company founder Gustav Hasselskog owned a Bertram powerboat with a V8, but he noted the high fuel costs and observed that conventional boats in the 25-foot class use around 15 times more energy/fuel than a conventional car to attain cruise speed.
In addition, batteries contain one-fifteenth of the energy of diesel/gasoline which means conventional hull electric speedboats cannot have both long range and high speed because the friction is too high due to the hull plowing through water.
Candela C-8 is the result of the company increasing its hydrofoil technology on a larger scale, following on from the company's first leisure boat Candela C-7.
Candela spokesperson Mikael Mahlberg says: "Once our boats become foilborne, they're also becoming inherently unstable, since the lifting point is below the center of gravity.
To balance them, you need an active foil system – that is a Flight controller, a computer, that uses data from various sensors to estimate the boat's position in space and to adjust the angle of attack of the hydrofoil, to keep the boat flying and stable."
A Flight controller and foil system stabilises the vessel so it is unaffected by adverse weather conditions. In particular, the C-8 can drive through four foot waves without passengers feeling them. When 'flying' along the water, the Flight controller computer regulates the angle of attack of the hydrofoils 100 times per second to account for wind, waves and different loads.
Candela C-8 cruises at a high speeds that allows it to travel from Cannes to Monaco and back on just one charge of its battery. It is also 95% less expensive to drive than conventional powerboats and is silent and requires no maintenance of its motor – the Candela C-POD drive train.
The control system of this boat, and the software (100 000 lines of code), consists of over 15 sensors.
Mahlberg says: "Making the control system – and software – was difficult, and takes great engineers, and lots of trials. This took us five years before all kinks were ironed out.
"It takes mathematicians, physicists, engineers and experts in hydrodynamics to make it work – and [that] is the reason why nobody else succeeded so far."
The foils make C-8 around 400% more efficient than conventional motorboats due to the reduced friction. At 20 knots, only around 25 hp of power is used so that its lithium-ion battery lasts for more than two hours or around 50 nautical miles of range. This is noted by Candela as being more than twice the endurance of any other electric speedboat on the market at the moment.
Conventional V-hull speedboats which are around 8-meters in size use 15 times more fuel per kilometer than the average family car. In addition, the motors of these boats are not regulated as they do not necessarily have catalytic converters and other exhaust control devices that are required for land vehicles.
As a result of the company's partnership with reseller Sud Plaisance, Candela C-8 is coming to the French Riviera and is making its French debut at the Cannes Yachting Festival in September.
Dubbed the Tesla of the Seas by Forbes, the boat is available for orders and Candela has already sold more than 100 units in the US and Europe.
Elsewhere, the company will also be unveiling the ferry Candela P-12 on 14 June. Another example of Candela's high speed boats, a journey from the Ekerö suburb to central Stockholm would cut transport times from 55 minutes by conventional ferry to just 19 minutes.