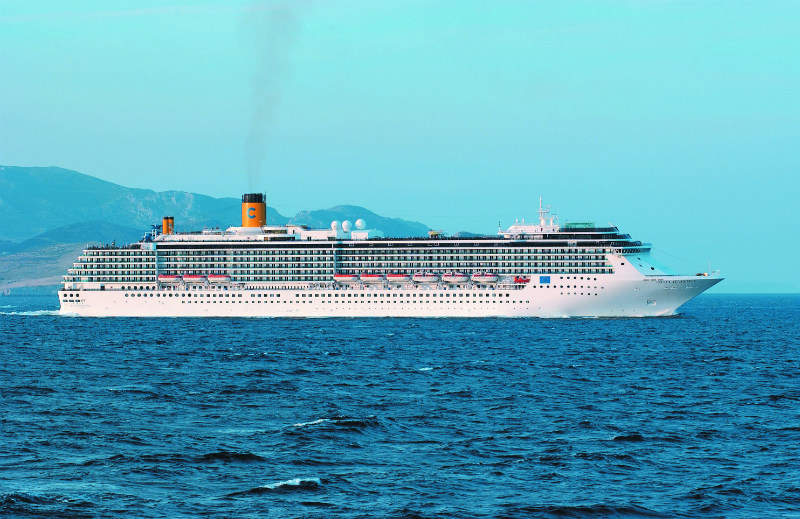 Business is still booming in Asia's cruise industry. According to the Cruise Lines International Association, a total of 3.1 million Asian travellers took to the seas in 2016, while the 2017 Asia Cruise Trends report shows that 68% of these passengers hailed from China.
With more Asian cruise fanatics inbound, leading travel firm Costa Cruises has announced a collaboration with popular Chinese messaging app WeChat in a bid to 'pioneer the digitisation of the cruise experience'.
Hosting almost a billion active monthly users, WeChat is a social media behemoth, moving beyond mere messaging services to offer more commercial features to users. Marking a first for the cruise industry, Costa Cruises is aiming to provide a new channel for services on its Asian fleet via the app.
"With China being one of the world's leaders in mobile and digital advancements, we see great potential in leveraging WeChat's leading position and technologies (and) also provide a more immersive and digitised on-board experience for our guests," said Costa Group Asia President Mario Zanetti in a statement.
Speeding up services
WeChat has become known as China's 'App for Everything' through its 'Mini Programs' – stripped-down versions of iOS and Android apps that allow users to access services from external companies. Consumers access Mini Programs by scanning QR codes, searching the service name on WeChat, or clicking on a link in a shared message.
In August, Costa Cruises launched a Mini Program allowing passengers to book and pay for cruise itineraries from WeChat. From September, the service was extended to an entire range of on-board amenities, including duty-free shopping, restaurants and spas, while a new Mini Program set to launch in November will create customised activity plans matched to passengers' interests.
Chinese cruisers will be able to tap into WeChat to make payments without having to waste time and memory space downloading a standalone app. What's more, Mini Programs are said to load much faster than an HTML5 page, and on Android devices can be pinned to the home screen, allowing them to effectively behave like a native app.
This first foray into the cruise sector could demonstrate the specific potential for Mini Programs on ships. Costa Cruises claims that passengers could eventually use the app to check-in at port terminals, navigate-difficult cruise ships, and even read up on enticing shore excursions – all from the same app they use to message their mum about how it's going.
Overseas potential
Costa Cruise's choice to enhance digital services on its Asian fleet certainly makes sense given China's unstoppable drive towards technology development. What's more, the staggering number of WeChat users makes it a fantastic way for Costa Cruises to engage with its customers in the region.
"Riding on the digitalisation trends in China, we are thrilled to digitise the onboard experience for Chinese guests in partnership with WeChat," said Zanetti.
However, the Mini Program approach to on-board commerce is particularly well-suited for the Chinese cruise market. The country's government has blocked the Google Play app store, meaning that Android users obtain many of their apps through third-party sources. Being able to access lots of different businesses from one application is therefore a more exciting prospect for Chinese holidaymakers.
"A very strong trend in China is that demand for iOS and Android apps is waning, while that for programme developing based on WeChat is rising," said Leon Du, co-founder of Guangzhou-based app developer Beansmile, in a Reuters article.
Nevertheless, this is not to say that cruise lines outside Asia haven't integrated digital platforms into their services. In July, Carnival Cruise Line Australia launched its new mobile website in the form of a progressive web app (PWA) built on ecommerce platform Mobify.
"Guests can simply open the website and start browsing our locations and cruises, without having to download an app," said Angela Diamant, Digital Marketing Lead at Carnival Cruise Line Australia, in a statement.
"Pages load quickly and you can keep browsing even when connectivity is patchy or offline. Passengers will also be able to opt in to receive push notifications of special offers and other timely, personalised content."
Though this mobile-optimised website is different to Costa Cruises' WeChat offering, it reflects that customers outside Asia are just as keen to have faster, innovative, and less data-intensive ways to access services on their phones.