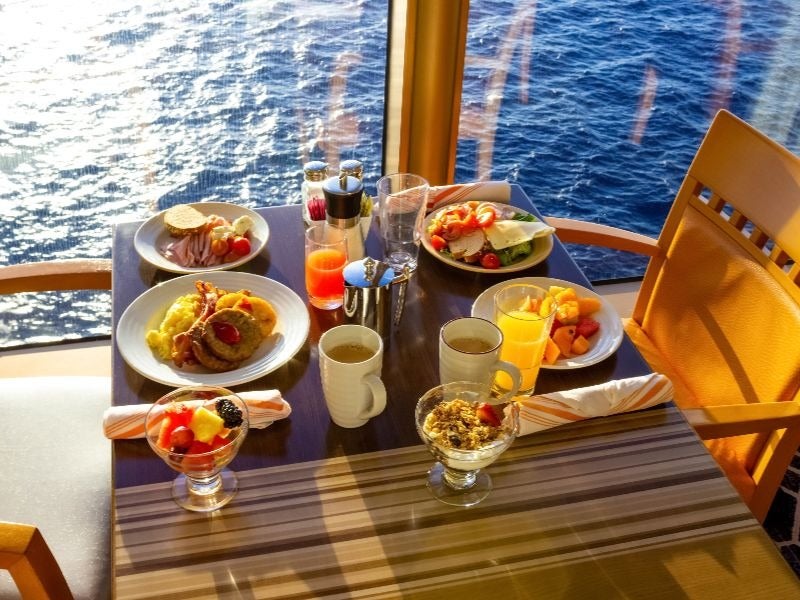 Food is a vital component of the tourism experience. "All travellers eat and drink," World Food Travel Association founder and executive director Erik Wolf says. "But not all travellers visit museums, go shopping or play golf."
But what food trends can the cruise industry expect to see over the next 12 months, how might they benefit by implementing these trends, and which operators are leading the way?
Plant-based diets
Interest in plant-based diets has skyrocketed over the last decade as increasingly conscious consumers realise the health, environmental, and moral benefits that result from reducing or eliminating meat from their diets.
In the UK, for example, 2%-3% of the population follow a vegan or vegetarian diet, while 34% of all Britons have reduced their meat consumption. However, the hospitality industry has been slow to react, with those following a plant-based diet often limited to just a few dishes when eating out.
While that has been the case on many large cruise ships, various niche operators have been catering to this market for some time, offering tourists cruise experiences that are "100% aligned with their ethical lifestyle", according to Vegan Culinary Cruises director of development Sean O'Callaghan.
"Unlike major cruise lines offering minimal plant-based choices for compassionate passengers, Vegan Culinary Cruises makes the entire experience of cruising vegan-friendly," O'Callaghan says.
"Vegan Culinary Cruises makes the entire experience of cruising vegan-friendly."
However, larger operators are now starting to pay more attention to plant-based diners. In August 2019, Royal Caribbean started to roll out a new vegan menu across its fleet that vastly expands the options available to vegan and vegetarian guests. It's new menu features starters, main courses, and desserts, including vegan spaghetti bolognaise, grilled eggplant, and peanut butter caramel rice crisp.
Digestive wellness
Cruise ships tend to offer an abundance of dining options that are often included in the booking cost. On Royal Caribbean's Symphony of the Seas, the world's largest cruise ship, guests have 20 eateries to choose from, serving dishes ranging from American diner classics to fresh seafood. 
Guests subsequently eat a more varied diet in larger quantities at irregular times, which can take its toll on their digestive health.
"On Royal Caribbean's Symphony of the Seas, guests have 20 eateries to choose from."
With many searching for ingredients that help to boost digestive wellness, foods containing probiotics – live bacterias that help to keep the digestive system working efficiently – such as kefir and kombucha have risen in popularity. 
Introducing probiotic ingredients, such as yogurt, sauerkraut, kimchi, kefir, and kombucha, to menus could help to boost guests' digestive and immune systems, and avoid bouts of illness that significantly impact customer satisfaction.
"Travelling usually means being off of your normal routine, eating different foods, and maybe at different times, which often leads to irregularity or uncomfortable digestive issues," Robyn Youkilis, author of "Go With Your Gut", told Travel & Leisure. "Consuming probiotics can help you stay regular even when the rest of your schedule is way off.
Locally sourced ingredients
As consumers become more aware of how the foods that they eat impact their health and their environment, demand for fresh, local produce has also increased. Some 54% of Europeans say they would pay more for locally grown food, according to IRI.
With days at a time often spent at sea, serving guests using fresh, local ingredients can prove challenging. Yet, many operators recognise the importance of locally sourced ingredients in providing the level of quality and taste that guests expect.
In 2016, Holland America Line attempted to offer its guests locally grown produce by partnering with Koppert Cress to grow microgreens, edible immature vegetables, on board its Koningsdam ship.
"Many operators recognise the importance of locally sourced ingredients."
While floating farms may prove difficult for many operators to implement, Scenic Luxury Cruises & Tours sources its ingredients from local suppliers along the way, in order to provide its guests with authentic foods while minimising its environmental impact.
"Not only does this ensure a minimal footprint for every plate we serve, but it also gives guests an authentic taste of local flavours – something which couldn't be achieved with just any ingredients," Absalom says.
Food halls
New food hall openings have increased dramatically in recent years — between 2010 and 2017, the number of food halls in the US grew by approximately 700%, for example.
Offering a variety of choices, usually at cheaper prices, as well as a sociable atmosphere, DJs, live music, and other events, food halls are proving particularly popular with younger generations, according to UHY Hacker Young.
"The number of 18-34 year olds that have embarked on a cruise has also increased by 6% since 2018."
According to ABTA's Holiday Habits report, the number of 18-34 year olds that have embarked on a cruise has also increased by 6% since 2018. In comparison, the number of 65+ year olds grew by just 2% in the same period.
As the demographic of cruise travellers changes, reacting to food and restaurant trends, such as demand for food halls, could help operators to attract these new, younger potential customers to their ships.
Virgin Voyage, for example has thrown out the buffet-style eateries that are commonly found on cruise ships. Instead, Scarlet Lady will instead feature a number of food truck-style eateries inside The Galley, its 24-hour food hall.
Food tourism
While restaurant dining is increasing across all age groups, what customers really want is "unique and immersive" experiences according to Deloitte's "The UK casual dining market" report. Subsequently, food tourism is becoming an increasingly vital part of the tourism industry, with 53% of leisure travelers now choosing their next destination based on the food and drink experience it provides, according to the World Food Travel Association.
"Food tourism is all about serving a memory and not a meal," says Wolf. "A lot of cruise lines have commoditised experiences to meet consumer demands, such as chef's tables, demo kitchens – the kind of thing they can replicate nightly very easily."
"Food tourism is all about serving a memory and not a meal."
While this allows operators to keep guests entertained while on board, there is a "huge gap" between "watching a professional chef on a ship teach you how to make a Thai curry, and learning how to make a Thai curry in person in Thailand".
While options are limited while at sea, operators are taking steps to address this once they dock. Operators such as Scenic Luxury Cruises & Tours offers its guests more authentic, local food tourism experiences through short excursions once on land.
"For example, in France, guests can take part in Scenic Culinaire, a cookery class which sees them visiting a market with a chef, before returning to their ship to prepare a classic French dish," Absalom says.
"It's a unique and immersive experience which provides a deeper understanding of regional food."