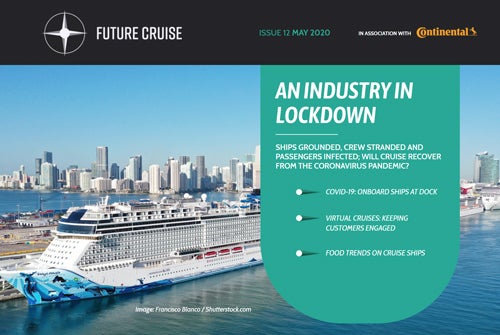 Future Cruise is back for another issue packed with industry news and analysis. In this issue, we take a deep dive into the long and short-term impacts of the ongoing Covid-19 pandemic on the cruise industry, ask what will become of cruise ships anchored indefinitely at sea, and discover how operators are trying to keep up appearances with customers through virtual engagement.
Whether you are on a desktop, tablet or smartphone, you can read the magazine for free online.
In this issue
Covid-19: how the cruise industry got washed up
The cruise industry is facing growing criticism for the way it has handled the coronavirus pandemic, with accounts of passengers stranded on quarantined ships still making headlines. Adele Berti asks: has the sector's reputation been severely tarnished, and what can operators learn from this crisis?
Tiding over: how operators are staying in touch with customers amid Covid-19
Covid-19 may have confined the industry's cruise liners at port, but cruise companies are working hard to keep lines of communication open with customers. From virtual cruises and horn salutes to revised booking policies, how are cruise operators keeping their customer base engaged? Chris Lo finds out.
Covid-19: what will happen to cruise liners on lockdown?
How many ships are anchored at sea, how do operations run onboard and what will the future of grounded ships look like? As the industry grinds to a halt and unused ships accumulate, Frances Marcellin investigates.
Fair winds: sailing voyages offering an alternative to mainstream cruising
Traditional (or modern) sailing vessels offer an alternative to the love-it-or-hate-it proposition of mass-market cruising. What are some of the big names in this unique industry niche, and what is its appeal? Chris Lo finds out.
Consolidation in the cruise industry: what does the future hold?
Royal Caribbean's recent purchase of Hapag-Lloyd Cruises, in a joint venture with TUI, has marked just another chapter in the cruise industry's long history of consolidation. How is this trend defining the sector and to what extent will the coronavirus outbreak affect it in the years to come? Adele Berti investigates.
What's driving the growth of cruise in the Baltics?
What is driving growth in the Baltic cruise industry, and how might the coronavirus crisis affect cruise tourism in the region? Frances Marcellin takes a closer look.
Are cruise operators paying attention to the latest food trends?
Paying attention to ongoing food trends can help cruise operators to ensure they're meeting the demands of their guests, whether by considering the health, environmental, or ethical impact of the dishes they serve, or providing authentic, local culinary experiences. Luke Christou reports.
Self-cleaning ships: Inside Lindblad Expeditions' ground-breaking new eco-initiative
Last year, Lindblad Expeditions completed the trial of a new self-cleaning solution onboard its National Geographic Explorer vessel. In eliminating the need for plastic detergent bottles – while also reducing water use and sickness among passengers – the environmental benefits are clear to see. Ross Davies spoke to Lindblad vice-president of hotel operations Bruce Tschampel to find out more.
Unlocking new TV potential for the cruise liner industry
Providing improved connectivity and better entertainment services onboard ships is becoming increasingly important in a crowded cruise market. In this Q&A, SAT>IP Alliance president Thomas Wrede tells Future Cruise how the development of innovative SAT>IP satellite technology could allow cruise operators to provide onboard satellite TV services at a lower cost.
Next issue preview
What lessons can be learned from the corona crisis about the way that passengers and crew are tested, diagnosed and quarantined? In our August edition, we find out while investigating Tritan's massive deployment of free telehealth across the maritime industry.
We also take a closer look at 'Project Hygiea', an initiative launched by leading naval architecture and marine engineering firm Foreship to try and limit the spread of pathogens on ships, and put together a list of ways that the passenger experience could change onboard vessels when the industry gets back up and running.
We reveal insights from our time onboard Virgin Voyages' Scarlet Lady, whose maiden voyage is now set to take place in August, and speak to the organisers of the inaugural Cruise Ship Interior Awards – taking place in mid-June – about what criteria will make ships stand out in years to come.
Finally, we take a look at the massive expansion of Port Everglades in Florida, US – the third largest cruise port in the world – which is expected to include a whopping $1.6bn in infrastructure improvements and last five years.
Would you like to be notified when a new issue of Future Cruise is out? Sign up for email alerts here. We will only use your email address to let you know when a new issue is available. AIR is published monthly.