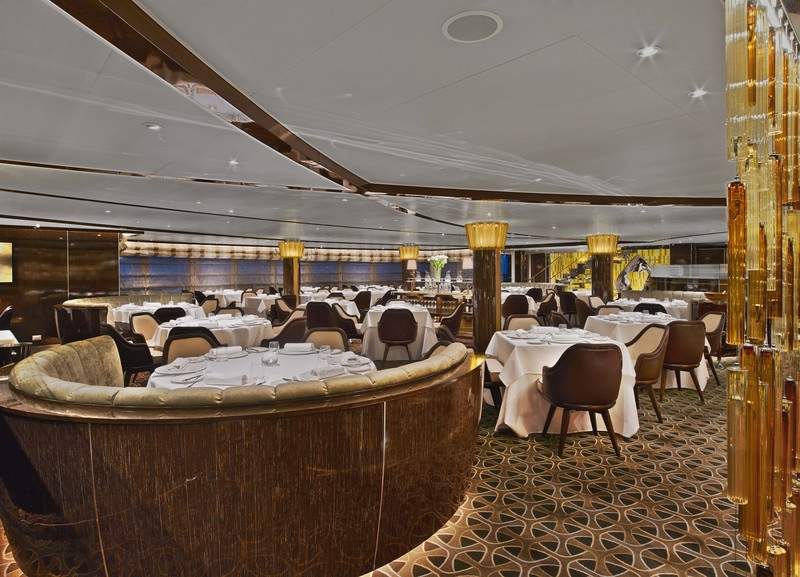 For cruise sceptics and travel tabloids, the phrase 'floating hotel' might still prove more fitting for a resort plonked in the middle of a lake than a cruise ship. However, in recent years cruise companies have been looking to create vessels that are more worthy of this moniker, employing experts from the hotel industry to help revolutionise their interiors.
Take Celebrity Edge, the highly anticipated ship from Celebrity Cruises set to launch in December 2018. The Edge features interiors by famed designer Kelly Hoppen, including cabins with 'infinite verandas' that allow guests to expand their living room into their balcony space at the touch of a button. Despite Hoppen never having been on a cruise ship or designed one, her original interiors have been tipped to make the ship more attractive to passengers who may not have cruised before.
The drive to bring cruise ship interiors to the level of luxury hotels has led more and more land-based designers into the sector. GH Moebel is one of several interior outfitters to have evolved to create dedicated solutions for cruise ships.
"The trend shows that more and more people are interested in cruising," says GH Moebel's director of group cruiser interiors Birgit Hinken. "They love travelling and experiencing foreign civilisations. At the same time, they don't want to resign the comfort they knew from their favourite hotels.
The lap of luxury
In taking inspiration from luxury hotel interiors, cruise lines aim to exceed passenger expectations by bringing their vessels in line with land-based offerings.
"Personally, I feel the stigma of cruise ships looking like 'floating casinos' is in the past," says My Nguyen, deputy director of interior design and operations at Holland America Group. "In general, the design vibe is more sophisticated and modern, at every level of cruising. Ships are designed with venues and experiences that compete with what you find on land, if not beyond."
As frequent cruisers come to expect more from their living quarters, operators are aiming to transform cabins and suites into glamorous hideaways on par with those offered by top hotels.
"Cabins have to become more and more comfortable, like an attractive hotel room," says Hinken. "To offer all this for passengers and crew, it is necessary to [transfer] land-based advantages and qualities onto a cruise liner."
To meet this aim, cruise operator Seabourn hired Adam Tihany, whose past projects include the Four Seasons Resort in Dubai and the Beverly Hills Hotel in Los Angeles. Tihany's work on Seabourn's Encore and Ovation cruise ships represented a different approach to cruise ship design, with more curved spaces and custom-designed fabrics, carpets and Furniture, and the use of rich woods such as mahogany.
"Both Seabourn Encore and Seabourn Ovation are designed to look and feel like a private luxury yacht," says Tihany. "We wanted to capture that sense of comfort and luxury on a much larger scale."
Revamping public spaces
The Encore's eating areas in particular give a nod to restaurants on land. The Colonnade, Seabourn's casual buffet eatery, was rearranged by Tihany to feature a style reminiscent of a stylish New York restaurant, with food laid out in a market-like area at the front and an open kitchen at the back.
"The design of public areas like restaurants and bars have to [include] comfortable seating, where passengers can stay a longer time to get their drink or to enjoy their meal," says Hinken. "It isn't any longer only for getting the meal and going."
Tihany's hospitality expertise is also present in Seabourn Square, an on-board 'living room' that replaces the conventional reception lobby with a welcoming lounge filled with comfortable furniture and cocktail tables.
"Where the central concierge desks were hidden behind privacy walls on the Odyssey-class ships, we decided to turn it inside out to keep everything very open and inviting," he says. "It was a pure hospitality gesture, but with that decision, this whole gestalt of curves, softness and openness became the signature of the ship."
Hinken believes many passengers have come to expect each public area on a ship to "have the look of its own little town on-board". This trend can also be observed on P&O Cruises' Britannia, the first ship to feature interiors designed in their entirety by one design consultancy.
Said consultancy, Richmond, showcased its experience in hotels with a central atrium area that was considerably larger than those on previous P&O vessels. With the additional space allowing for two bars and a café, the sprawling nature of the atrium gives it the distinct feel of a grand hotel lobby.
Passengers' increasing interest in health has also placed a greater focus on spa and gym interiors on ships. For instance, Costa Cruises has aimed to turn part of its ships into a 'destination spa' offering amenities similar to those found in a land-based spa resort.
"The spa areas especially [receive] more attention," Hinken says. "All in all, the buying behaviour of the consumers is changing. Body-awareness, health and healthy nutrition have more weight."
Limits for cruise design
Despite the ambitions of cruise operators, there are ultimately fundamental differences between designing for hotels and ships. Most importantly, certain restrictions need to be adhered to in order to ensure interiors can last the long lifespan of a cruise vessel at sea.
"The solutions for furniture on cruise vessels have to meet special requirements regarding fire resistance," says Hinken. "Foam, fabrics or leather have to be certificated by special International Maritime Organization norms."
Furniture onboard needs to be prepared to withstand the dynamic forces of a constantly vibrating ship, but too much weight will mean increased fuel consumption and costs for the cruise operator. This means that the elaborate marble designs seen in hotel bathrooms can often only be imitated by laminate or veneer effects.
Interiors often need to be adapted to facilitate their use onboard cruise ships. However, this is where the specialised solutions offered by GH Moebel, and other cruise interior outfitters such as Melalux and Spahn, come into play.
"We use only the best beech wood, which is just pre-dried," says Hinken. "On the ship and in the cabins, the air is very warm and dry. If wood isn't dry enough it will air on the ship and contract."
The dimensions of ships mean that interiors must be finalised ahead of time, as no tweaking is possible after construction has begun. This impacts creativity, as do the low ceilings that are necessitated by space limitations on vessels. "The main challenge when designing cruise ships is the speed of the overall build and delivery; this is a much faster process than typical land-based projects," Richmond director Terry McGillicuddy told Design Week Magazine.
"The complex integration of the services required throughout the ship requires a wealth of experience, and major co-ordination with the shipyard, all of which adds to the challenges in the different phases of the project."
The limitations of designing interiors for cruise ships are still the biggest barrier to the transferral of hotel trends to cruise ships. Nevertheless, with famed hotelier Ritz Carlton set to launch into the market with three private yachts in 2019, the ambition of the cruise industry to stack up against land-based resorts is set to continue.