Private marine security – the best option for tackling piracy?
The Horn of Africa may have been responsible for firmly establishing our modern image of a pirate as an RPG-wielding Somali in a skiff, but with the Gulf of Guinea now seen as one of the world's most dangerous regions and attacks in Indonesia rising, it is clear that piracy remains a truly global issue.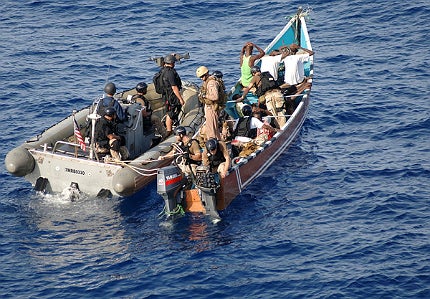 "The problem is driven by a variety of things; greed, poverty and a vulnerable maritime industry," says Captain William H. Watson, president of AdvanFort – one of a number of private maritime security companies (PMSCs) helping owners and operators deal with the threat.
With seaborne trade widely tipped to expand in the coming decades – more than doubling by 2030, according to some predictions – marine security is set to assume ever-greater importance, and the knowledge and experience of those PMSCs could prove vital in meeting the challenges ahead.
Piracy drivers
"Marine security is set to assume ever-greater importance, and the knowledge and experience of those PMSCs could prove vital."
According to David Rider, intelligence and communications officer of PMSC Neptune Maritime Security, understanding which of those drivers is most significant in any given region is the key to effective counter-piracy.
"In Somalia, piracy is generally fuelled by poverty and the chance to get rich relatively quickly, which is why land-based solutions are needed to end the problem. Jobs and incentives at a local level will be far more effective than an international naval force parked offshore. In West Africa, the problem is more complex. There have been countless allegations of corruption, with pirates 'fed' intel about oil tankers' positions and cargoes."

It also changes the nature of the threat itself, as Tom Brind, head of Offshore Projects at the PMSC Solace Global explains.
"Compared to the purely financial focused nature of East African piracy, threats in the West are seen to be born from political motives, as well as monetary and are often audacious, involving the boarding of a vessel while at anchor or a vulnerable static project. Although the average length of captivity for vessels and its crew on the West coast of Africa is only ten days, compared to six months on the East coast, the attacks in the region are often extremely violent."
Jurisdiction issues
There are jurisdictional issues too, and compliance with different – and at times contradictory – laws can be a challenge.
"Threats in the West are seen to be born from political motives, as well as monetary and are often audacious."
"There are myriad and various rules, regulations and laws that govern PMSCs – from purchasing and shipping firearms to transits through national waters of various coastal states to the rules under which PMSCs and their PCASP [privately contracted armed security personnel] teams operate," Watson says.
Inevitably, Brind says, the legal, social and political frameworks fundamentally differentiate operations on the East and West coasts of Africa.
"PMSCs are unable to operate in the Gulf of Guinea with their own firearms and tend to provide an advisory and supporting function, while the final use of force, if required, is provided by host nation troops. This creates a number of concerns for both the vessel owner / operator and the PMSC in terms of legality, jurisdiction, reliability and level of provision."
While as he points out, these arrangements can work very well, and it is entirely understandable that local authorities do not want to hand over control of their waters to Western companies, it leaves PMSC in a difficult operating environment – but the sector has overcome significant obstacles in the past.
West African solution
"Maritime security companies cannot operate using the same practices and models applied off the coast of East Africa," Rider agrees.
"However, work is being done to meet regional regulations. There is broad agreement that the navies in the region don't have the assets to protect shipping, something that is backed up by the statistics and number of ships attacked each week. Our clients don't like it and neither do we, and it's a situation that we hope will change."
Brind broadly echoes the point, seeing developing operational approaches in partnership with the regional authorities ultimately as the way to achieving what he describes as "a West African solution for the West African environment."
The future
Looking ahead, there is hope for the future. There have, after all, been some notable successes, but all three companies insist that there is little room for complacency and as Watson points out, threats exist around the world – from either coast of Africa, to the Malacca Strait and the waters off South America.
Clearly, the situation is a complex and constantly evolving one; things can, and do, change – often very quickly.
"There are jurisdictional issues too, and compliance with different – and at times contradictory – laws can be a challenge."
"I think everyone is in agreement that piracy is currently being held in check off the Horn of Africa, but equally, the situation is reversible. Nato and EU Navfor have been quite clear on that," says Rider. "The preventative measures employed by shipping companies are doing a great job of dissuading pirates from attacking, but we know all too well how adaptable and inventive pirates can be. If they see an opportunity to make several million dollars, they'll certainly take it."
He warns there is a very real risk that shipping companies will drop their guard – and the end results of that could be tragic.
"No-one likes scaremongering and the lack of successful attacks speaks for itself, but the pirates are still out there and we see enough incident reports of armed men in skiffs approaching merchant vessels to know that's the case."
"In terms of where we'll be in five to ten years, hopefully piracy off Somalia will be a distant memory and the country will be economically sound, with reduced poverty and more jobs – but the realist in me thinks it will take longer than that."
West Africa, he suggests, presents a much trickier problem and one that won't be solved quite as easily; the sheer value of oil theft and piracy in the region will make a cure far harder – and more time-consuming – to find.
Brind agrees. "We are not out of the woods yet. The epidemic has been contained, but only because of the defensive actions that are currently in effect. The pirates are still here and still ready, if we give them the opportunity they will take it. They have little other choice."
---
Related content
---
In September, navies and security forces engaged in anti-piracy operations made some decisive gains against piracy, especially around East Africa, but the threat still persists.
As attacks by West African pirates reach new high levels, global leaders have come together to tackle the problem, while the US also sees a landmark conviction against Somali pirates.
---