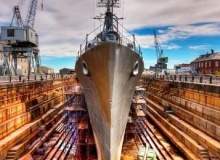 Researchers from the University of Rochester in New York successfully transformed metals into water-repellent or super-hydrophobic materials using lasers.
This new development could make a significant change in the superyacht industry, as the vessels are constructed from metal, including steel, aluminium or a composite.
Transforming metals into super-hydrophobic materials will help create waterproof, rust-free superyachts in the future.
The Iranian Port and Maritime Organisation said that Maersk Tigris container ship was arrested according to the Legal Court of Tehran over a long-standing commercial dispute.
A statement from the organisation said the verdict was issued according to the legal claim by a private company named Pars Talaee Oil Production against Maersk.
Iranian Foreign Minister Javad Zarif was quoted by Reuters as saying: "The Persian Gulf is our lifeline…We will respect international navigation."
Nautilus" height="111″ src="https://www.ship-technology.com/wp-content/uploads/image-digitalinsightresearch/Archive/Main/Southkoreatxt.jpg" style="padding: 10px" title="Nautilus" width="220″>
Maritime union Nautilus International criticised the decision of South Korean court to sentence the Sewol ferry captain to life in prison.
An appeals court sentenced Lee Joon-seok, who is in his 70s, to 36 years in prison after ruling that he was guilty of homicide.
Nautilus general secretary Mark Dickinson said: "Once again, a captain has been made the scapegoat as a result of political pressure and media misrepresentation."
Italian authorities arrested Mohammed Ali Malek, the captain of the fishing boat that capsized off the coast of Libya, killing more than 800 migrants.
According to Italian prosecutors, the Tunisian captain is facing multiple homicide charges for his alleged role in the disaster, BBC News reported.
The 66ft-long boat sank after it collided with Portuguese merchant vessel, King Jacob, which was coming to its rescue.
General Dynamics (GD) Nassco launched the world's first liquefied natural gas (LNG) powered containership, built for US shipping firm Totem Ocean Trailer Express (TOTE).
The new-build Isla Bella was unveiled after the naming ceremony held at the company's shipyard in San Diego.
The new vessel is part of a two-ship contract signed in 2012 and is expected to be delivered later this year.
The round table of international shipping associations (RT) started developing standards and guidelines to tackle major cyber security issues faced by the shipping industry.
Shipping organisations worldwide are concerned about malicious attacks on computer-based systems onboard ships.
The RT submitted a report to the International Maritime Organization (IMO) on the issue, which provided measures taken by the industry to address such difficulties.
Fincantieri delivered the new super-luxury cruise ship built for French cruise line Ponant at its Ancona shipyard in Italy.
The new vessel, Le Lyrial, is the fourth sister ship in a series that includes L'Austral, Le Boreal and Le Soleal. The vessels were delivered in May 2010, April 2011 and June 2013 respectively.
Le Lyrial features 122 cabins, including deluxe suites, privilege suites and grand privilege suites with sea views. Fincantieri said that 94% of the cabins have a private balcony.
A new study on ship design efficiency claimed that vessels built in recent years are less fuel-efficient than those from decades ago.
According to the study, which was carried out by Netherlands-based CE Delft, the design efficiency of new-build ships improved significantly in the 1980s, reached a peak in the 1990s and deteriorated after that.
Transport & Environment clean shipping manager Bill Hemmings was quoted by Gcaptain as saying: "The IMO's design efficiency standard for new ships itself needs a redesign and strengthening if the standard is not supposed to merely bring us back to levels achieved 25 years ago."
Ship Finance International (SFL) agreed to purchase eight Capesize dry-bulk carriers from subsidiaries of dry-bulk shipping company Golden Ocean Group, in a $272m deal.
Each vessel cost $34m, and were named the Golden Beijing, the Golden Zhoushan, the Golden Magnum, the Battersea, the Belgravia, the Golden Zheijang, the Golden Future and the KSL China.
Ship Finance Management CEO Ole B Hjertaker said: "We are pleased to announce an acquisition of vessels in combination with long-term charters to a leading company in the dry-bulk market."