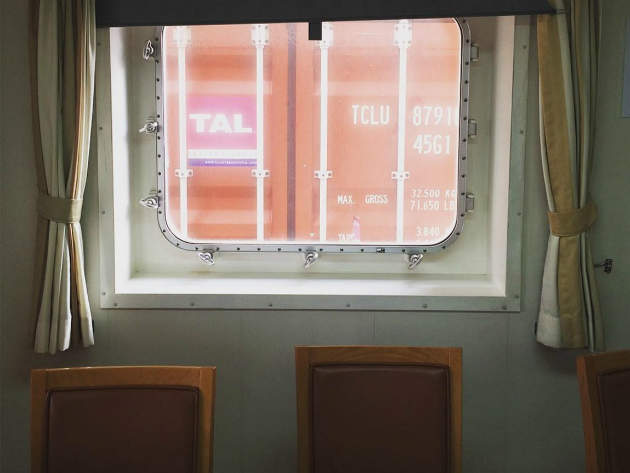 Known as the backbone of international commerce, containerships are an essential fixture of modern life. However, the austere aesthetics often associated with life at sea do not immediately bring to mind an environment conductive to artistic expression.
However, in 2015 the Container Artist Residency set out to challenge this view by sending seven visual artists on individual voyages along known trade routes, encouraging them to go "behind the scenes" and produce works of art right from the ships' on-board cabins.
The goal of the project, realised in collaboration with logistics and cargo company Zim Integrated Shipping Services, is to "forge new connections between individual practices and vast global networks," according to Maayan Strauss, founder and director of Container Artist Residency.
Throughout 2016, each of the carefully selected artists was sent on a fully-funded, three-week trip on board a cargo vessel, on a route of their choice.
"The basic strategy and premise of the Container Artist Residency is using existing economic infrastructure as an infrastructure for cultural exchange," the project's website says. "Container Artist Residency identifies the shipping industry as a driving cultural and economic force in the contemporary world, and encourages artists to rethink their practice from this unique perspective."
Mari Bastashevski was the first to embark on a trip, departing from Odessa in March 2016, and travelled through Haifa, Israel, Nhava Sheva in India, Port Klang in Malaysia, Da Chan Bay in China and Busan, South Korea, before disembarking in Shanghai.
Bastashevski constructed her own studio on board, inside a container, and spent her journey exploring the interiors of the ship through her photographs.
London-based duo Revital Cohen and Tuur Van Balen travelled together from Hong Kong to Colombo, Sri Lanka's largest city, alongside 19 men and 4,000 containers full of electronic, car and animal parts.
"We are in a parallel universe, the backstage of everything, deep in the world's id," the pair wrote in one of their travelogues from their trip, where they resided in the electrician's cabin.
"All day and night the soundscape of packing tape is crackling around cardboard boxes being prepared to be packed into steel containers. At sea the war on entropy never ends; the ship is continuously and constantly repainted in patches of grey, black and yellow.
Heading into Nigeria, the pair recorded their worries surrounding a possible piracy attack: "Nobody wants to go to Africa, anxiety levels gradually rise and the ghosts of pirates are on everyone's minds. On the way back the containers will be empty, except for maybe some diamonds."
Ferenc Gróf, who travelled from Haifa to Odessa, captured the seafarers' night shift on board the containership in a series of atmospheric photographs. Grof also visited the 7th Kilometer Market, a market in Odessa constructed entirely out of shipping containers.
Taking a different approach to recording life on board, Samson Young produced a series of pencil and watercolour drawings titled What the Lighthouses Taught Me, inspired by key moments on board on his journey from Port Klang to Busan.
The artists' works were exhibited in Hong Kong in December, before moving to Israel's MoBY museum in March 2017 and New York come summer.